The mockumentary "Jonah From Tonga" — starring a white actor in brown makeup — has members of the Tongan community demanding HBO shelve the series before it airs next month.
An online petition with more than 9,000 signatures slams the show for stereotyping the Polynesian culture as one of low achievers, gang members and criminals. Comedian Chris Lilley wears a curly wig and darkens his skin to play the role of a Tongan-Australian teenager trying to be a "good boy" in high school.
But the petition's point — "Brownface in 2014, really?" — is part of a larger concern about non-Asians portraying Asians and Pacific Islanders, often for comic effect, that appears to be widely unchallenged in American popular culture.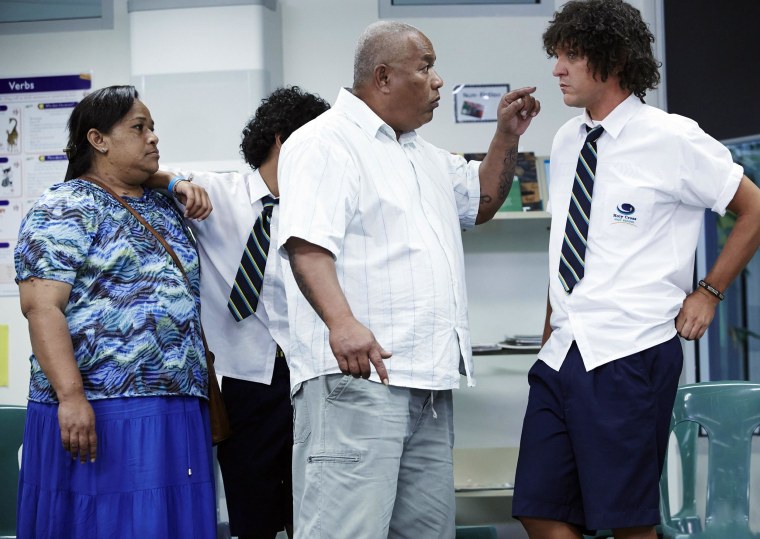 "Blackface is becoming more and more unacceptable, and the same idea is offensive to Asian Americans," said Anthony Sze-Fai Shiu, associate professor of English at the University of Missouri-Kansas City. "But then why are we still having these same conversations about the representations of yellowface that have been there since the beginning of early cinema?"
Instances of other races impersonating Asians — known as yellowface or brownface, depending on the ethnicity — have recently gained increased awareness, with reaction and criticism quick to spread on social media.
Creators of the CBS sitcom, "How I Met Your Mother," apologized after a kung fu-themed episode earlier this year featured its all-white cast in Asian costumes. The storyline inspired the hashtag #HowIMetYourRacism.
More recently, an amateur production in Seattle of the Gilbert and Sullivan comic opera, "The Mikado," drew criticism for having no Asian actors and exaggerated characters in a show based on a fictionalized Japan.
While blackface is widely considered taboo for its long history of racist connotations, observers say, the use of yellowface and its implications remain largely left out of the race dialogue in America.
Shiu believes "a day of reckoning" is inevitable.
"Asians are the fastest-growing minority in America. We're not going to be able to be ignored," Shiu said. "Perhaps through sheer force of will and repetition, something will happen."
Shiu, who has written about the intersection of yellowface and video games, said the argument that people are too sensitive about situations intended to be humorous doesn't further the discussion.
"It's an easy way to escape a conversation ... and it allows a racial masquerade to be enacted over and over again without a critical eye of what's happening," he added.
Richard Kaufusi, a member of Salt Lake City's Tongan community, said he has no plans on watching "Jonah From Tonga" after seeing how characters acted in the trailer. (The show has already aired in its native Australia.)
"Asians are the fastest-growing minority in America. We're not going to be able to be ignored."
The character of Jonah routinely disrespects his family and swears. His father is depicted as loud and abusive, and his friends' primary talents are singing and dancing — considered stereotypes of Tongan culture.
"This will be many people's first introduction to Tongans and Pacific Islanders," Kaufusi said. "Really? This is what's presented on a national stage or a global stage like HBO?"
Still, Kaufusi hopes the heightened awareness will at least compel people to seek out more information and see Pacific Islanders as more than punchlines.
HBO declined to address the controversy directly, but told NBC News in an email that star and creator Lilley is known for his "wide range of characters both male and female" and joins "a long list of comic artists who have brought their original voices to the network." In his other shows, Lilley has portrayed a Japanese mom, a Chinese student and a Black hip-hop artist.
He said in a 2012 interview that his use of blackface was more controversial than his Asian characters.
"It's like, it's okay to play those races, but as soon as you're a Black person obviously there's a different history with that — people get up in arms about it," Lilley told The New Zealand Herald.
Mia Wenjen, a blogger and mother of three, refused to stay quiet when she learned her local high school in Newton, Massachusetts, was putting on a musical in March featuring yellowface and Chinese stereotypes. The show, "Thoroughly Modern Millie," features two bumbling characters called Ching Ho and Bun Foo — made-up Chinese names — engaged in the white slave trade. Another character, played by a white actress, pretends to be Chinese, mispronouncing letters in an affected accent.
The school principal at Newton North High School later said the school "blew it" by staging the show without having an earlier dialogue about the stereotypes in it.
Wenjen said she was surprised that even in her "well-educated, expensive community," people told her that she shouldn't be offended and to "lighten up." But while others in the Asian-American community didn't want to make a stir, Wenjen said, she believed the only way to change attitudes was to blog about it and demand the school recognize that it must do better the next time.
"The Asian culture is programmed not to make waves, we're raised not to protest," Wenjen added. "But if you feel like something is wrong you have to stand up for yourself. No one else is going to."