Wearing both a Hawaiian and a Samoan lei, a grey-suited Marcus Mariota held his Heisman Trophy and tearfully thanked those who helped him to win it.
The first-ever Hawaiian, and the first Oregon Duck to win the highest collegiate football honor was also the first Heisman winner to say 'thank you,' in Samoan during his acceptance speech.
Raised in Honolulu, where he attended St. Louis Prep - an all-male Catholic school - the 6-foot-4, 219-pound quarterback thanked players, coaches, teachers and his parents, Toa Mariota and Alana Deppe-Mariota, for keeping him "always mindful and faithful."
"I hope and pray that this is only the beginning," Mariota said, before turning to his fellow Polynesians.
"To young Poly athletes everywhere," he said. "You should take this as motivation and dream big and strive for greatness."
In 2014, Mariota - a redshirt junior with another year of eligibility - threw for 3,783 yards and 38 touchdowns with just two interceptions. He's earned 10, 125 and 101 touchdowns over his college career, with just 12 interceptions.
Mariota will lead No. 3 ranked Oregon versus No. 2 ranked Florida in the Rose Bowl on Jan. 1. That game will also pit last year's Heisman, Jameis Winston, with this year's winner, Mariota.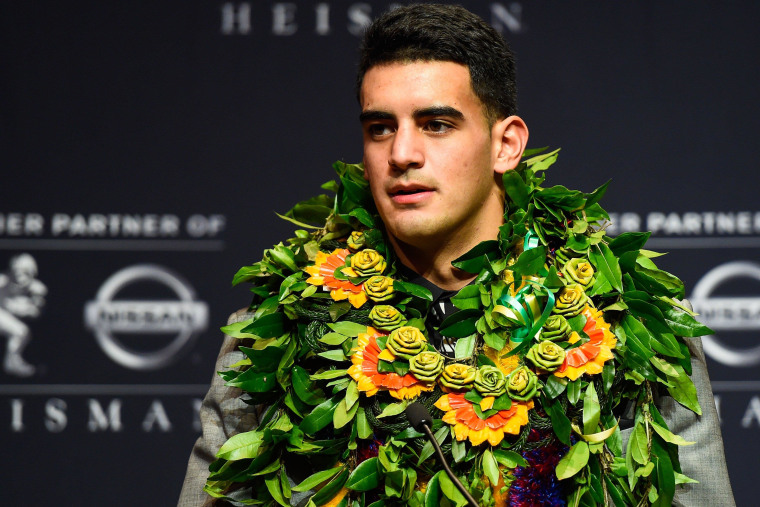 IN-DEPTH