In Times Square, amid flashing marquees and construction zones, the pink truck stands out.
Bearing an "HK CAFE" license plate and Hello Kitty's signature bow on its hubcaps, the Hello Kitty Cafe Truck made its East Coast debut on Oct. 25 and 26, as eager fans lined up to purchase themed edible treats and merchandise.
"I know [the truck] is only in California, so I'm excited they're here," Elena Ramos, 31, told NBC News.
Ramos, a Bronx native, was in line Monday morning in Times Square as the California-based Hello Kitty Cafe Truck team unboxed merchandise and set up their menu.
After a successful debut at the Hello Kitty Con last November in Los Angeles, the Hello Kitty Cafe Truck has made stops around California--including San Diego Comic-Con--as well as visits to Las Vegas. By year's end, the truck will also have made stops in the Pacific Northwest ahead of the November 14 opening of "Hello! Exploring the Supercute World of Hello Kitty" at the Experience Music Project Museum in Seattle.
RELATED: 'Supercute' Cartoon Icon, Hello Kitty, Celebrates 40th Birthday
"We at Sanrio have always wanted to create a Hello Kitty dining experience," David Marchi, Sanrio's Vice President of Brand Management and Marketing, told NBC News.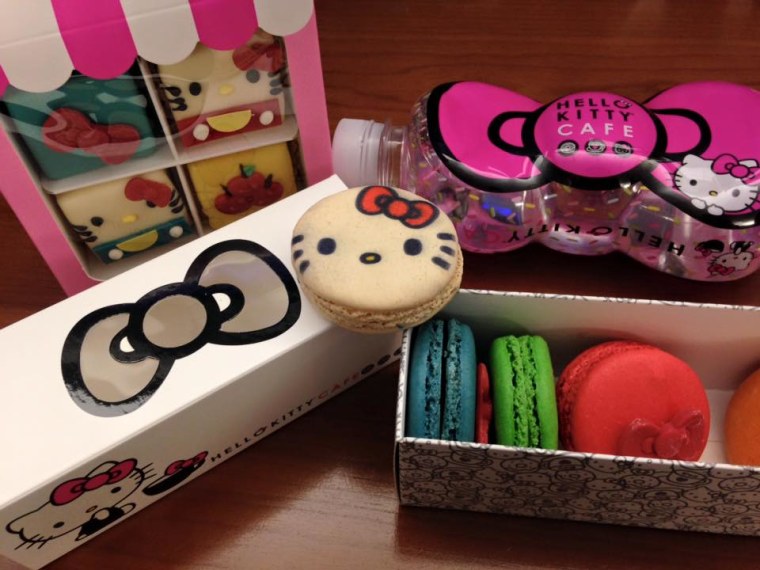 Among the products available at the truck are Hello Kitty-themed coffee mugs and T-shirts, but Marchi says the most popular items are the edible goods.
"We want to make [the food] super cute and fun to look at it, and imbue it with those Hello Kitty details that make people so happy," Marchi said.
The response, he adds, has been overwhelmingly positive. "There's been a lot of love and a lot of lines," Marchi said, noting that fans have waited in lines ranging from 20 minutes to three hours. "The fans who line up are extremely patient and extremely nice, as most Hello Kitty fans are. They make great friends in line and they hang out."
The opportunity to make more Sanrio-loving friends will grow when the company prepares to open the official Hello Kitty Cafe in Irvine, California, next month, as Hello Kitty celebrates her 41st birthday. "It's in a shipping container, which will sit there for a year as we open the actual first brick and mortar cafe," Marchi revealed.
The next decade looks like it'll be a good one for the cartoon icon, who will also be making her silver screen debut in 2019.
"We're happy to see the fans are giving us a lot of love," Marchi said.