On an island where buildings normally do not have central heating, the winter season brings cravings of soup and warm meal to residents of Taiwan. In the capital of Taipei, hot pot restaurants are not uncommon, but this past July, the city welcomed a new, unique player to the shabu-shabu scene.
Hello Kitty Shabu-Shabu, located in the Da'an District of Taipei, combines the shabu-shabu dining experience with Sanrio's most recognized beloved character.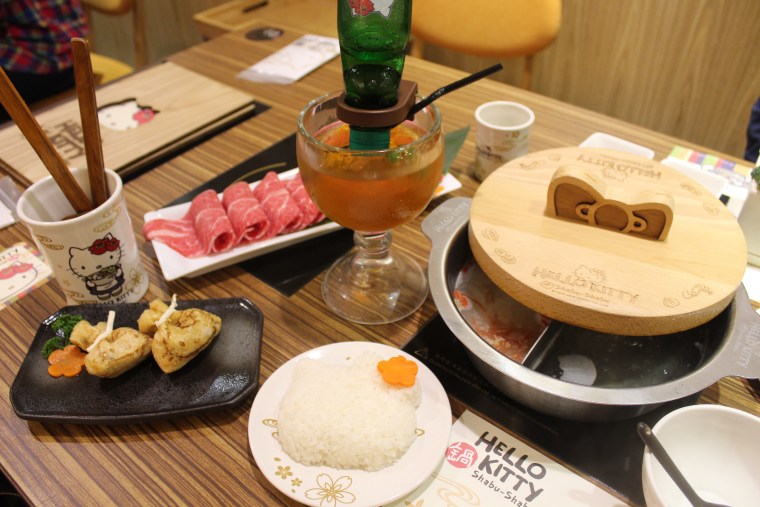 Licensed through Sanrio, the restaurant is a place where her fans can share a common dining experience through foods that are either shaped or stamped with Hello Kitty's image. Kitchenware, serving dishes, and utensils are also printed with Hello Kitty's face.
"We knew we wanted to feature Hello Kitty, but we didn't want it to be predictable," Alan Chen, general manager of Jump Media, the Taiwanese creative agency that owns and operates the restaurant, told NBC News. "We wanted a breakthrough idea."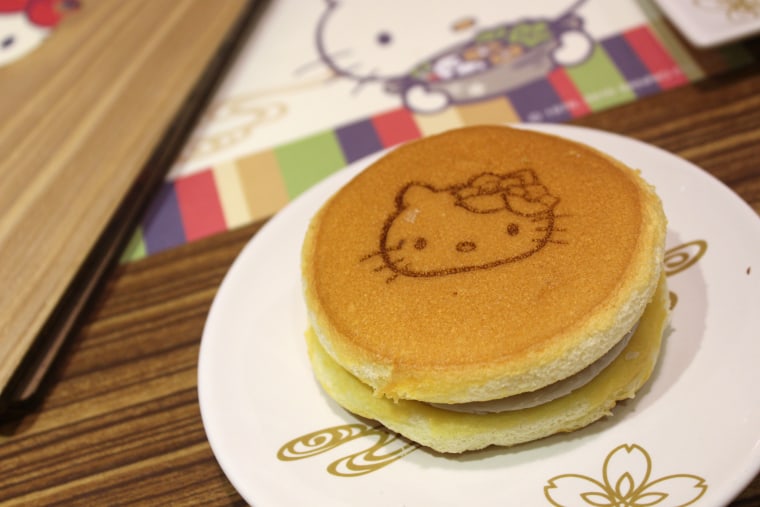 Chen said that Jump Media noticed how, regardless of season, Taipei locals are obsessed with hot pot. After the light bulb clicked, they selected Hello Kitty as their "it girl."
By re-packaging Hello Kitty with a customized camellia flower instead of her usual red bow, Chen said it allows the restaurant to tell a different story. An exclusive design sets them apart from other Taipei theme restaurants that also feature Hello Kitty, he adds.
RELATED: 'Supercute' Cartoon Icon, Hello Kitty, Celebrates 40th Birthday
Shabu-shabu, which originates in Japan, differs from communal hot pot in that it consists of a smaller cooking vessel and is meant to be an individual experience. The idea of hot pot is to have ingredients actively cooking in front of diners in a boiling broth. Leafy greens, root vegetables, tofu products, and other ingredients are left to simmer while thinly sliced meat is dropped in the soup to cook.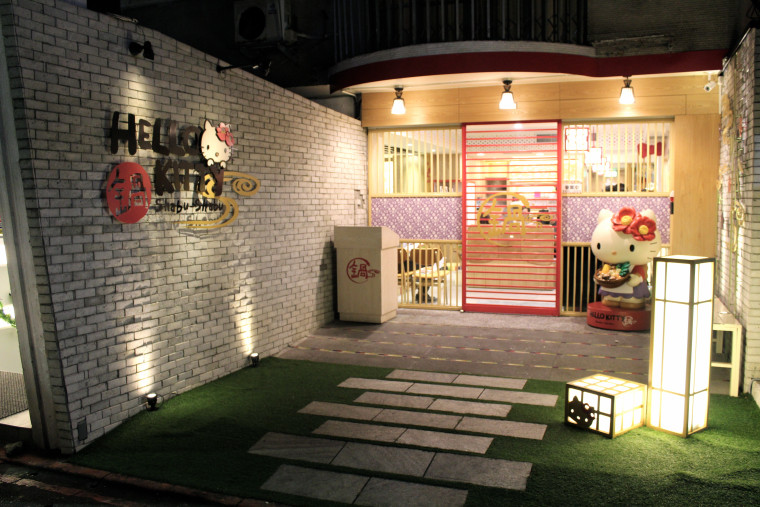 At Hello Kitty Shabu-Shabu, a set meal consists of a pot of broth, a veggie crate, a choice of raw meat slices or seafood, a choice of rice or noodles, steamed egg custard, and a dessert. The steamed egg custard appetizer, which has the texture of silken tofu, is served in a cartoon-like ceramic apple, which Chen says is Hello Kitty's favorite food. The pots, which are topped with a wooden lids that uses Hello Kitty's bow as a handle, come in individual portions, and an electric hot plate is installed on the table's surface to keep the soup boiling.
RELATED: Hello Kitty Cafe Truck Brings Treats, Smiles to Fans
The restaurant's menu features standard vegetable crates and eight protein options, including a seafood platter choice, that range from $12 to $25 for a complete meal set. Add-on menu items include firm tofu stamped and shaped in Hello Kitty's face, and Hello Kitty-shaped mochi filled with either cheese or mentaiko. Diners can choose between udon noodles or white rice that is molded in the shape of Hello Kitty's face.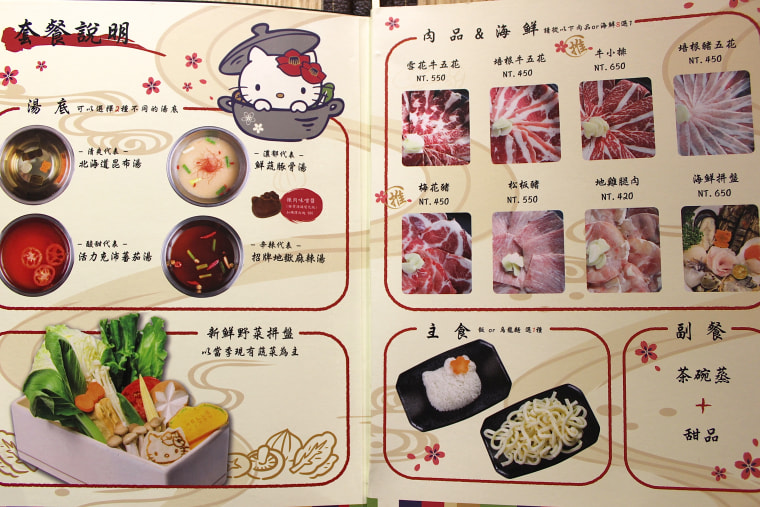 At the end of a meal at Hello Ktity Shabu-Shabu, fans leave with complimentary gifts — such as coasters and bibs — and can also pick up exclusive merchandise ranging from stationary to dishware.
"Our creativity lies within our ability to re-invent the character to tell a story," Chen said. "That's the spirit of our company."