As Democratic presidential candidate Hillary Clinton embarks on two days of fundraising in California, the former secretary of state is also expected to appear at a free organizing event Thursday morning for Asian Americans and Pacific Islanders, an increasingly potent voting bloc that both parties are trying to woo.
AAPI for Hillary, which will "engage, energize and organize" Asian-American and Pacific-Islander voters, is expected to begin at 11:45 a.m. PST in San Gabriel, Calif., a city of roughly 40,000 in Los Angeles County whose population is 60 percent Asian, according to the U.S. Census. Hillary for America director of AAPI outreach Lisa Changadveja told NBC News that a host of elected officials and political figures are expected to attend, including U.S. Rep. Judy Chu (D-CA), who will introduce Clinton, former U.S. Secretary of Transportation Norman Mineta, and San Gabriel Mayor Jason Pu.
The campaign also expects to announce a number of endorsements around the launch of AAPI for Hillary, Changadveja said.
"The Asian American Pacific Islander community has been very supportive of Hillary in the past and continues to be a big supporter of her campaign for president this year," she said.
RELATED: Asian-American Voters to Double by 2040
The Republican National Committee, however, criticized AAPI for Hillary.
"While the RNC has for years been focused on engaging our nation's growing AAPI communities, Hillary Clinton's recent AAPI interests are for her own political fundraising benefit," the RNC said in a statement Wednesday. "The reality is Democrats have long taken the AAPI community for granted, and Hillary Clinton will be no different as she continues to support the same failed policies that hurt AAPIs across the country."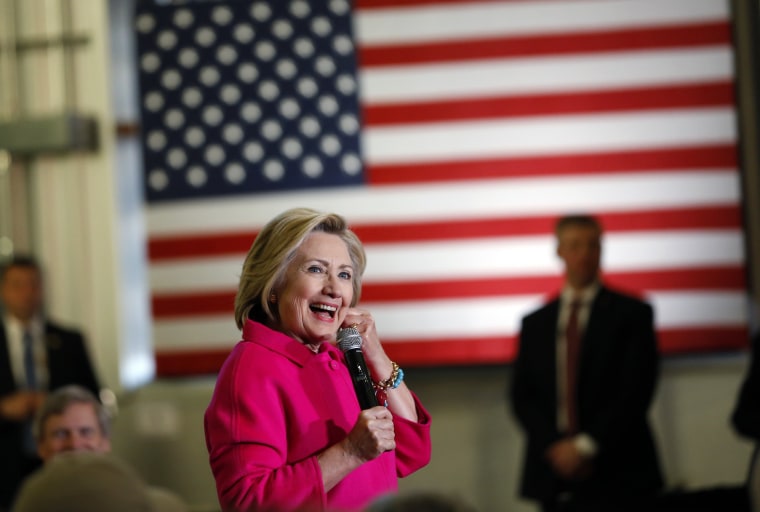 Clinton, who in a new Field Poll has an 11 point lead in California over Democratic candidate Sen. Bernie Sanders of Vermont, is scheduled to attend six fundraisers in the state on Thursday and Friday. Changadveja said that Clinton, who at the AAPI event is expected to discuss such issues as healthcare, higher education, and immigration, has a long record of "defending and promoting" the AAPI community.
RELATED: Hillary Clinton Goes After Asian-American Vote with New Outreach Director
But in a Jan. 6 memo to "Interested Parties," RNC director of Asian Pacific American engagement Jason Chung and APA press secretary Ninio Fetalvo wrote that the policies of Democrats "harm rather than benefit us," and accused Clinton of supporting a "failed liberal Obama agenda."
In this year's presidential race, both Democrats and Republicans are making great efforts to court AAPI voters, an electorate that is expected to double to 12.2 million by 2040, according to a 2015 report from the UCLA Center for the Study of Inequality and Asian Pacific American Institute for Congressional Studies.
This month, the Democratic National Committee is expected to launch ProgressAAPI, with initiatives geared toward engaging young Asian-American voters and exposing them to Democratic candidates and campaigns. And just this past summer, the GOP introduced the Republican Leadership Initiative, which the party describes as "a series of extensive training workshops to equip Asian Pacific American grassroots community leaders across the country with the skills needed to work as professional field organizers and community engagers."
RELATED: Courting the Youth Vote: How Both Parties Plan to Target Asian-American Millennials
AAPI for Hillary follows another initiative her campaign announced last October called "Latinos for Hillary," designed to solidify support from Latino voters. Changadveja said AAPI voters have already spearheaded many volunteer efforts to help Clinton's campaign, including creating Facebook groups and hosting conference calls and events to organize particular AAPI communities in support of her candidacy.
"For the next couple of months, we will be making sure that the AAPI community hears from our campaign and hears why and how Hillary is fighting for them, and why they should come out and participate in their local caucus and primary and help elect her," Changadveja said.