Following historic talks this weekend between the presidents of China and Taiwan, Chinese and Taiwanese Americans expressed a range of views about the meeting's significance and what it means for the two sides that split in 1949 at the end of a civil war.
Addressing each other as "mister" and not "president," Xi and Ma shook hands for more than a minute, an image transmitted far and wide across social media throughout the world. But the meeting in Singapore on Saturday between Chinese President Xi Jinping and Taiwanese President Ma Ying-jeou was largely symbolic and did not yield any legislative agreements or joint statements.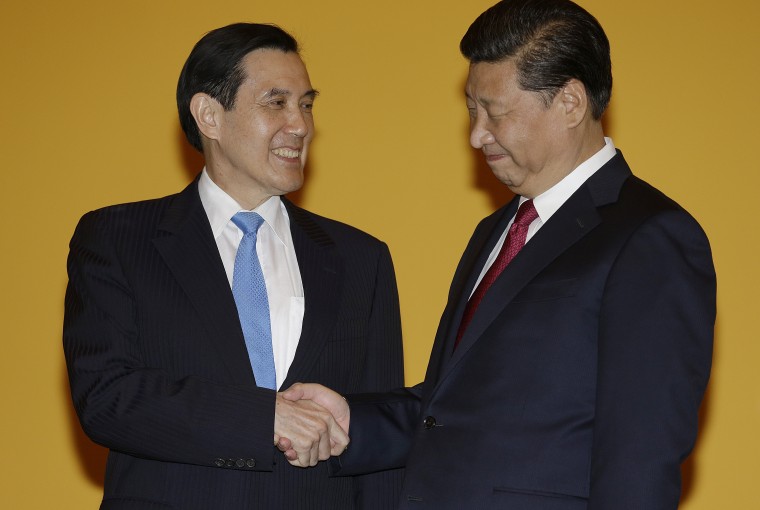 During the meeting, which was first announced late Tuesday night, Ma proposed setting up a hotline between the two sides for emergencies—a suggestion Xi supported.
Speaking in Mandarin, Huang Qun, a Chinese American who runs Saute Spicy Chicken at a basement food court in Flushing, Queens, told NBC News he believed the talks were a step in the right direction.
"To sit down and have discussions is progress," he said.
China, however, still views Taiwan as a renegade province that must someday be reunited with the mainland. In 1949, at the end of the Chinese civil war, defeated Nationalist leader Chiang Kai-shek evacuated 2.5 million Chinese to Taiwan and brought the Republic of China's government to the island.
China and Taiwan have grown closer since Ma became president in 2008, following more than 20 agreements that the term-limited—and highly unpopular—Ma has signed with China. But many Taiwanese believe that the integration of Taiwan's economy with China's poses a threat to the island's democracy.
RELATED: China, Taiwan Leaders to Meet for First Time in 66 Years
The meeting in Singapore comes a little more than two months before ballots are cast in Taiwan's 2016 presidential election. More than 18 million Taiwanese are eligible to vote, including some in the U.S. who plan to fly back to participate in the election. Tsai Ing-wen, the candidate of the Democratic Progressive Party, which has historically favored independence over reunification, is widely seen as the front-runner.
Huang, who is from Beijing and has lived in the U.S. for one and a half years, told NBC News he had a positive impression of Ma, whose Nationalist party prefers reunification with the mainland, and of how he has dealt with China.
"It's definitely good," Huang said of Saturday's meeting. "Taiwan itself is a part of China."
For Jenny Wang, co-founder and president of Outreach for Taiwan, a group that raises awareness about Taiwan's past, present and future, the encounter between Xi and Ma was "monumental" in that the two sides hadn't met in 66 years. But Wang told NBC News she disagrees with the mindset of those who say Taiwan is part of China.
"From my end, from the Taiwanese people's end, we have our own distinct identity and we're just not China," she said.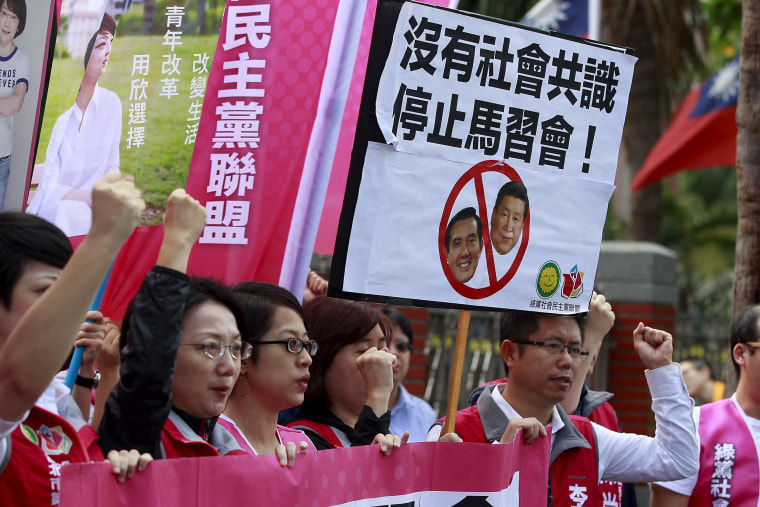 Other Taiwanese and Chinese Americans who spoke with NBC News at the New World Mall food court in Flushing, New York's second largest Chinatown, also weighed in on the meeting between Xi and Ma.
"I'm happy about it," said Emma Goncalvez, a Taiwanese American living in the U.S. for more than 15 years. In between taking orders at a stall selling Taiwanese food, Goncalvez stopped to say she doesn't really follow politics between Taiwan and China. She added: "It doesn't matter to me. I live in America now."
But Jenny Liang, a Chinese American who works part time at the Chongqing Hot Pot, said her wish is that both sides can work toward peace.
"I hope the two countries don't fight—that's all," Liang said in Mandarin.