This April, Rahaf Khatib expects to run her seventh marathon as one of the 30,000 runners in the 121st annual Boston Marathon.
But this race will be different from the others the 33-year-old has already completed. The Syrian-American runner is participating as a member of a special all-female team to honor the 50th anniversary of Katherine Switzer's 1967 race, the first time a woman ran in the Boston Marathon as a numbered entrant, according to the Boston Athletic Association, which organizes the race.
"Being on a team of all-female runners is pretty significant, and I feel like it speaks a lot about where [women] are and how far we've come. But I also want to prove people wrong, [and show them that] covered Muslim women can and do run marathons."
Khatib is also raising money for the Syrian American Rescue Network (SARN), a nonprofit based in her home state of Michigan that helps resettle Syrian refugees.
For Khatib, running the Boston Marathon — the world's oldest annual marathon and one of the most prestigious due to its qualifying requirements and status as one of six annual World Marathon Major events — has always been a dream, as was the idea of raising money for Syrian refugees in the process.
"I have wanted to run Boston since the moment I realized what a big deal it is for runners," Khatib told NBC News. "I always said that I would love to run the Boston Marathon and fundraise and my efforts would go directly to the refugees, but I never thought anything would materialize. When I got into Boston this year, I thought, 'it was meant to be.'"
Khatib was born in Damascus, Syria, and immigrated to Michigan with her mother when she was less than a year old in 1983. She chose SARN due to its lack of political and religious affiliations and because of her familiarity with the nonprofit, she said.
Founded in 2015, the organization works to assist Syrian refugees in the metro Detroit and Ann Arbor areas in adjusting to the logistics of American life with the goal of fostering self-sufficiency, SARN vice president Ayesha Fatima told NBC News.
Michigan has been a longtime magnet for Arab immigrants and is ranked the top U.S. destination for Syrian refugees, according to the State Department.
RELATED: How Rahaf Khatib Became the First Hijabi Runner on the Cover of a U.S. Fitness Magazine
Fatima said that Khatib's fundraising is helpful for the organization in more ways than one. "We are very excited about Rahaf's efforts," she said, "because it's not just about the money, it's about raising awareness and advocating."
According to Fatima, SARN is currently helping close to 2,000 refugees, many of whom arrive in the U.S. from refugee camps in Jordan and Turkey. Volunteers help with everything from transporting refugees to English classes to giving driving lessons, providing babysitting, and helping high school students with college applications. Seventy-five percent of the refugees who work with SARN are employed within six months, Fatima said.
In early January, Khatib — who previously made history appearing on the cover of Women's Running magazine wearing a hijab — received an email from Hyland's, a homeopathic supplement company, inviting her to be one of the 14 women on their sponsored all-female team.
When President Donald Trump introduced his travel ban just a few weeks later, Khatib knew she had to follow through on her promise to raise money for the Syrian refugees, she said. That day — while logging a two-hour, 12-mile treadmill run — she watched television coverage of the chaos and protests erupting at airports nationwide. The suffering she saw on screen was personal.
"I thought to myself, 'That could've easily happened to me in 1983. I could've been held back as an infant,'" Khatib said. "I knew then I had to fundraise." Four days later, she launched her online fundraising campaign, which has raised more than $11,000.
Khatib's parents came to the U.S. in 1980, when her father began pursuing his doctorate in chemical engineering at the University of Detroit. "Like a lot of the refugees that come here, they had no language [ability], they had nothing, basically," Khatib said.
Her mother returned to Syria in 1983 to give birth to Khatib, and less than a year later, she and her mother returned to their home in Southgate, Michigan, eventually settling in the city of Dearborn.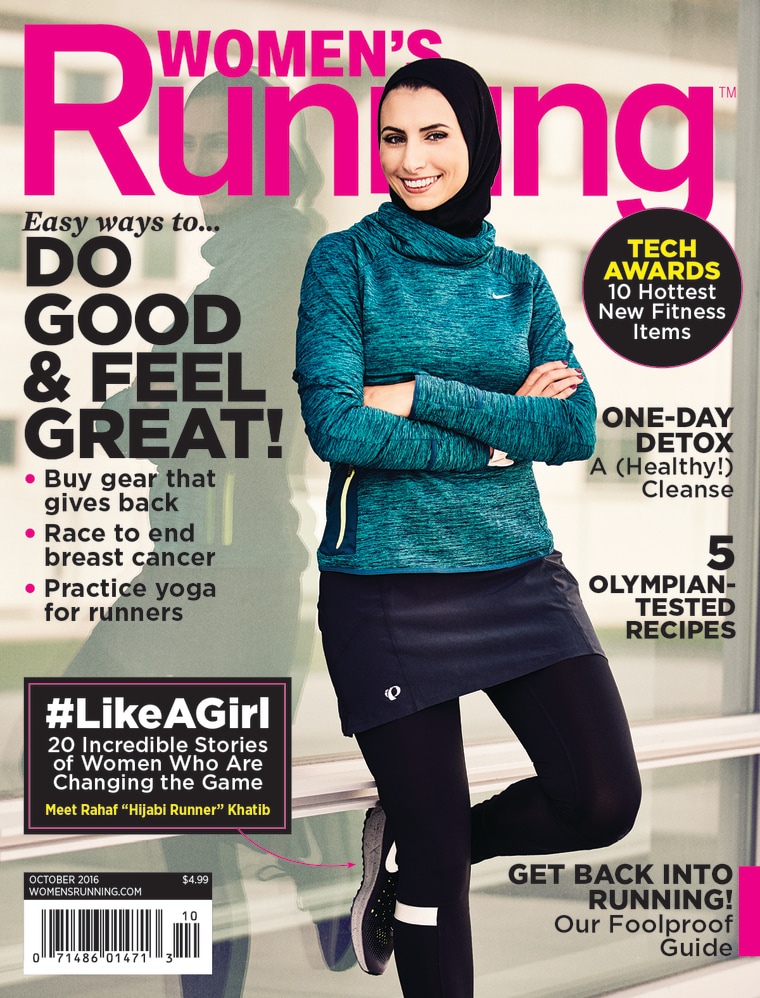 Khatib started running in 2012 and ran her first marathon — the Detroit Free Press Marathon — in October 2014. When she was on the cover of Women's Running last October, Khatib gained international media attention as the first hijabi woman ever featured on the cover of a fitness, nutrition, and lifestyle magazine in the U.S., according to the publication.
She started training for the Boston Marathon in January, and expects to be running about 50 miles per week at her peak training time, she said. Her fundraising campaign will be active until April 17, the day of the race.
Lisa Shapiro, Hyland's senior brand manager, told NBC News that Khatib's accomplishments in running and her role in blazing a trail by encouraging greater representation of hijabi athletes led to her invitation for a spot on the all-female team to commemorate the 50th anniversary of Switzer's run.
"We wanted to feature the real women who continue to push boundaries and inspire new generations with their accomplishments," she said. "As one of the first influential women in the fitness world to run in a hijab, Rahaf certainly fit that bill."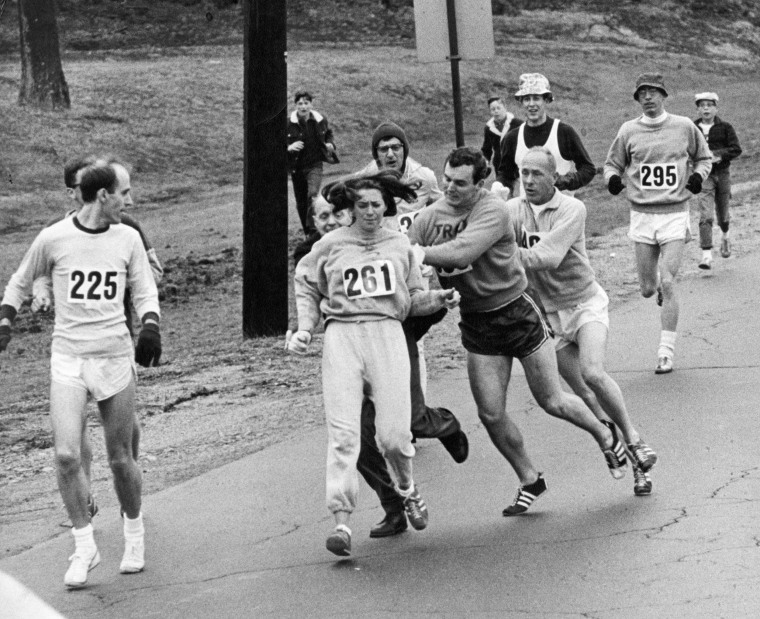 The scene of Kathrine Switzer being pushed off the course in 1967 was captured in an iconic photo and became a historic moment in marathon history. Switzer went on to finish the race in 4 hours and 20 minutes. She will also run the 2017 race as part of a separate team.
The fact that Khatib is running the Boston Marathon as a hijabi runner during the 50th anniversary of Switzer's historic first run gives the race extra meaning, she said.
"Being on a team of all-female runners is pretty significant, and I feel like it speaks a lot about where [women] are and how far we've come," she said. "But I also want to prove people wrong, [and show them that] covered Muslim women can and do run marathons. I want to shatter those stereotypes. It's my way of giving back to running and to humanity as a whole."
Follow NBC Asian America on Facebook, Twitter, Instagram and Tumblr.