At the Hmong American Peace Academy (HAPA) charter school in Milwaukee, Wisconsin, it's tradition to sing an opening song called "Impossible Dream" during graduation to honor the college-bound.
Cindy Xiong, bound for the University of Wisconsin—Madison, was one of the class of 2016's 46 graduating seniors, most all of whom were American-born Hmong teenagers. This week, the entire senior class at HAPA defied the odds with a 100 percent graduation rate.
Despite a national dropout rate of 40 percent of Hmong high school students, according to the White House, the HAPA graduates were living proof that success in America was no impossible dream.
"It was really inspiring to see first-generation Hmong students going to big universities like the University of Wisconsin and Marquette, and pursuing careers such as engineering and pre-med," Steven Xiong, a 20-year-old HAPA alumni who is unrelated to Cindy Xiong, told NBC News.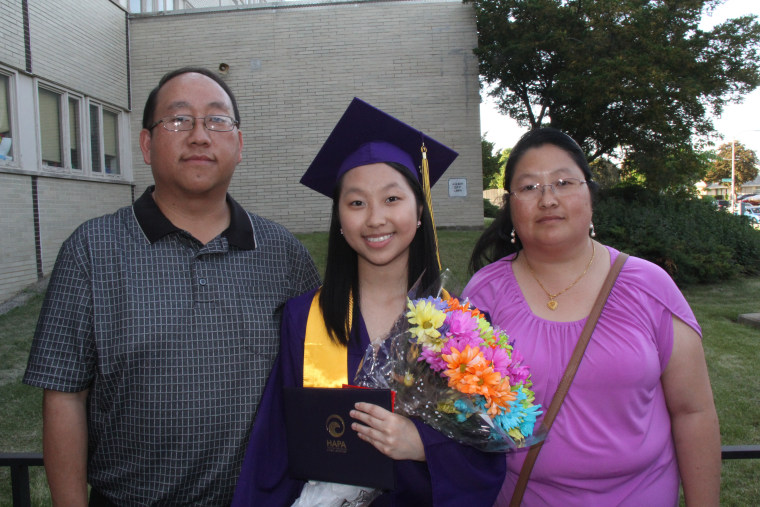 Steven Xiong, himself, is a HAPA success story. A 2014 graduate and a sophomore at University of Wisconsin-Madison, he's on the dean's list this year. His mother, Chris Her-Xiong, founded HAPA in 2004 as a way to lift up the Hmong-American community.
"[One of] the reasons for starting and opening the school is because of own my children," Her-Xiong, 51, told NBC News. "I strongly believe that without heritage we are nothing. Hence, it's very important for our children to know who they and where they come so that they can be healthy and productive citizens."
But when Her-Xiong thought about creating the school in 2004, there was much to overcome.
"It was very different to get the school off the ground," she said. "The words many people would say to me were, 'it's impossible.' To me, the word 'impossible' does not exist in my vocabulary. I always believe that if I can dream it, you I achieve it. As a dreamer, I kept dreaming with a call to action."
Twelve years since it opened, Her-Xiong's HAPA has outperformed both the schools in Milwaukee and Wisconsin in the state's assessment testing for college readiness.
In the English Language Arts section, 65 percent of HAPA's students scored proficient or better, according to the school. The district scored at 22 percent, and the state at 46 percent. In Math, 47 percent of HAPA's students scored proficient or better while the district was at 10 percent and the state at 36 percent.
RELATED: California University to Offer Hmong Minor Starting Fall 2016
Another significant number at the school is 90 percent — the percentage of students who live at or below the poverty line.
Her-Xiong said the success is all done with a budget of about $10 million, which works to under $8,000 per pupil, nearly half the $14,000 she said the state spends per pupil regularly.
"Our [school] is given less," Her-Xiong said. "[But] we know we can do a good job of educating our children as compared to the district."
"I strongly believe that without heritage we are nothing. Hence, it's very important for our children to know who they and where they come so that they can be healthy and productive citizens."
Her-Xiong said the academic rigor combined with individual attention makes all the difference.
"The secret to our success is to build student self-esteem, the soft skills necessary to teach our students to be an advocate for themselves and to give them leadership opportunities," she said.
The school's formula has especially helped Cindy Xiong develop toward becoming a new model for American-born Hmong girls.
The oldest of five children, Cindy Xiong will be an engineering major on a full scholarship from the University of Wisconsin.
But her parents initially didn't want her to go.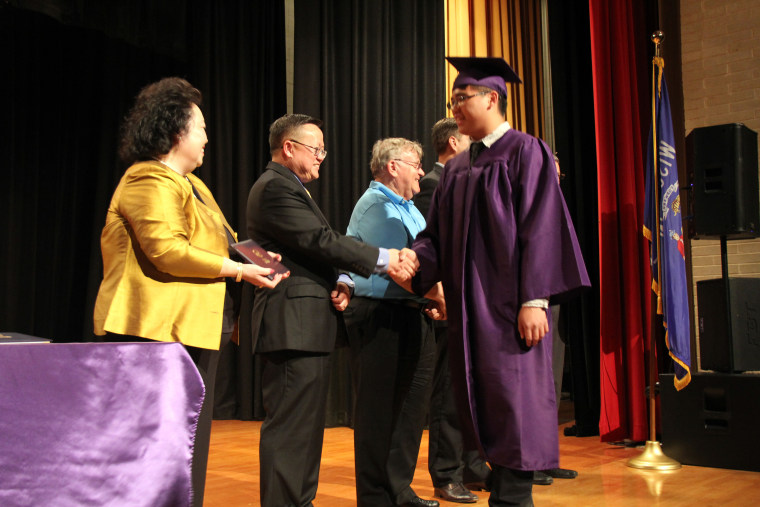 "My parents considered it un-filial to be away from home," Xiong said. "I chose to accept my admission to UW-Madison because I believed it would benefit my family as a whole and give them pride. They would have a daughter who was going to a renown college. As for engineering, my parents were always against it because they strongly believed it was a career for males only."
Xiong recognize the strong male bias in the Hmong culture, but attending HAPA gave her a way to work out the differences.
"Even now, [my parents] question whether my intentions are clear, yet I continuously want to prove them wrong," she said. "I grew up with computers and like to get technical with things. I enjoy observing others fix computers and generate softwares. It is something I want to see myself doing especially because the Hmong community lack female engineers. Many of them go into the medical field. I want to be different and show that my community is capable of doing other things."
RELATED: Mai Der Vang Wins 2016 Walt Whitman Award for 'Afterland,' Poetry Collection on Hmong Experience
The yearning to live her life as she wishes came only after first learning what it meant to be Hmong at HAPA, where she has attended since the school opened in 2004. While the history of how the Hmong came to the United States as refugees following the Vietnam War and "Secret War" in Laos can be painful, at HAPA, it provided unity and reassurance.
"As a child, I distinctly remember reciting the peace builder pledge every morning at school," she said. "It was a catchy jingle I believed was created only to spread peace among the students. As I grew older, I realized the pledge was a reminder for all the Hmong people that war was all we knew. We had to spread peace to take care of our own kin and to forget the bloodshed during the Vietnam War."
"Marrying the traditional way is to keep the Hmong culture from diminishing. It prevents our culture from losing its identity."
But she admitted that the clashing of values makes forging a new American Hmong life difficult.
"There are situations in which I strongly feel are inappropriate and disrespectful, yet in my culture its meaning would be the exact opposite. For example, marriage in the Hmong culture includes a dowry," Xiong said. "For the traditional folks, it is completely normal to buy the bride. In my opinion, I believe it is ridiculous because there is a price set for the daughter of the house; however, my opinion would be extremely disrespectful because those are the predetermined rules."
Her educational development at HAPA has given her a way to make sense of being a Hmong American.
"Marrying the traditional way is to keep the Hmong culture from diminishing," Xiong said. "It prevents our culture from losing its identity. Though I still am not comfortable with the idea of a dowry, girls who marry the traditional way are upholding their Hmong identities."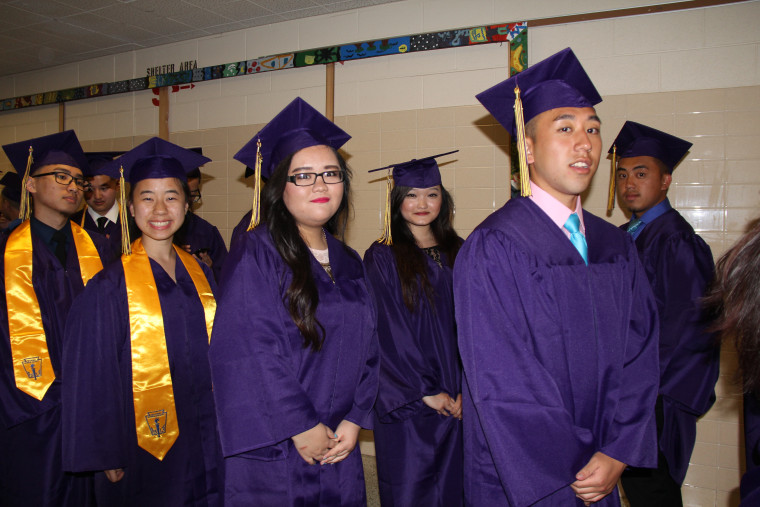 Her-Xiong understands the girls in the Hmong culture need slightly more guidance than the boys to deal with the culture clashes that occur. And while she said marriage by older men and young women can still be an issue in Hmong society, she always counsels the girls to stay in school.
"We accept [a pregnancy or marriage] and say, OK, this is what is, but you can't drop out of high school, you need to continue to work on your education, so you can continue to move forward," Her-Xiong said. "It's not a perfect world, and whatever comes, we have to address with heart, mind and soul."
Follow NBC Asian America on Facebook, Twitter, Instagram, and Tumblr.