It was an academic scholarship that first took Hollis Wong-Wear from Petaluma, California to Seattle, Washington in 2005. But it was her artistic ambitions and ties to the community that kept her there, as she established herself on the local poetry slam scene as a performer-to-watch, and as a youth poet mentor through YouthSpeaks Seattle.
Those poetry roots carried her further than she'd imagined, she says, into the rarefied air of Grammy nominees, as an artist and musician.
"I strive to be as emotionally honest as possible. I learned that rawness and vulnerability from being a spoken word artist," said Wong-Wear.
The eldest daughter of a Chinese immigrant mother and an American father, Wong-Wear credits her mother -- an entrepreneur who moved alone from Hong Kong to the U.S. -- for her vision and drive. "I inherited my hustle from her," she said.
Over the years, Wong-Wear learned that in order to flourish, she'd have to wear many hats, both behind the scenes and in the spotlight. Her resume lists an impressive succession of roles: poet, singer, songwriter, video producer, youth mentor, artist manager, actress, community leader, and businesswoman.
"I just want to be the best artist I can be and hustle as hard as I can"
But as important to her as building her own career, she says, is her ability to help other artists to rise, especially in her adopted city of Seattle.
Wong-Wear served as tour manager for Seattle-based hip-hop duo Blue Scholars and became a frequent collaborator with internationally acclaimed Seattle-bred artists Macklemore & Ryan Lewis. She sang the hook on their single "White Walls." She introduced them to singer Mary Lambert, who recorded with them on "Same Love." And she was the co-producing mastermind behind "The Video" of 2012, with more than 500 million YouTube views and counting, their hit single "Thrift Shop."
In 2014, Wong-Wear found herself a world away from the local poetry scene that launched her career -- walking down the red carpet at the Grammys. Her years of friendship and collaboration with Macklemore & Ryan Lewis earned her an "Album of the Year" nomination for her work on "The Heist."
Though Wong-Wear didn't win a Grammy that night, her vocals on one of the album's lead singles did carve out a place for her in industry history. "White Walls" peaked at no. 15 on the Billboard Hot 100 Chart, and went Double Platinum worldwide.
"I never anticipated having a song on the radio," said Wong-Wear. "I was simply invested in a collective project that I believed in, knowing it was far greater than myself."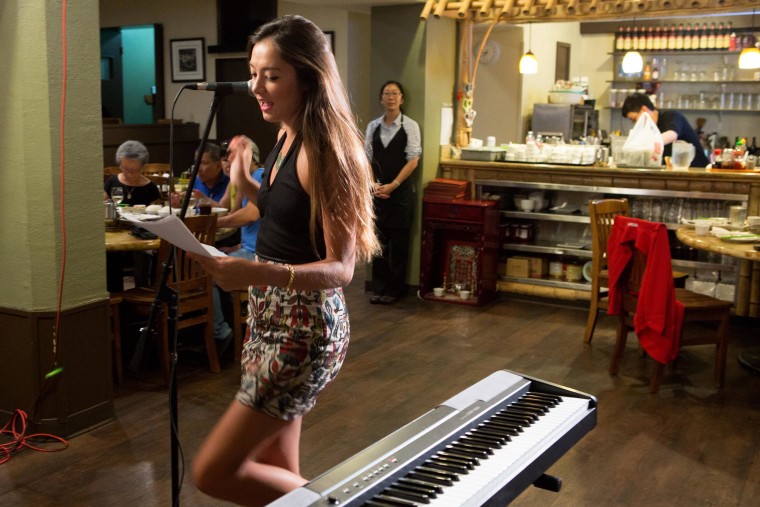 That idea of investing her energy in collective work surfaces again and again in Wong-Wear's career. She is currently one-third of the pop-synth band The Flavr Blue, which released their first EP album, "Bright Vices," in October 2013. Wong-Wear serves on the board of several Seattle commissions, working to advance arts programs in the city.
The work she's put into city initiatives, she says, is more than made up for with the reward she's been given -- the opportunity to represent Seattle on a national stage.
While other Asian-American artists have found their success overseas, Wong-Wear is determined to blaze her trail through the heart of American pop culture. The biracial musician admits that while the song "White Walls" does not fully represent her values (the song is rife with references to sex, drugs, and money) the visibility it granted her as an Asian-American artist was undeniable.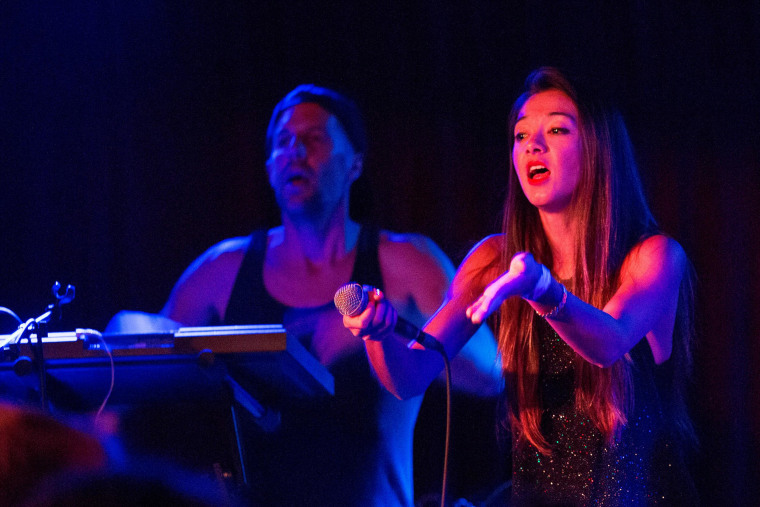 "Is it powerful for a young Asian-American woman to sing a song with this kind of reach? Yes. It creates an entry way for my voice and my story to be heard," said Wong-Wear.
Already, her work has led to performances on national morning shows, late night talk shows, and Madison Square Garden. Wong-Wear is placing many of her hats to the side for the time being, and concentrating on cultivating the success of The Flavr Blue, with whom she is currently touring with across the United States.
"I just want to be the best artist I can be and hustle as hard as I can," said Wong-Wear. "I want to put all that rigor behind my voice."