Not far from the bustling Bangladeshi restaurants and stores on Hillside Avenue is a mosque teeming with activity but not necessarily from worshippers. During the day, women and men sing songs at the "open mic," take English classes, learn about civil rights leaders like Martin Luther King Jr. and participate in group exercise. They eat meals, pray and celebrate their birthdays together. Sometimes they cry too.
These folks are members of the newly opened "Desi Senior Center," a facility targeted to assist the growing and aging South Asian community in this Queens, New York neighborhood. (Desi is a term that describes anyone from South Asia - Bangladesh, India, Pakistan, Nepal and Sri Lanka). The program is attended mostly by Bangladeshi Muslim immigrants but is open to people of all faiths and backgrounds. It is housed in the basement of the Jamaica Muslim Center in Queens, free of charge and is open to anyone 60 and up (though exceptions are sometimes made for younger participants.)
The facility is operated by India Home, a non-profit organization started by a group of Indian-American physicians who longed for a culturally sensitive community space for their aging parents. The center is open three days a week and offers a wide range of services tailored to the needs of seniors. Bangla is spoken, halal meals are served, prayer space is available and men and women exercise separately. It is the largest program of its kind for South Asian seniors in New York City, with roughly 100 seniors attending on a regular basis.
"The center is historic for the Muslim community," said Shamsi Ali, Director of the Jamaica Muslim Center. "The response has been overwhelming." Shamsi says that the Bangladeshi community, one of the fastest growing ethnic groups in New York, had lobbied their elected officials for years for financial help to create a center like this. Their prayers, he said, were finally answered in the form of a $100,000 grant from Councilman Rory Lancman's discretionary funds. Councilman Lancman's district has the largest Bangladeshi population in New York City and is home to over 23,000 residents of South Asian descent.
Lancman says the center could receive another $100,000 of public funds after the city budget is passed in June. The Councilman, who attended the center's opening day, hopes one day it could grow into a "full blown" senior center with additional funds.
"It was very moving to see how many people are benefitting from this center," he said. "We're trying to get a more mixed funding from my office, other offices and from the [city] administration."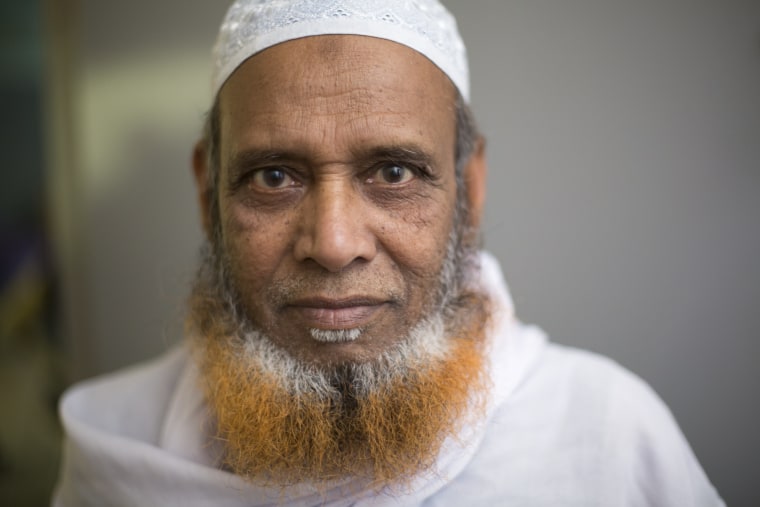 According to the Asian American Federation, most elderly Bangladeshi immigrants have English limitations. This language gap, along with their dietary restrictions, often prevent them from attending other senior centers. "Most of our Desi seniors end up just sitting at home which is almost a sure path to depression or other mental health issues," said Lakshman Kalasapudi, Program Manager of India Home.
Shahanaz Sultana knows about this firsthand. She was afraid to leave her daughter's house for months when she first emigrated to the United States from Bangladesh because she does not speak English. Things started looking brighter, she says, once she began attending the senior center with her husband. She has made several friends here and feels more confident.
"It feels good to come here," Sultana said. "My mind feels refreshed." She says she feels physically better too - once suffering from severe pain in her arms, the pain has lessened since she started taking exercise classes at the center, she claims.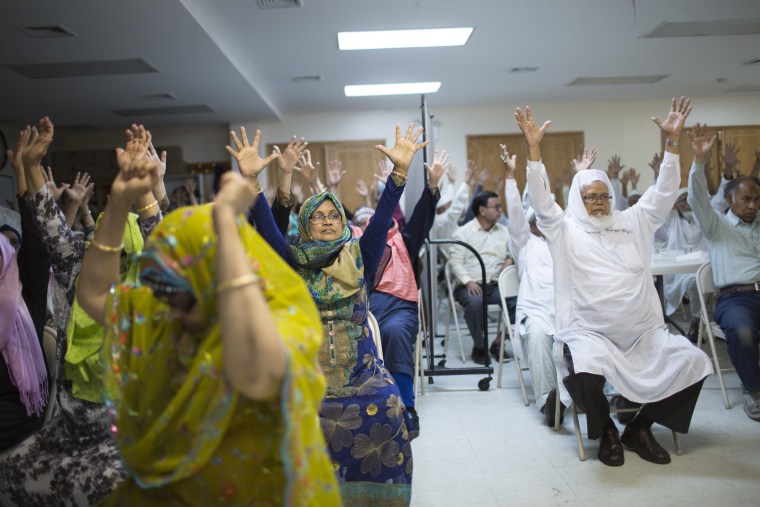 Among the attendees, Dilafroz Nargis Ahmed - the program coordinator - is an adored part of their daily routine. Ahmed, originally from Bangladesh, has lived in New York for decades with her family. Each day she reports for duty in a colorful sari - the traditional clothing worn by women in the subcontinent. She is friendly and cheerful, sharing her own immigration story with her elder counterparts.
"She is the best part about this center," said T.H. Sharif, 64. "She gives us courage. She saved my life."
Ahmed says that members often open up to her about their personal troubles. Some, she says, describe themselves as "burdens" to their family, confiding in her that they would prefer to live on their own if they could afford to.
"I tell them not to worry so much," she said "I encourage them to take care of their health and well-being."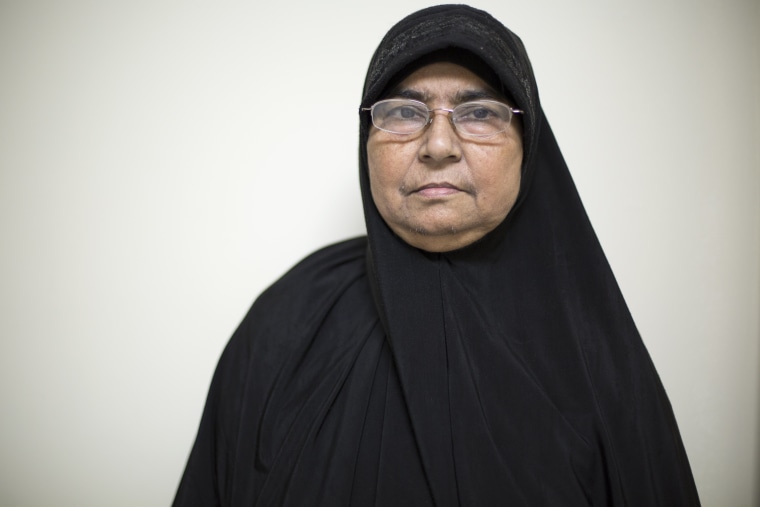 The Senior Center does not just give seniors a break - the family members who take care of their relatives get a break too. "Desi families do all the caregiving for their elderly relatives," said Kalasapudi. "The culture is not really there to send seniors to nursing homes or senior centers."
The inevitable stress that comes along with caring for an ill or aging relative is not something that South Asian families like to talk about. "No one wants to term it as stress because it is a loved one," said Kalasapudi. "Relatives get a small reprieve from doing all the caregiving when their parents or spouse go to the Senior Center."
Ms. Sultana lives with her husband, daughter, son-in-law and two grandchildren in an apartment in the neighborhood. She describes her family's living conditions as "congested."
"I see how hard my daughter and her husband work," she says. "I see it with my own eyes." She says she hears many members tell stories of financial hardships. According to the Asian American Federation, about a third of Bangladeshi elders in New York City live in poverty.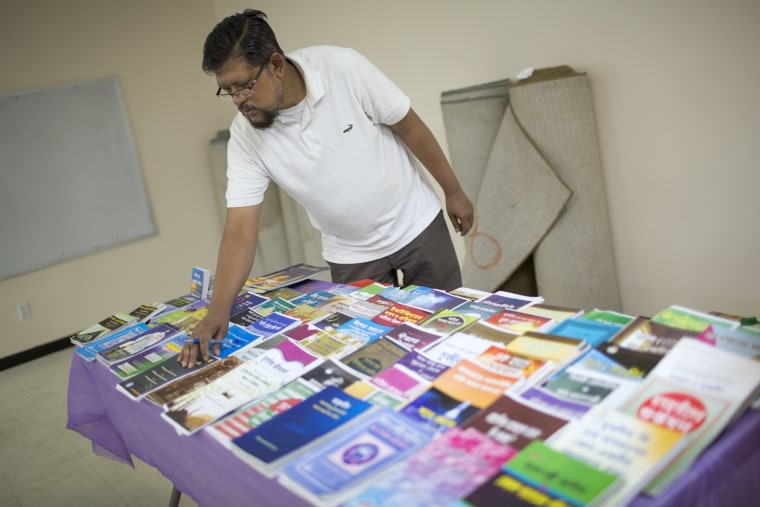 Pabitra Naidoo, 75 is dropped off to the center three days a week by his wife, a soft-spoken woman whom he lovingly refers to as his "boss." Naidoo grew up in Calcutta, a city in India with a Bangla- speaking population and is the only non-Muslim participant. Suffering from dementia, he repeats the same phrases within minutes of conversation.
"Today is my first day here," he says cheerfully every morning when he enters the center. "Who are you?" "I tell him who I am and where he is," said Ahmed. "I answer all his questions."
Naidoo says that he enjoys coming to the center to meet his friends. Though he is Hindu, he does not mind listening to the religious sermons about Islam that he often hears at the mosque. "No religion says kill anyone," he said. "They all just tell us to listen to the man above."