Actor Hong Chau is nominated for an Oscar and honoring her roots for the celebration.
Chau, who is nominated for best supporting actress for her role in "The Whale," walked the red carpet at the biggest event of the year in a custom pink Prada gown that featured a nod to her Vietnamese heritage.
The collar of her dress, known in English as a Mandarin collar, is a short and stiff upright collar. It's popular in both Chinese cheongsams (also known as qipao) and Vietnamese dresses known as ao dai.
She told E! News host Laverne Cox that she "just fell in love" with the dress when she first saw the sketch.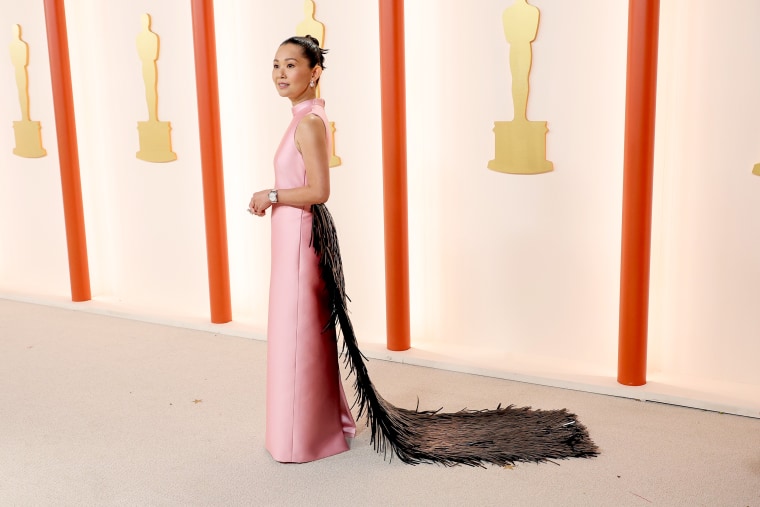 "And I asked them if they could add a little Mandarin collar as a little shout out to my roots and they were happy to oblige," she explained. "So it just feels like a really modern dress. I feel beautiful in it. But I also feel like I can move and I'm nimble so it feels very me."
Chau's stylists, Zadrian Smith and Sarah Edmiston, told E! News correspondent Zanna Roberts Rassi that Prada sent several sketches for the custom gown, which also featured a contrasting black feathered train.
"And Hong herself was like, 'Yeah, it's great but I think we need to add the collar,'" Rassi said, adding that the actor had also sent back her own sketch of the look and drew her inspiration from a 1997 Prada show.
"She went deep in it," Rassi said.
Chau's parents — while her mother was pregnant with her — and older siblings left Vietnam after the Vietnam war. Chau was born in a refugee camp in Thailand in 1979 and her family eventually relocated to the New Orleans, Louisiana, area.
In an interview with ABC on the red carpet, Chau opened up about becoming a mother in 2020 and how it helped her get in touch with her character in "The Whale." Chau plays Liz, a caretaker and friend to a man with obesity.
"I had just become a mother and my daughter was eight weeks old when we started this and I just have empathized with the character," she told the outlet. "He's trying to reconnect with his daughter and it's just so heartbreaking."
She added that she felt the need to protect star Brendan Fraser on-set.
"I felt this natural inclination to take care of him at least. I felt like I needed to protect him. And that worked really well for our characters on camera."