HONOLULU — A mother peers down behind glasses at the baby she holds in a bowl; the baby looks back out, a tiny black sprout of hair gathered atop her head. Missing person posters rise behind them, a sunset glow in the corner and letters strewn on the ground. This oil painting is entitled, "Letters From LA."
There's an arresting quality to the series titled "Last Known Locations," caught somewhere between heartbreaking and heartwarming. The work created by Honolulu-based artist Lauren Hana Chai details six locations where her mother, Mira, left a trail before she went missing entirely.
"Last Known Locations," consisting of oils on paper and canvas, was first exhibited in San Francisco in 2015 and in Honolulu in 2018. Chai said the series will next be displayed in Los Angeles, with plans to bring the exhibit to all six locations depicted, including South Korea and Hong Kong.
Originally titled "Letters From LA," Chai created the series as a senior at the Academy of Art University in San Francisco. It was a nod to when she was 9 or 10 years old and still exchanged letters with her mother.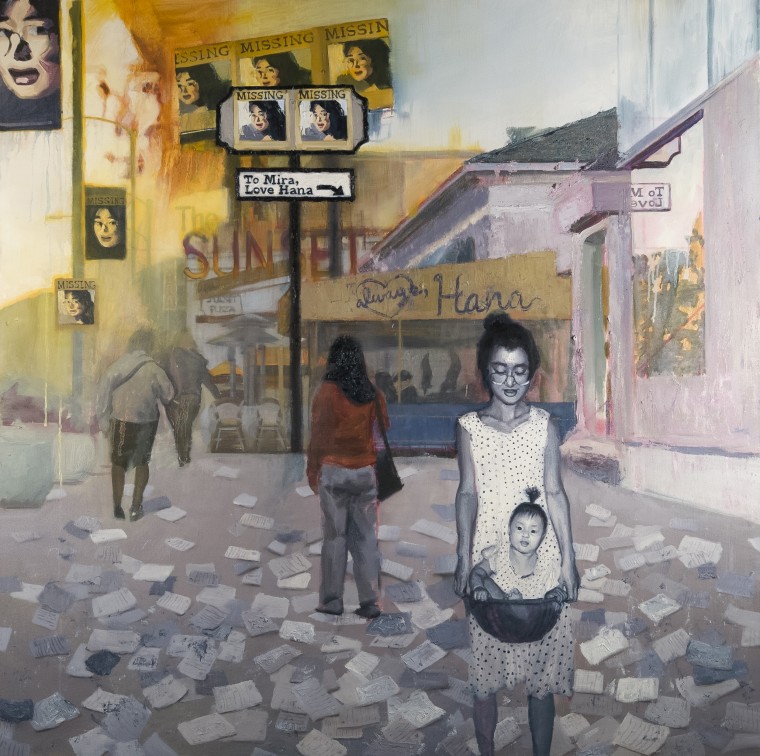 Following a divorce from Chai's father in 1996, Mira had left Hawaii for the U.S. mainland and Chai's father moved to South Korea. But Mira had kept in touch with Chai, who was raised in Honolulu by her paternal grandparents, through phone calls, letters and packages. But after a few years, all communication had stopped.
"By the time I was 11, none of the contacts were working. I tried her number, email. But everything was shut down. Even her own side of the family, her own siblings, everyone just didn't know," Chai, 28, said.
While a student at the Academy of Art University, Chai said she found herself wondering more about her mother. During this time, Chai's then-boyfriend hired a private investigator who revealed Mira may have become mixed up in something illegal.
"I was feeling much more curious about what had happened to her. I started to paint her face from old photos, drawing her from a technical standpoint, and then I was painting her face from memory," Chai said. She began on Photoshop and then collaged images together, which resulted in final pieces quite different from the image composed at its outset.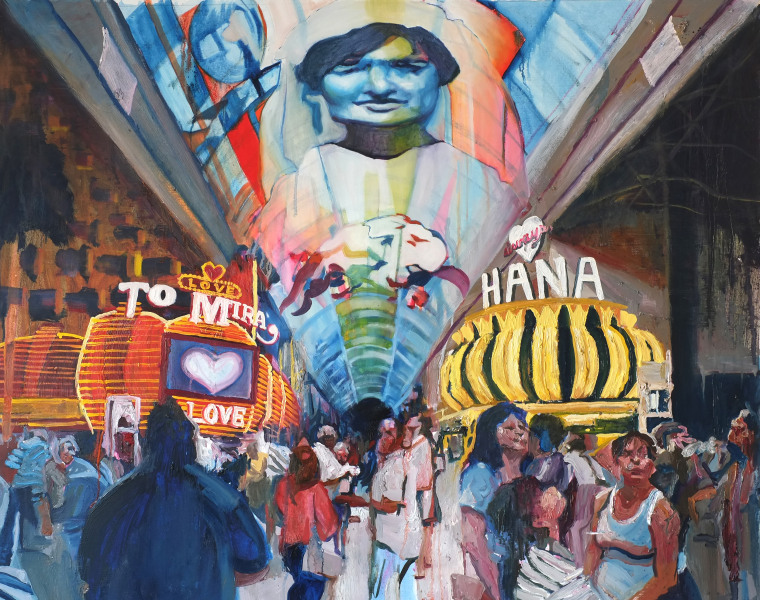 "Last Known Locations" is distinct from Chai's other work, which often showcases strong Korean influences, including shamanism and Korean folk painting (minhwa). Chai also incorporates her upbringing in Hawaii into her work: She's part of Pena People, a collective of local artists that holds an annual beach cleanup and creates art by recycling marine debris.
With the international travel slated for exhibiting "Last Known Locations," the possibility that Mira may see her daughter's work exists, though Chai said her primary concern is for her mother's well-being.
"My hope is that she knows that I still care. That she has a place to come home to and has a daughter to talk to," Chai said. "Sure, I'd like to find her. But I just want to know that she's okay."
Follow NBC Asian America on Facebook, Twitter, Instagram and Tumblr.
CORRECTION (May 2, 2019, 4:17 p.m. ET): An earlier version of this article misstated the location of Lauren Hana Chai's next art exhibit. It is in Los Angeles, not Las Vegas.