On Thursday, Reps. Judy Chu (D-CA), Loretta Sanchez (D-CA), and Sheila Jackson Lee (D-TX), as well as advocates for Asian-American, Latino, and African-American women spoke out against H.R. 4924, also known as the Prenatal Nondiscrimination Act (PRENDA), which they characterize as racist and anti-choice, according to Chu's office. On the same day, the all-male House Judiciary Subcommittee on the Constitution and Civil Justice held a hearing on the bill.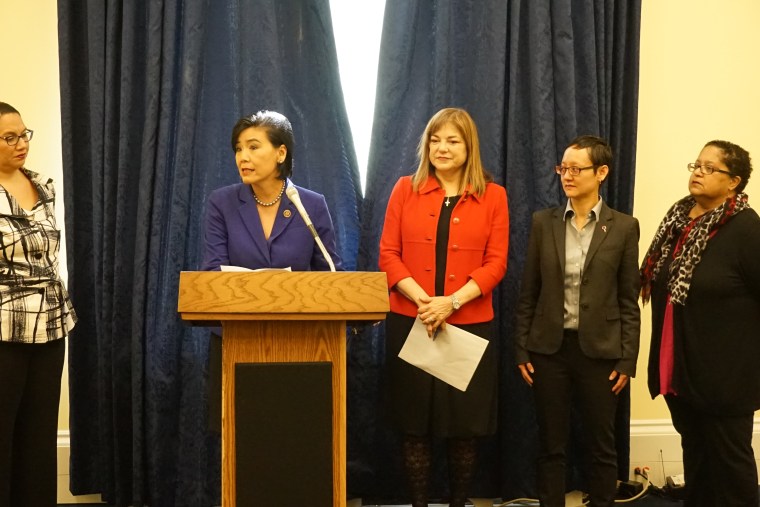 H.R. 4924 seeks to ban sex-selective and race-based abortions. Advocates have argued that sex-selective abortion bans exploit racial stereotypes and impede healthcare access for Asian-American women by inserting racial profiling into the center of the doctor-patient relationship. A 2014 study from the University of Chicago debunks the myth that Asian cultural preferences for sons contribute to the practice of gender-based abortions and shows that Asian Americans actually have more girls than boys.
"PRENDA doesn't just seek to take away a woman's right to an abortion, it peddles a dangerous and ugly stereotype that Asian-American, black, and Hispanic women are more likely to seek an abortion because of sex or race," Chu told NBC News. "Airing this kind of prejudice in a Congressional hearing gives it legitimacy. It also insultingly tells minority women that they cannot be trusted with making decisions for themselves."
H.R. 4924 would make medical professionals liable for discerning the motivations of their patients. Doctors who knowingly perform abortions sought on the basis of sex or race could be prosecuted, and doctors and nurses would be required to report patients for whom they suspect such motives, according to the text of the bill.
"If PRENDA becomes law, it will come between a woman and her doctor, and actually creates a perverse incentive for doctors to racially profile their patients. This is wrong," Chu said.
Nine states in the United States — Arizona, Indiana, Illinois, Kansas, North Carolina, North Dakota, Oklahoma, Pennsylvania, and South Dakota — currently have laws prohibiting sex-selective abortion. A 2014 University of Chicago study found that five years after enacting sex-selective abortion bans in Illinois and Pennsylvania, there was no change in the male-to-female sex ratios at birth.
"Today's hearing exposed the racist stereotypes against Asian Americans that anti-abortion advocates are perpetuating to ban abortions for all women," Miriam Yeung, executive director of the National Asian Pacific American Women's Forum, told NBC News. "Asian Americans do not express a preference for sons. Rather, Asian Americans and Pacific Islanders are clearly in favor of legal abortion and for keeping politicians out of personal medical decisions."
Follow NBC Asian America on Facebook, Twitter, Instagram, and Tumblr.
RELATED