HOUSTON — Like many Asian Americans who were coming of age in 2002 when Yao Ming became the first Chinese basketball star in the NBA, Weili Hsu feels a special connection to the Houston Rockets, the franchise that drafted Yao.
Hsu, 34, remembers gathering with friends and family to watch Rockets games that year, thrilled to see someone who looked like him playing the sport Hsu had grown to love after his family moved from Taiwan to Texas when he was 8.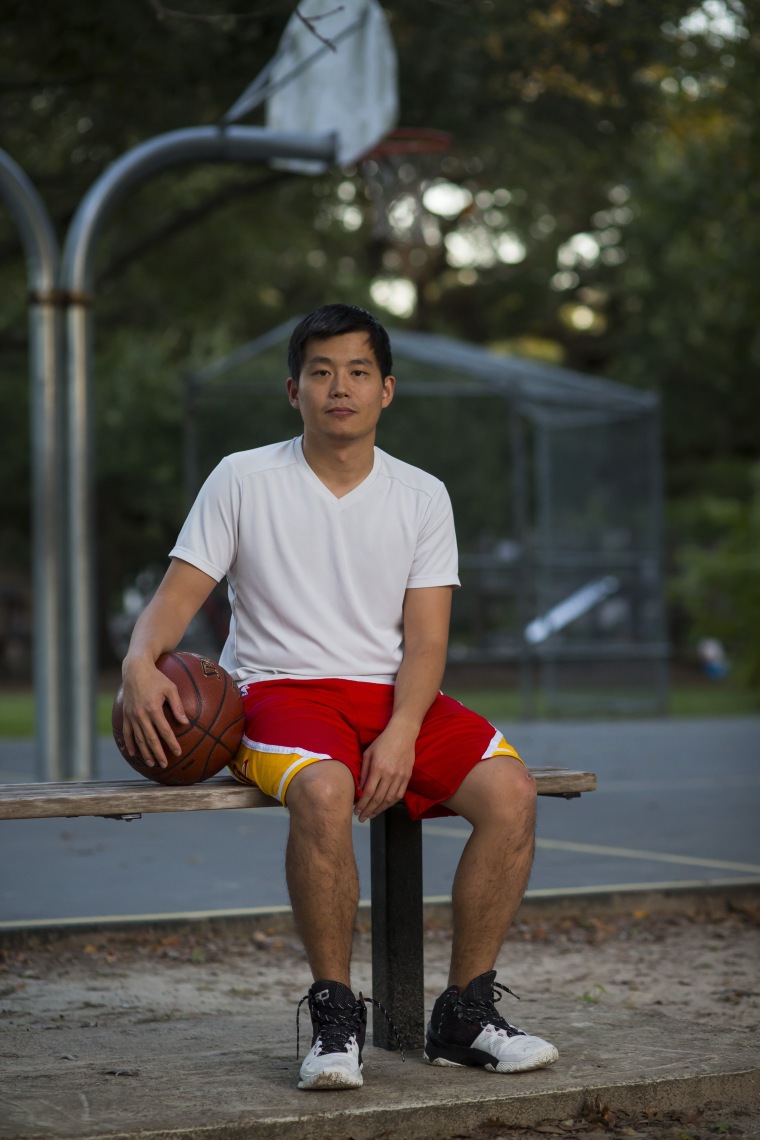 "Growing up playing basketball, going to the playground, the first assumption was always that Asian kids can't ball," Hsu said. "So having someone come into the pros and prove that wrong, it was kind of life-changing."
But Hsu's relationship with the Rockets hit a rough patch this month after the team's general manager, Daryl Morey, faced backlash for his tweet in support of anti-government protesters in Hong Kong, who for months have taken to the streets demanding independence from communist China. Morey quickly deleted the seven-word tweet — "Fight for freedom. Stand with Hong Kong" — but not before it sparked international tensions and strained the NBA's lucrative business relationship with China, which includes ticket sales, sponsorships and broadcast rights.
In the weeks since, the NBA and Rockets have worked to defuse the friction with China, putting players and coaches in the awkward position of appearing to take a neutral stance on Hong Kong's anti-government movement.
After Morey deleted the tweet and apologized, Hsu texted a group of friends, all of them Asian American basketball fans: If Morey was fired, Hsu told them, he would never attend another Rockets game.
One of his friends replied with a thumbs-up.
In the process of appeasing Chinese business partners, experts say the NBA and Rockets risk alienating a generation of Asian Americans like Hsu who fell in love with the game when Yao came into the league, but whose families have embraced democratic values and feel an allegiance to Hong Kong's protesters.
"There is probably a cost to the NBA no matter what at this point after the tweet," said Andrew Liu, an assistant professor of modern Chinese history at Villanova University. "But I think in their minds they are calculating that taking this neutral position is the smaller cost, because the Chinese market is over a billion people."
No organization has more to lose, perhaps, than the Rockets, a team that has deep ties to China and plays in one of the most diverse cities in the country. The Houston region is home to more than 90,000 residents of Chinese origin, which includes immigrants with ties to Hong Kong and Taiwan, according to U.S. Census estimates. Like Hsu, many of them developed a close connection to the Rockets during Yao's years in the league and have continued to support the team.
Hsu remembered attending Rockets-watch parties with members of his church of Taiwanese immigrants in Clear Lake, a community southeast of Houston.
"The team sort of becomes part of your identity in a way," he said.
As the Rockets opened their season against the Milwaukee Bucks on Thursday at the Toyota Center in Houston, Hsu and many other fans of Hong Kong and Taiwanese descent said they were feeling disillusioned.
Some of them came to the arena wearing black T-shirts demanding that "China, stop bullying" and carrying signs that read "Money can't silence us." Similar protests were staged this week at NBA arenas in Los Angeles and Toronto.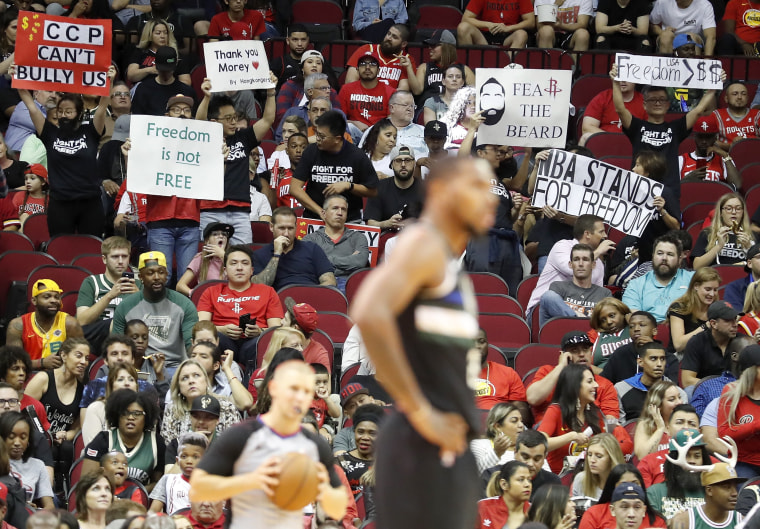 Dr. Tram Ho, a Houston physician who fled Vietnam with her family as a teenager in the 1980s, was so outraged at the backlash against Morey that she and her family purchased 30 tickets for the Rockets season opener and invited members of the local Vietnamese and Hong Kong communities to join her in demonstrating.
Ho said she and others were upset when, within hours of Morey's tweet, Rockets owner Tilman Fertitta publicly rebuked him. Fertitta said through a spokeswoman Thursday that he never considered firing Morey, but the tension has not faded.
"We appreciate Mr. Morey, who stands for democracy," Ho said, shouting to be heard over the crowd. "I was born in Vietnam, came here when I was 14 years old with my family, and I know what communism is like. So even though we are not from Hong Kong, we stand with them and for freedom."
A Vietnamese community group and Hong Kong activists from Houston are planning a larger protest before Saturday's Rockets game against the New Orleans Pelicans, Ho said.
"It wasn't right for the team to silence Morey," Ho said. "Freedom is more important than money."
Of course, many Rockets fans with close ties to mainland China have a different perspective, though some said they avoid speaking publicly on contentious subjects. One fan told a reporter before the game that he sympathized with China's outrage over Morey's tweet — Hong Kong, he said, is a Chinese territory, which China should be able to govern as it sees fit — but he believed the government had overreacted in this instance. He's hoping everyone moves on.
For others, that won't be easy. Jonathan Mok, 35, was a Rockets fan even before Yao joined, but his appreciation for the team grew in the years after that, and even more so after the team signed Jeremy Lin, the NBA's first American player of Taiwanese descent. Mok watched Thursday's game at his home in Sugar Land, a booming, diverse suburban city southwest of Houston.
In the days after Morey's tweet, when it was rumored that Morey might lose his job, Mok said he thought hard about boycotting the team. Would he have gotten rid of all the Rockets T-shirts, posters and jerseys he's collected over the years?
"It's crazy how close things came to that," Mok said.
For now, Mok said, he's sticking with the Rockets and hoping this is the year they finally make it back to the NBA Finals.
But if Morey is no longer with the team, Mok said he won't be either.