As co-owners of 886, a Taiwanese eatery in Manhattan's East Village, Andy Chuang and Eric Sze had to lay off their staff of 20 as the city closed restaurants amid the coronavirus outbreak.
"We were both super down," Chuang told NBC Asian America. "But we thought we had to do something for our employees."
So they decided to give bento delivery service a shot and disburse all proceeds, however small, to their workers, many of whom are undocumented and live paycheck-to-paycheck.
The first week, Sze cooked 60 meals as Chuang coordinated deliveries. Both leveraged social media to share the initiative and seek help from friends and regular customers.
"It just took off on Instagram," Chuang said.
Orders and donations grew so quickly that the pair brought two other Asian restaurants, Ho Foods and Raku, into their operation. A $4,000 check from a California-based wedding company arrived in Chuang's mailbox last week.
They rehired seven employees and began working with organizations to feed health care workers. Nearly a month in, the three joints have delivered more than 4,000 bento boxes to homes and local hospitals and raised $90,000 in funds.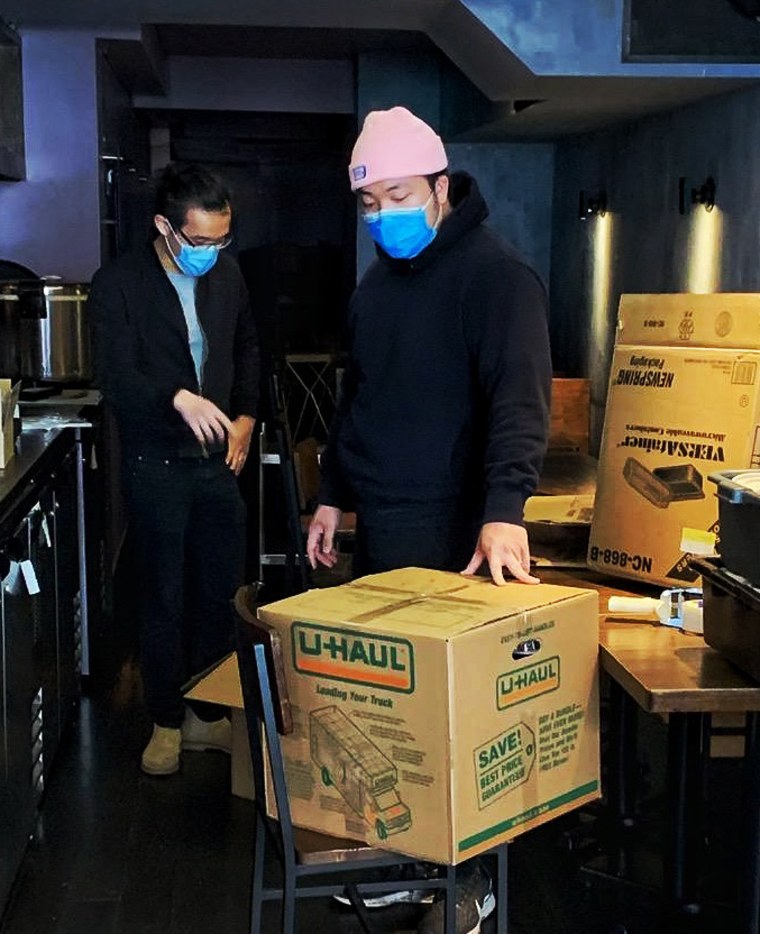 Few sectors have been hit harder by the coronavirus pandemic than food and service.
The restaurant industry alone could shed up to $225 billion and 7 million jobs this spring, according to projections from the National Restaurant Association. But as the Payroll Protection Program, a federal loan initiative to rescue small businesses, tapped out after just two weeks, many independent eateries have yet to receive any government assistance.
"It's frustrating because they're giving millions to big chains backed by corporations," Chuang said. He's applied for both the PPP and the Economic Injury Disaster Loan but hasn't heard back about either. Meanwhile, Potbelly and Ruth's Chris Steak House, two publicly traded groups that each hire thousands of employees, have secured a combined $30 million in PPP loans.
Nationwide, Asian American restaurant owners are responding to the shortage of federal aid by acting as benefactors to their own staff. Jennifer Saesue, the co-owner of SoHo-based Thai eatery Fish Cheeks, created a GoFundMe page for her 45 employees, with a fundraising goal of $150,000. To date she's collected just over $8,000, all of which will go to back-of-house staffers who don't get tips. But with 30 people splitting the money, each will only receive a lump sum of $300.
"We're just taking it day-by-day at this point," Saesue said.
Some managers have opted for a more active approach to fundraising.
Erina Yoshida, chief operating officer of the Yoshida Restaurant Group, partnered with an online merchandise campaign to sell shirts with logos of her seven restaurants and bars in the city. She also began serving to-go cocktails at Angel's Share, the company's popular speakeasy. Nearly half of the proceeds from both initiatives will be disbursed to staff, Yoshida said. Thanks to effective Instagram promotion, she's so far accrued enough donations to pay 40 people for a month.
"Social media is the new word-of-mouth," she said. "I don't know what I'd do without tech."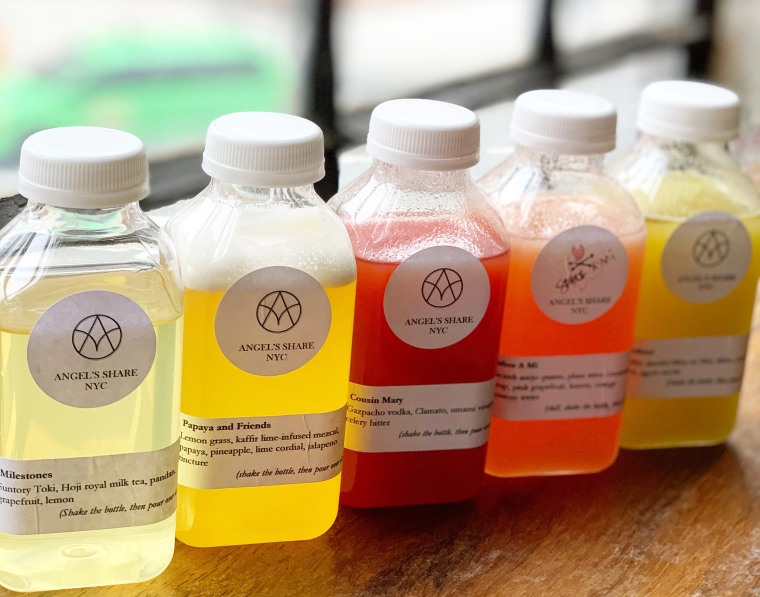 In Southern California, Asian restaurateurs who have had little luck with loan programs have also come up with innovative, thoughtful ways to support their workers.
Allan Tea, whose family runs the dim sum chain Capital Seafood, partnered with a wholesale dumpling supplier and established Cali Dumpling Delivery, a home delivery service that gathers funds for his own employees and other hospitality workers.
In three weeks, Tea has raised $30,000 and rehired 10 people. He also sent individual checks worth $250 or groceries worth $150 to 40 others.
Other owners, like Ed Lee of the taco-chain Wahoo's, have been making sure their staff has the supplies they need.
"That first week of quarantine, we were in 911 mode looking for toilet paper," Lee said. "I've been in business 31 years and have never seen anything like this."
Working with various vendors, Lee provided several hundred furloughed workers a steady supply of toilet paper rolls, as well as pallets of rice and beans, tortillas, chicken, and fresh produce.
But assuming the dual role of boss and benefactor can exact a heavy toll on restaurateurs, many of whom are forgoing salaries and falling behind on fixed costs such as rent and utilities.
Leslie Nguyen, the founder of the Newport Beach brunch spot Bosscat Kitchen & Libations, reserves a quarter of the sales revenue from a separate to-go business — creating doughnut decoration and cocktail kits — to her employees. (The rest goes to food and operating costs.) One time, she bought 60 breakfast burritos from an Italian diner to feed her delivery drivers. Though she loves providing for others, she said, her impact is limited if elected officials don't do their part to rescue small restaurants.
"It's a grind because you're working harder with less for less," she said. "The community and industry people together have done so much more than the government."
Follow NBC Asian America on Facebook, Twitter and Instagram.