It's been used to buy farm-fresh eggs and pay bills — and to quickly mobilize tens of thousands across the country to rally on behalf of a former New York City cop convicted in the accidental shooting death of an unarmed black man.
WeChat, the hugely popular social media app developed by Chinese internet company Tencent, has grown to become an indispensable tool in the lives of both Chinese citizens and first-generation Chinese-speaking immigrants in the U.S.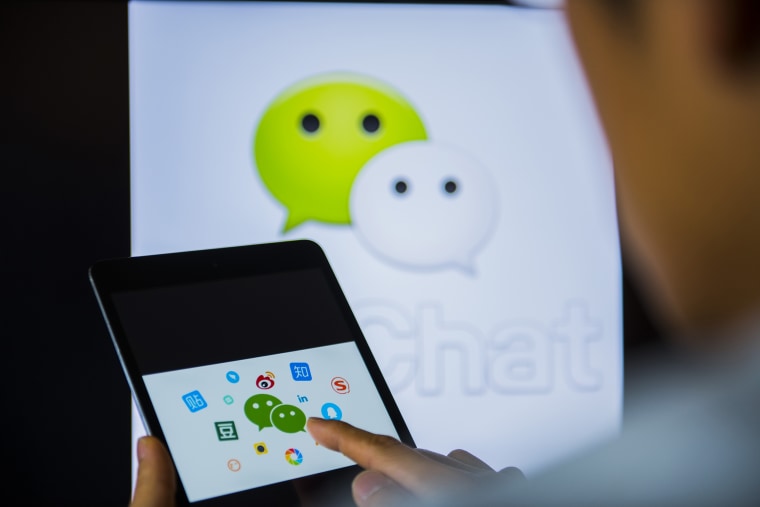 Part Facebook, part Twitter, part WhatsApp, WeChat helps to forge social connections among groups of people with similar interests, in everything from consumerism to politics. And it also provides its 1 billion monthly active users worldwide with news and information.
It was the political discussion on the social media app during the 2016 U.S. presidential election that caught the eye of WeChat user Zhang Chi, a fellow at the Tow Center for Digital Journalism at Columbia University's Graduate School of Journalism.
Something curious appeared to be afoot.
"I did notice a very interesting turn toward conservatism on the platform itself," Zhang said.
MISINFORMATION AND POLARIZATION
Zhang, a doctoral candidate at the University of Southern California's Annenberg School for Communication and Journalism, authored a study released in April that examined misinformation and political polarization on WeChat.
As primary races for local, state and federal elections heat up across the country, it's a phenomenon that some experts and political observers have been closely watching, especially in elections where Chinese-American voters can make a difference.
"If you look at discourse on WeChat, conservatives are winning the messaging game," said Karthick Ramakrishnan, founder and director of AAPI Data and a public policy professor at the University of California, Riverside.

Zhang's report said issues like affirmative action, unauthorized immigration and data disaggregation (the process of breaking down data by ethnic group) received a disproportionate focus on WeChat during the study period, from September to November 2017, compared to English-speaking media and ethnic media with immigrant Chinese as a target audience.
Jobs, the economy and health care garnered little attention, though coverage of the three in the Chinese ethnic press far outpaced other topics, according to the report.
While the study noted that both conservative and liberal WeChat discourse focused on race relations and what it called the "ambivalent role of Chinese Americans," "it was the conservative narrative, invoking zero-sum calculations and the neglect of Chinese Americans by liberals, that seems to resonate more widely."
CHINESE CONSERVATISM
It's hard to say whether WeChat is responsible for the apparent rise in first-generation Chinese-American conservatism or whether the social media app has merely amplified its presence.
Tian (David) Wang, founder of the Chinese Americans for Trump movement, attributes the trend to a series of issues or incidents dating back to a little after WeChat was released in 2011 that some Chinese Americans viewed as discriminatory.
One involved Jimmy Kimmel, who came under fire for a 2013 skit in which a child suggested "killing everyone in China" could be a solution to America's debt problem.
Another was SCA-5, an amendment in California to reinstate affirmative action in the state.
And then there was the prosecution of Peter Liang, a former New York City police officer of Chinese descent who accidentally shot and killed an unarmed black man while patrolling a housing project.
After a jury found Liang guilty of second-degree manslaughter in February 2016, WeChat helped mobilize tens of thousands of first-generation Chinese-American immigrants to hit the streets and protest the verdict in more than 30 cities.
A judge later reduced Liang's conviction to criminally negligent homicide and spared him prison time.
Much of this activism and discourse played out both on private WeChat groups and official accounts, to which anyone can subscribe.
"Without these events, nothing," Wang said, adding, "Nobody would be talking about politics."
JOINING THE DISCUSSION
WeChat users, like those on other social media platforms, can follow a variety of official accounts, including those for celebrities, government, media and enterprises. The Tow Center report said there were as many as 10 million.
Topics span the gamut, from recreation to leisure, food to politics. Most of the content is in Chinese.
Through a survey in August 2017 with 407 U.S.-based Chinese WeChat users, Zhang and her team identified 25 WeChat official accounts, or outlets, that respondents said were important to their understanding of politics and U.S. current events.
Many of these outlets provide a mix of gossip, information and news, while a few focus on politics.
Survey participants were recruited through Chinese organizations and Chinese-language school mailing lists. They also came from within WeChat through "snowball sampling," a technique in which existing study subjects recruit future ones from among their acquaintances.
Zhang noted that statistics weren't available on the number of U.S.-based WeChat users.
Her report analyzed all published content from these outlets from September to November 2017, some 3,837 articles in all. Outlets differed in quality and size, ranging from some with one writer and a small base of contributors, to others with a full-time editorial staff, according to the report.
The report found that the three right-leaning outlets during the period analyzed, between January and November 2017, published on average 384 articles per month — more than four times the amount put out by the four left-leaning ones.
Muslims, affirmative action and terrorism accounted for 57 percent of content on right-leaning accounts, compared to 47 percent on left-leaning ones, according to figures provided by Zhang.
But issues like health care, jobs and the economy took a backseat on right-leaning outlets, as opposed to what was published by their left-leaning counterparts, which had a more even distribution of topics, the study found.
SEPARATING FACT FROM FICTION
The veracity of what's being published through official WeChat accounts and private groups is a growing source of concern for some.
Just like Facebook and Twitter, WeChat can feature content that's been distorted, exaggerated or just plain false.
One space where this can happen is in private groups. WeChat allows users to create a group chat of up to 500 members, according to the company.
"The groups are really where the articles are shared and where discussions take place," Zhang said.
One example of misinformation cited in the study involved reports in November warning WeChat readers of an impending civil war and mass riots led by "Antifa."
Short for "anti-fascist," Antifa is a loosely organized coalition of protesters, left-wing activists, and self-described anarchists who vow to physically confront "fascists" — meaning anyone who espouses bigoted or totalitarian views.
Following President Donald Trump's election, Antifa protesters have occasionally clashed with his supporters and white nationalist groups at demonstrations across the country.
To be sure, an Antifa-led civil war or mass riots never happened. Moreover, a recent search on WeChat showed that some articles did in fact counter the erroneous claims and urged users not to spread unfounded reports.
But the story, translated into Chinese, nonetheless propagated far and wide on WeChat, according to the report.
If you look at discourse on WeChat, conservatives are winning the messaging game
"This case illustrates how a conspiratorial idea that was relayed all the way from the English-language far-right by way of partisan outlets on WeChat could be amplified through the replication and multiplication of diffuse outlets eager for shareable content," the report concluded.
Another source of concern for some is whether WeChat outlets translating and packaging the news have fact-checking mechanisms in place like those at established Chinese-language media in the U.S.
"Not only do they not have fact-checking or any traditional norms of journalism governing how they operate," Zhang said, "there's an incentive to editorialize and make the narrative, the story, more sensational than what they found on the Internet."
Outlets do this, she said, to make themselves stand out from the pack.
Joe Wei, managing editor of The World Journal, a U.S.-based Chinese-language newspaper, said he believes the majority of WeChat content is translated and disseminated by people in China.
He said the goal is not to give readers a better understanding of what's happening in the U.S., but rather to expose conflict in the country, in an effort to show that China is better than the U.S.
For his part, Wang, who runs the Chinese Americans for Trump private WeChat group, said he doesn't believe WeChat is being used to give first-generation Chinese-Americans a distorted view of U.S. politics.
"People do their own fact-checking, big time," he said. "We're not just going to believe a link on a website, not from a critical source, saying whatever. Everybody does their critical thinking, independent research, and we encourage people to do that so they're immune from the fake news media."
Wang added that they have moderators who fact-check news that is shared. Action is taken when something is found to be amiss.
"People would point out a link, saying this is fake news, it didn't happen, it's not real, and we would all just stop spreading," he said.
Wei, however, expressed concern over how the content of some WeChat outlets is curated.
Speaking in Mandarin, he said right-leaning and pro-Trump groups tend to select, or cherry pick, social issues for WeChat that first-generation Chinese Americans are familiar with.
Those have included opposition toward affirmative action, allegations of Asian-American admissions quotas at Harvard University, and laws requiring that education and healthcare data only for Asian Americans be broken down by ethnicity.
But other issues, like the questionable use of force by some police officers toward black men, may get short shrift or not be covered at all, according to Wei.
The common theme that resonates for many first-generation Chinese-American immigrants is a feeling of being discriminated against or marginalized, observers note.
And that, they say, has helped galvanize support through WeChat to rally around these issues.
A NEW MEDIUM FOR THE MESSAGE
These days, fewer first-generation Chinese-American immigrants appear to be getting their news from traditional sources, like print media, Wei said.
Instead, they're turning to WeChat and the platform's official accounts, personal groups and "Moments" section, where users share information with their friends.
Chinese-language print media in the U.S. will likely adjust in the coming years by shifting its focus more to local news, including on-the-ground reporting about life in Chinese-American communities and the difficulties residents face, Wei said.
Established Chinese ethnic media outlets, including The World Journal, have also responded by setting up their own official WeChat accounts.
"In the last few years, we have been investing tremendously, building up a news-information platform that includes website, social media, print and electronic newspaper," Wei said of The World Journal.
To combat misinformation on WeChat, Zhang's report said more English-language media, government agencies and community groups should use the platform for two-way communication.
And ethnic media, the report added, can serve as "vehicles of verified information," even as WeChat seems to have garnered a sizeable audience.
"Substantial and credible local news is more crucial than ever for immigrant groups, especially on stories and policy issues prone to misinterpretation," the report said.
Follow NBC Asian America on Facebook, Twitter, Instagram and Tumblr.