In "Always Be My Maybe," Ali Wong and Randall Park star as Sasha and Marcus, childhood friends who meet again as adults, by which time Sasha is an established chef. Sasha's love of cooking comes from Marcus' mother, who, in early scenes from the characters' childhoods, teaches her how to make kimchi jjigae (a stew) and fold dumplings.
From close-ups of a congee-for-one platter to slow-motion shots of skewered prawns and some pointed satire of high-end gastronomy — all styled with the help of two-star Michelin chef Niki Nakayama — food is a theme throughout the film and a focal point of some of its major beats.
Which was all done on purpose, said Michael Golamco, who co-wrote the rom-com with Park and Wong.
"What resonates for me is that love is not said, it is communicated through acts, and cooking is one of those things. It's not like, 'Hey, I love you.' It's 'Hey, did you eat something?'" Golamco said, adding that he and his co-writers are all pretty food-obsessed.
Golamco personally loves watching food-themed competition shows like Korea's "Chef & My Fridge," a program in which chefs invade celebrities' refrigerators to conjure up meals.
"I love cooking. I'll unwind and just cook for myself," Golamco said. "Randall makes his own kimchi. We're deep in this s---."
Depicting food at a range of price points and settings was particularly important to the writer, albeit challenging at times in production. Golamco recalled the crew struggling with getting "edible bubbles" to blow out and land correctly on a table while filming a scene satirizing upscale restaurants that are big on theatrics and light on portions.
"They were a nightmare," he said, laughing.
The film's food focus has resonated with fans like Natalie Vo Bombet. Bombet immigrated to the United States as a child from Vietnam and grew up in the greater Los Angeles area and Las Vegas. She — like Wong's Sasha — was a latchkey kid, and seeing Sasha make meals with Marcus' family reminded Bombet of the rare times she was able to do so with her own parents.
"The two meals I remembered growing up: one was my dad's fried rice and the other one was this steak he made — and he added butter and mayonnaise," Bombet, a Los Angeles-based jewelry designer, said. "My dad was never home. He was working two or three jobs, learning English. And those were the two hot meals I never forget."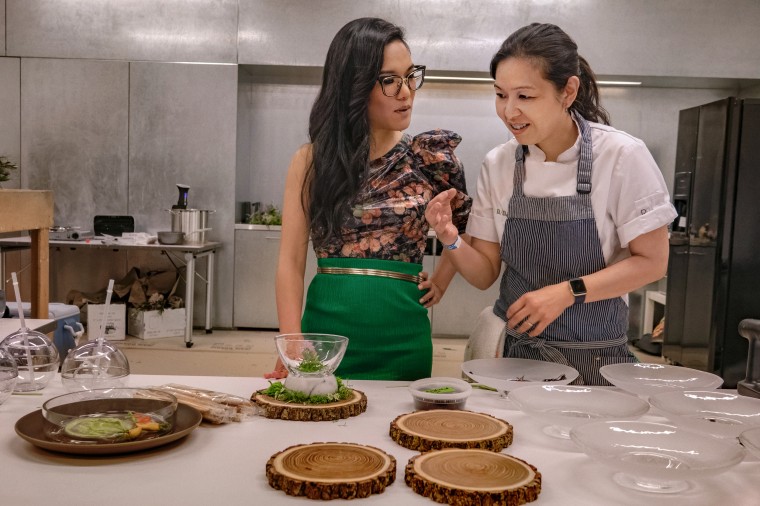 For Ruth Chen, who grew up in Hawaii and now lives in Minneapolis, the film's food scenes brought back memories of helping in her family's kitchen and seeing groups of mothers and grandmothers gather to wrap zongzi (glutinous rice wrapped in bamboo leaves), spring rolls and dumplings.
"I felt like you just accepted that Sasha has cultivated her style of cooking and cuisine from her life experiences, and there isn't the need to show how she developed each dish," Chen said.
She added that she resonated more with the food in "Always" than in "Crazy Rich Asians."
Food's role as a storytelling device in Asian American rom-coms is helped by the fact that the prominence of Asian Americans in food is well established, said Oliver Wang — a professor of sociology at California State University, Long Beach, and a food columnist.
This is especially true with the popularity of chefs such as Roy Choi and Nakayama, amid an already culinary-heavy pop culture landscape driven by 24-hour TV networks and social media.
"Our authenticity in this realm is never questioned in the same way an Asian American hip-hop or rock artist is," Wang said.
He added that food is a somewhat obvious connection to Asian and Pacific Islander cultures for those who are not of Asian Americana and Pacific Islander descent. "It's that cliché of one of the first things someone will say is, 'I love fill-in-the-blank of whatever ethnic cuisine' is associated with that ethnicity," Wang said.
And showing culturally specific food items has made a real world impact. When Lana Condor's character in the 2018 teen comedy "To All the Boys I've Loved Before" is shown drinking a yogurt beverage that appears similar to Yakult, a probiotic drink from Japan, shares of the beverage's parent company ticked up by 2.6 percent amid increased sales.
The CW's "Crazy Ex-Girlfriend" also garnered praise from critics for including dinuguan — a Filipino stew made with pig's blood — in a Thanksgiving episode.
Wang said films like director Ang Lee's 1994 "Eat Drink Man Woman," 2000 indie flick "Catfish in Black Bean Sauce" and 1994's "Double Happiness" starring Sandra Oh are other examples of food used as the subtext of major plot points. In an opening shot of "Double Happiness," characters are introduced via a spinning Lazy Susan while they eat dinner, and later, Oh's character reconciles with her father by bringing him his favorite buns from Chinatown.
In "Always," tension between Wong's and Park's characters, Sasha and Marcus, comes to a head when Marcus derides Sasha's "elevated" fusion cuisine, saying that "authentic" Asian food should be served in oversized bowls rather than in shot glasses. The debate is one that food enthusiasts and chefs know well and something the movie has been criticized for not engaging with more deeply.
Golamco — who will next be co-writing the screenplay for the film adaptation of "Akira" with Taika Waititi — is paying close attention to these debates as they unfold online.
"I think it's important for food to feel legit. Legit in a way like, look if you're going to cook Vietnamese food, and you're not gonna use cilantro, you better use something that rhymes with it," he said, adding that "authenticity" is a subjective concept open to interpretation by those making the food and those consuming it.
"There's no orthodoxy I personally believe in," he added. "If something is delicious, it's delicious. If something's funny, it's funny. It's indisputable."
Follow NBC Asian America on Facebook, Twitter, Instagram and Tumblr.