From the moment her parents enrolled her in tap class at 3, Karla Garcia has been dancing. But while she's been performing on Broadway for the last decade, the moment she found out she was joining the cast of "Hamilton," the Pulitzer Prize-winning musical hit, in January, she felt like it was her first-ever Broadway gig.
"I was such a nerd," Garcia told NBC News. "I was geeking out. I was like, 'I'm so honored for this. I won't let you down.' You'd think I'd be cool as a cucumber because I've gotten jobs before. But I was freaking out like it was the first show I've ever gotten."
Garcia, 30, is the first Filipino-American cast member of "Hamilton," performing as a swing — a person who knows multiple roles in the ensemble. As a swing, its her responsibility to learn each ensemble girl's vocal and dance parts as well as the entirety of the show's blocking cues, marks for props, and traffic in case she needs to fill in.
Although she can pick up choreography quickly, Garcia said juggling so many roles can get overwhelming at times.
"It's a lot trickier than I thought," she said. "Once you get onstage, you're like 'Oh I know it,' but then you start to remember what it feels like to do the other person's part and your sense memory comes back. You have to compartmentalize, which I'm learning to do more of. I'm more of a relative thinker so I'm learning how to compartmentalize the [roles] as two separate things. It's tricky, but it gets easier every day."
RELATED: Stella Abrera Battles Back From Pain to Ballet's Ultra-Elite
It's this work ethic that has gotten Garcia work on other Broadway titles, including "Wicked," "The Addams Family," and the Broadway revivals of "West Side Story" and "Gigi." She began competing in dance at 8 and decided at 12 that she wanted to dance professionally. Instead of going to an arts high school to focus on her craft, Garcia attended Bishop Ireton High School in Alexandria, Virginia, instead. She would spend her mornings at school then run to dance classes at Fran's Studio of Dance in Oxon Hill, Maryland to continue her training. Led by Fran Peters, the school, as Garcia said, "groomed us to dance on Broadway."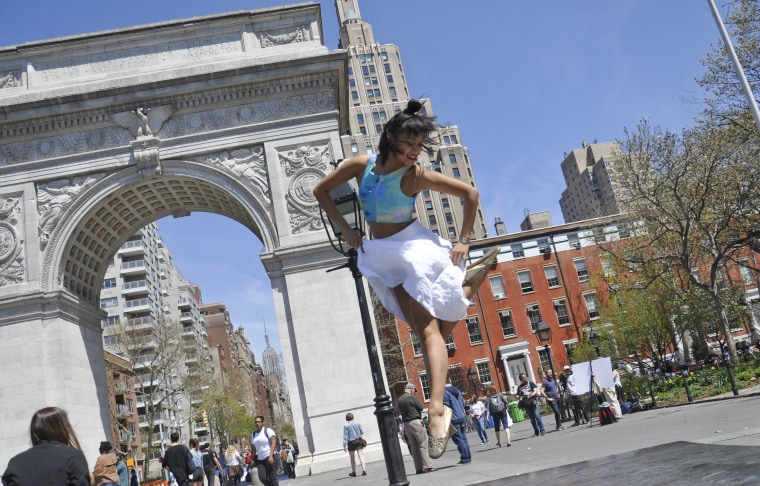 Following high school, instead of immediately becoming a professional dancer, Garcia attended New York University's Tisch School of the Arts.
"I was actually looking forward to going to school," she said. "I know, for other people, they can just go into the professional world without college. I think I needed some structure because I don't think I was mature enough yet, at 18. I just wanted the experience of going to class and meeting different kinds of people, not just people who are like me. I'm very grateful for that."
RELATED: 'Allegiance' Brings Japanese-American Internment Story to Broadway
While at NYU, Garcia got involved with the International Filipino Association (IFA), where she not only met other Filipinos on campus but also got involved in the club's dance team. More casual than her training, the IFA's dance team practices improved her mindset going into her formal classes.
"It's kind of like in high school where you join your extracurricular activities and somewhere to express myself creatively and just get to perform without any pressure," she said. "It might sound silly, but that's what I needed to get the kinks out. I would go to IFA — This is me being with my friends and doing what I love with them, and I can take that and carry it over into the dance program. So I kind of took a bit of the love from IFA dancing and brought it over into the Tisch dance program because I would be in such a good mood after an IFA rehearsal and then go to Tisch all happy because I feel refreshed."
Garcia participated in IFA's Philippine Culture Night (PCN), which she said, "was like a mini Broadway show. That was even more what I wanted to be a part of because it was storytelling, and even on a larger scale, what I do now on Broadway. So getting to do that with all Filipinos was crazy. I never thought I'd get to do that so it was fun."
In 2006, she took a break from school to make her Broadway debut in "Hot Feet," a musical featuring the music of Earth, Wind and Fire. While the show only lasted three months, it was a blessing in disguise. "I was very grateful for that opportunity," Garcia said. "I got that [Broadway] credit, and the show closed in the summer. So what was the next step? To finish school."
"You'd think I'd be cool as a cucumber because I've gotten jobs before. But I was freaking out like it was the first show I've ever gotten."
After graduating, Karla continued her path in musical theater and danced in various productions on Broadway as well as national musical theater tours. She also competed in the fifth season of "So You Think You Can Dance" in 2009, taking seventh place in the female group.
"It was really inspiring to see a fellow Filipina [Melody Lacayanga] in the first season," she said. "And after watching the show for a few years, honestly it looked like a really cool challenge. I knew I didn't need it for my career at the time. But the challenge of getting on the show and then learning all that choreography in the limited amount of time and also that opportunity to do good choreography and do it in front of the widest audience you will ever get, wider than Broadway houses, I think that's what appealed to me."
Garcia also joined the cast of NBC's "Smash" during its second season. She said it was a different world compared to her theater experience.
"With Broadway shows, you don't have rehearsals till noon and can sleep in the daytime," she revealed. "We would have 6 a.m. calls in Greenpoint. Being on set that early, we would nap on our breaks so much. It was cool."
"Now I have even more of a respect for live theater because those actors have to get it right that one time," she added. "But with film, you have so much more opportunity to mess up."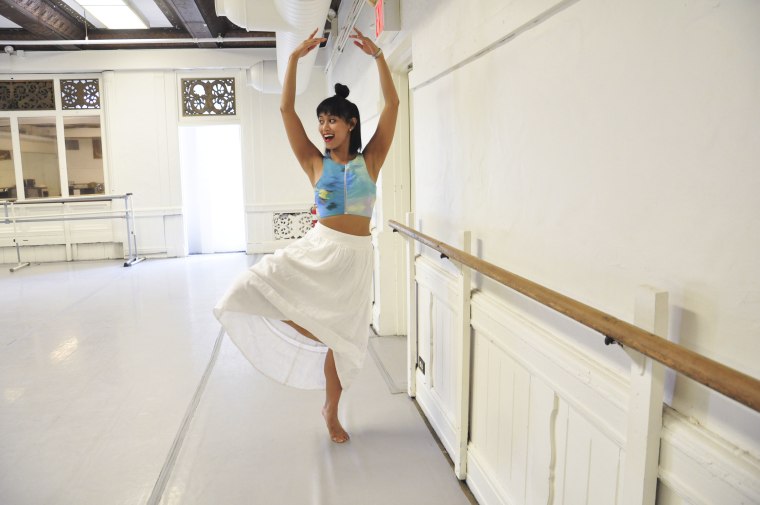 While she has had a successful career so far, Garcia sees the challenges that Asian-Americans face in the entertainment industry by being typecast as "the nerd" or "broken English speaker." But she's hopeful that with shows like "Hamilton," that will change sooner than later.
"I wish that we would progress and just see us as the girl next door or the normal person or the lead," she said. "Why can't that happen? And now with shows like 'Hamilton' being created where the leads are color blind, now this person of color can be the protagonist. It's opening our eyes to that."
Garcia is proud of the hard work and dedication she put in to get to that point and being the one to represent her heritage in the diverse cast is just a bonus.
"I just wanted to pursue this dream, and now that I'm getting recognition for being the first Filipino in Hamilton or whatever, I'm really proud of it," she said. "I feel like I've gotten to a place where, 'Yes, I'm a dancer, first and foremost.'"
"I'm not in 'Hamilton' because I'm the first Filipino," she continued. "They didn't hire me because I'm Filipino. I audition. I put in the work. I know I'm good at my job. I'm secure enough that I'm just here as a dancer. And anything else like 'Oh you're Asian' or 'You're Filipino,' [I say] 'Yes thank you.' I'm proud of that, too. I'm happy to represent the Filipino community and have a family-oriented background and parents who raised me to follow my dream. But that's the cherry on top."
Follow NBC Asian America on Facebook, Twitter, Instagram, and Tumblr.