If American millennials are fighting a bad rap as entitled and unemployed, how are young people navigating adulthood in other pockets of the world? What about in an extreme country like North Korea?
Six decades after the end of the Korean War that divided the Korean peninsula, the North remains a totalitarian state. The regime controls its citizens' livelihoods, media consumption and movement.
Illegal activities, including watching foreign DVDs to more brazen acts such as attempting to escape the country, can result in punishment and even execution. It's in this state-socialist environment that an unexpected, younger generation of budding capitalists is emerging. That's right: grassroots, free-market activities, bubbling and propagating amid widely looped footage of famine, rallies and nuclear weapons proliferation.
The nation's ruler, Kim Jong Un, likes media attention. He hangs courtside with Dennis Rodman and has reappeared after a public absence. His lavish lifestyle in a poor country has become a recycled punchline. "Hey, did you hear the one about the guy, who entered the most dangerous place on earth?"
When Kim became ruler after his father's death three years ago, he took over a different country than Kim Jong Il's. North Koreans' universe is divided into two periods: before and after one of the 20th century's worst famines. The devastation killed roughly 2 million people, though estimates vary widely.
Starving in the '90s, North Koreans turned to nascent, outdoor markets that had emerged in the previous decade. Industrious housewives hawked worn kitchen bowls for handfuls of rice in the black markets. The goal was simple. Secure food for the day, period.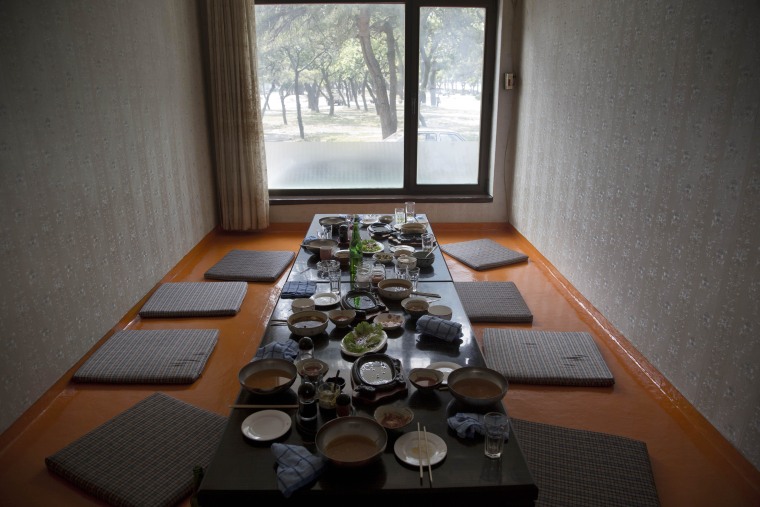 "A certain amount of this activity was decriminalized," said Marcus Noland, a leading researcher on the North Korean economy. The country's gradual, bottom-up marketization would be triggered not by civil disobedience and earnest reforms, but a crumbling food distribution system that was unable to feed the people. "To paraphrase Bill Clinton, 'Those who played by the rules died,'" said Noland, a researcher at the Peterson Institute for International Economics.
The black markets have since flourished beyond North Korea's capital Pyongyang and dot the country. It's in this environment of marketization that North Korea's younger generation is taking shape. Adults ages 18 to 35—roughly 25 percent of the population of nearly 25 million—were born in the '80s and '90s. Most never received food rations and have no warm memories of a stable regime. They're more individualistic than their parents. And like American millennials, more young North Koreans aren't waiting for the government or institutions to bail them out. They're engineering their own survival. They're tagging along with adults and learning how to peddle goods in the black markets.
As more young North Koreans are shaped by how to make money, they're also coming of age amid unprecedented access to technology and foreign media. Tech hardware and information are making their way through the porous, 880-mile border between North Korea and China. This wasn't happening a decade ago.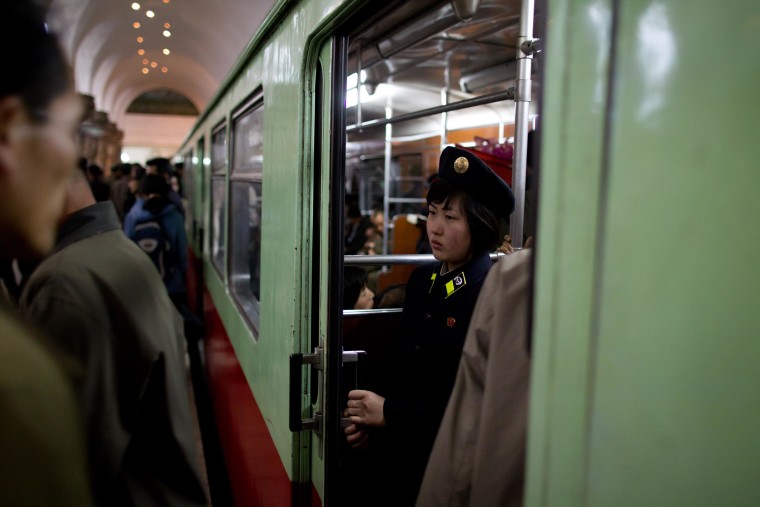 Foreign DVDs and data-filled USB thumb drives can be found discreetly through the black markets. Such activities are prohibited by the regime and much more dangerous than accessing clothes and food. But as in any closed society, sheer will finds a way. Family and friends huddle to watch foreign media. North Korean fishermen listen to South Korean weather reports on shortwave radios. And while adults may listen to outside information yet still feel reverence for the Kim dynasty, more millennials don't necessarily share their parents' attitude, at least not with the same zeal.
It's a big leap to imagine young adults using new-found knowledge and market savvy to construct a revolution. North Koreans in droves aren't plotting to overthrow the regime or flee the country. Escapees entering South Korea—after a roundabout journey through China and Southeast Asia—have actually declined more than 40 percent in recent years, suggesting Kim is cracking down on border security.
"You can't unlearn citizens' knowledge of the outside world"
But younger North Koreans are helping to make grassroots market changes a permanent part of the economy. The black markets are too big and entrenched for the government to shut down. And as ordinary citizens scrape together a living, outside information is stirring intoxicating feelings about what's possible. "The leadership in North Korea knows what's going on among its domestic citizens, especially the younger generation," said Jieun Baek, who traveled to North Korea in 2013.
As part of a closely watched tour group, curious North Koreans asked her about America and the outside world. "You can't unlearn citizens' knowledge of the outside world," said Baek, a Harvard University fellow.
And once you know what's possible, it's hard to go back. "Most people are now involved in the black market because if they don't go to the black market to do business, they cannot survive," said Yeonmi Park, 21. Park was born and raised in North Korea. When she was about 10, she first dabbled in capitalism by bribing orchard guards with alcohol to give her a bucket of persimmons, which she then sold in the markets.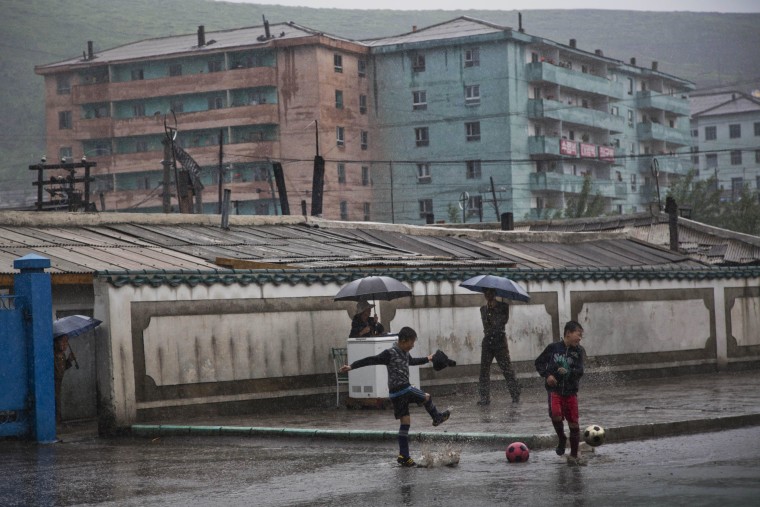 It was this first-hand experience in free enterprise that would prepare Park for her three-year journey to freedom from North Korea. Partly aided by handlers, her route launched her into Mongolia and China, including the Gobi Desert. But because China doesn't allow North Koreans to seek asylum and repatriates them to North Korea, many defectors—once free—are on the lam for months, if not years. They hopscotch through China and Southeast Asia in a modern-day underground railroad that can span some 3,000 miles to the democratic South.
"The black market generation is someone like me, who experienced the black market when they were young. They never received any rations from the government. They have no memories of the good life," Park said. "My generation, they're not really worshiping the Kim regime sincerely, just pretending. That's what we call the black market generation."
For years, Park dutifully sang songs about the regime. While the Cold War has dissolved, rogue North Korea, roughly the size of Pennsylvania, has managed a three-generation lineage. "Everything was all about the regime and everything was about our leader," Park said. "All the books, all the buildings, all the songs that I had to sing were about the leader." Then something changed.
Capitalism can lead to yearning
In 2010, another North Korean millennial was immersed in the black markets. Joo Yang was 13, when she first dipped into private enterprise. She used savings to acquire items wholesale, then sold her goods, at a profit, to neighbors and nearby warehouse workers. Her inventory included liquor, cigarettes, sweets, fruits and pork. "Our parents' generation had rations. They have strong ideology," said Yang, now 23. "But I don't know about rations. So we did private business."
Yang and her family's knowledge of grassroots capitalism, and of the outside world, were shaped inside North Korea through illicit, foreign media. The family secretly listened to outside radio reports, under the cover of blankets, for a decade. It was during these family radio sessions that the Yangs hatched an escape plan. Hoping to attract less attention by not traveling as a single group, they planned to defect in three operations. Yang's father escaped first in 2007. Aided by missionaries on the outside, her mother and two youngest siblings followed in a second escape trip. Joo Yang tried to follow her family in 2009 but failed. So her father sent money to Joo Yang to bribe North Korean officials and remain safe. When the situation grew too dangerous, she packed up and moved to another province. She patiently waited for word from the outside.
"My generation, they're not really worshiping the Kim regime sincerely, just pretending. That's what we call the black market generation."
Like Yang and Park, the scrappy persimmon seller, their experiences in private business are fairly typical for North Korean millennials. "They didn't rely on the government. They relied on themselves," said Sokeel Park, director of research and strategy for Liberty in North Korea, an international NGO. More of North Koreans' income, across age groups, is coming from market activities. As the state's food distribution system never recovered fully, the markets became a permanent fixture in the economy.
The experiences of defectors, including Park and Yang, are compelling—surreal, even—though difficult to verify given the lack of access inside North Korea. But a landmark United Nations report released in February described real threats.
Over the weekend, North Korea freed two American prisoners, as the international community figures out what to do about the landmark U.N. report that charges Pyongyang with "crimes against humanity." Efforts are underway to build a coalition to refer the issue to the International Criminal Court. Unlike previous resolutions intended to punish North Korea, the current draft being circulated includes specific language on the international court.
Go to CNBC.com to read the full article.