If you asked Nora Lum as a teen what she wanted to be when she grew up, she could tell you exactly what she didn't want to be: a sonogram technician, a meat inspector, an air traffic controller—all jobs her father considered stable, and encouraged her to pursue.
"My dad was like, 'You gotta do this, man. These are the hot jobs of the millennium,'" 26-year old Lum said, waving her hands enthusiastically while adjusting her signature frameless glasses. "I was like, 'I highly doubt that.'"
Lum, better known as rapper Awkwafina, began her music education at 11 with the trumpet and went on to attend New York City's famed LaGuardia High School (Nicki Minaj and Azealia Banks are also alumni).
But it wasn't until college that the Queens native invested in her music in a way she hadn't before. "When I went to college, it became more of a hobby and that's when I think I got the realest music education," she said. "It wasn't something that I had to do. It wasn't an obligation."
"I think the people get that I'm just kind of an anomaly in a certain way."
As Awkwafina, Lum set out to bring together her naturally-comedic personality with her rapping, producing viral songs like "My Vag," "NYC Bitche$," and "Giant Margaritas"—a song inspired by New York City's ban on large sodas ("Mayor Mike Bloomberg help me understand / are giant margaritas also gonna get banned?").
But she isn't interested in politics or becoming an activist, and is quicker to chat about show tunes and drop pop culture references ("Robert Goulet has not gotten back to me recently. I sent him, like, six faxes.") than to proclaim her beliefs.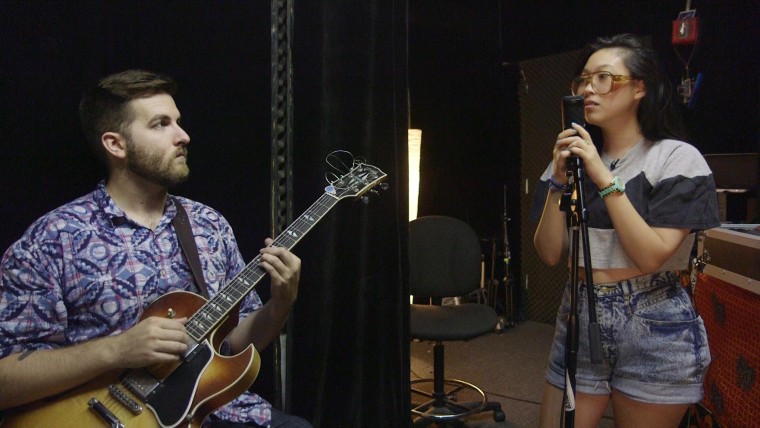 Lum is also careful to avoid labels in her career. "You can't really label me as a musician, a comedian, or a rapper—you know, it's different. I think the people get that I'm just kind of an anomaly in a certain way."
She attributes much of her confidence to her grandmother, who played a parental role in her life after she lost her mother at the age of 4. "We got to a point where she was sitting there with my dad and being like, 'You need to stop telling her to become an egg farmer, you know? You need to just let her go with this.'"
"I was someone who grew up listening to the Backstreet Boys, you know? I love Pokemon. I loved Are You Afraid Of the Dark? I was an American kid."
Lum describes her grandmother, a nurse-turned-restaurant owner, as her best friend, a "ratchet" with a dark sense of humor. Their interaction goes beyond the typical grandparent-granddaughter relationship. When asked what her favorite Awkwafina song is, Lum's grandmother replies without hesitation, "I like 'My Vag,' because it's classy without being too dirty."
Lum says her grandmother's sense of self influenced her as a child and inspires her today.
"My grandma was very traditional, but she herself is a rebel of that culture," Lum, a Chinese-Korean-American ("I'm what you would refer to as a Pan-Asian dish") said.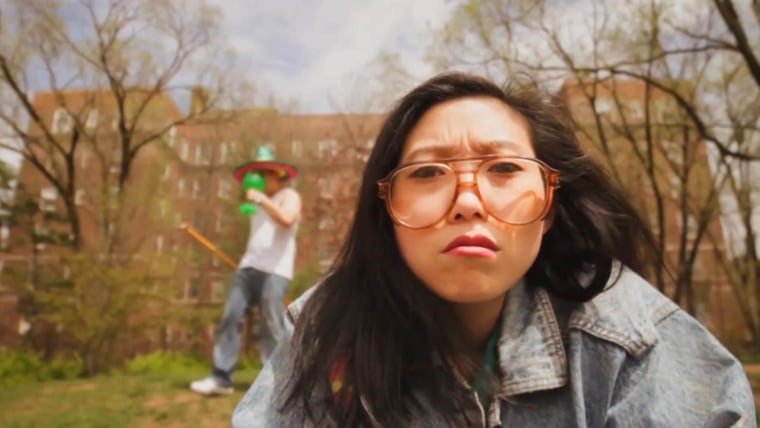 As the daughter in an immigrant family, Lum fought off being confined by any stereotypes or labels. The experience, she says, pushed her even harder to work hard for her dreams.
"My story isn't so much an 'Asian female rapper' story as much as one of an American kid who didn't come from the kind of trust fund background where I could support myself and do music," she said. "It really was an American story…I was someone who grew up listening to the Backstreet Boys, you know? I love Pokemon. I loved Are You Afraid Of the Dark? I was an American kid."
"But I feel proud to represent Asian people," she continued, "just not when people who don't get it are asking me about it. I'm Asian, obviously, but if you can't see that what I've done so far really doesn't have a lot to do with that, so much as other stuff, then that's what I kind of have an issue with."