Buttoning up her red patterned coat and fixing a large pearl brooch on her knit hat, Youngae Ma bellows with laughter as she steps out from the kitchen of The Kun Jip, a Korean restaurant in Palisades Park, New Jersey.
She holds up a menu with her name written boldly across the top. In Korean, the menu reads "Youngae Ma's Soondae," the season special dish for the winter.
"They are the finest sausages you'll ever find in this area," Ma told NBC news. "My life depends on it, and so does the 25 million people of North Korea."
"I couldn't feel my toes, I remember three of my toenails falling out while I was running. I didn't notice it until I realized that I was leaving a bloody track."
Ma, 53, is a North Korean defector and said that she joined the North Korean army at 17, serving in the country's State Security Department as an intelligence agent near the Chinese border. She was responsible of gathering information about South Korea through collecting documents. Based in China, she was exposed to what she called "the outer world," with radios, a wide variety of cuisine, and Christian churches. When she was found eating the free food offered at a church, she was arrested right away, she said.
Knowing that she would be sentenced to death, Ma decided to escape, she said. She waited for the police car transporting her to slow, and when it did, she threw herself out and ran for her life in the blistering cold.
"I couldn't feel my toes, I remember three of my toenails falling out while I was running," Ma said. "I didn't notice it until I realized that I was leaving a bloody track."
RELATED: North Korean Senior Spy Agency Official Defects to South: Seoul
Ma eventually made it safely to the South Korean Consulate General in Shanghai, where she was given a passport and was escorted to Seoul.
Ma's case, however, is quite rare, according to an organization that aids North Korea refugees.
"It is because you only hear about the people that make it out," Jaepyeong Seo, the secretary general for the Seoul-based Association of the North Korean Defectors, told NBC News. "Most of them don't and go straight to numerous trials that will determine their 'crime' for seeking freedom."
"There are many stories of defectors having reached South Korea, America, or any other country that recognizes their universal human rights, but those that never make it beyond the Chinese border are almost automatically returned within a matter of months, if not weeks," Seo added.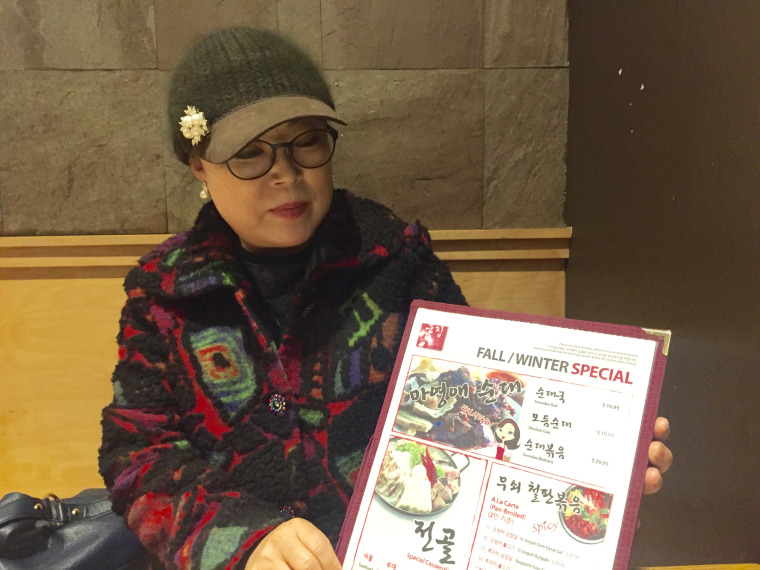 Ma is now selling Pyongyang sausages in New Jersey to fund her mission to rescue North Korean defectors. She's one of the 29,137 North Korean refugees that has left the oppressive state since 1998, according to South Korea's Ministry of Unification. But that number is declining. In 2008, as many as 2,803 making it to south of the 38th parallel, the demilitarized zone created at the end of the Korean War. Last year's total was less than half the number — 1,277.
"Though it's always an average of above a thousand annually, those that choose to be in the United States have been less than 200 — that's the total count since 2003," Seo said.
"But when you speak the truth, people ultimately acknowledge you, even if it takes a while, just like this."
Ma is a U.S. permanent resident with a South Korean passport — one that she claims to have fought for more than five years to receive, citing political persecution in South Korea.
"I first came to Virginia in 2004 to deliver a speech about the human rights atrocities that take place in the secretive state, when the liberal administration at the time refused to renew my passport," Ma said.
Ma said her meal in the church that she found in China was a life-changing experience. In North Korea, Christianity is considered the equivalent to espionage, she said.
"That's when I first saw the bible, and I felt an affection from the church community that I've never felt before," she said. "It's such an abundance I wouldn't have even imagined existed."
She added that she was persecuted by the Roh Moo-hyun administration for her speeches denouncing North Korea's human rights conditions.
Criticized for his dovish policies on North Korea, President Roh's liberal government has been accused by many conservative South Koreans of actively seeking "rapprochement with the North out of fear of provoking the communist neighbor," according to the Joongang Daily.
"But when you speak the truth, people ultimately acknowledge you, even if it takes a while, just like this," she said, motioning toward a golden wrist watch printed with the name of Park Geun-hye, the current president of South Korea.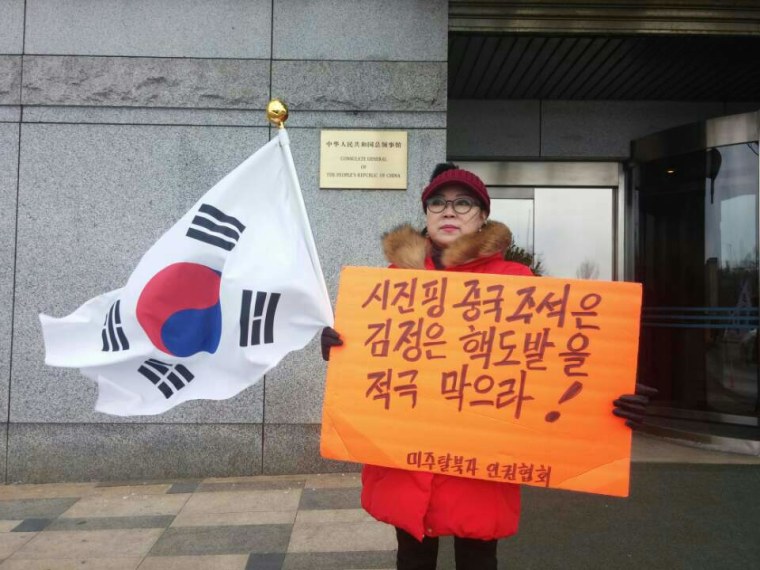 Ma escaped North Korea in 2000, and testified against the horrific experiences she went through during the George Bush administration, when Congress passed the North Korean Human Rights Act of 2004, the country's pledge to protect North Korean refugees, provide humanitarian assistance under close monitoring, as well as promote human rights of North Koreans.
RELATED: Life in a North Korean Labor Camp: 'No Thinking ... Just Fear'
Ma leads NK Refugee Mission, one of the many organizations in the United States working to rescue North Korean defectors that have been detained in various parts of China and Southeast Asia during their journey to escape North Korea.
"I remember paying the Chinese police 5000 yuan [roughly $750 USD] to bribe them into letting me escape to South Korea," Ma said. "Now, I send about $2,000 USD to smuggle North Koreans out of China."
Currently, Ma's mission is to rescue two women from China, whose identities she declined to reveal.
"They are about to board their flight to an airport in the United States, but I'll let you know after they get here safe and sound," she said.
"I already risked my life once running away from North Korea, and I'm more than willing to be sacrificed while protesting for North Korea's human rights."
Those that are caught in attempt to escape North Korea have been subjected to inhuman treatment and punishment in the form of "imprisonment, execution, torture, arbitrary detention, deliberate starvation, illegal cavity searches, forced abortions, and other sexual violence," according to a 400-page report by the United Nations' Commission of Inquiry. The report also states that China had deported returned tens of thousands of North Koreans.
"They call me a tick, or a mite, when I protest outside the North Korean office," Ma said, recalling her experiences encountering Pyongyang officials outside North Korea's Permanent Mission to the United Nations in New York City.
Ma has been featured by numerous South Korean media outlets for being outspoken against the North Korean regime, blocking the way to the UN headquarters as Sin Sonho, former North Korea's Permanent Representative to the UN from 2008 to 2015.
Newspapers featured photos of Ma holding up signs in front of the building, shouting with a fist held high in the air.
Her advocacy has attracted, she said. She said she would receive phone calls from a blocked or unknown number. She would pick up, she said, and there would be silence for more than three seconds. She knew what was coming next.
"I have a hunch that it's from the North Korean diplomats, because I can hear a heavy accent. They threatened to chop my head off with an ax, take out all my teeth with a wrench, and endlessly shout in foul [North] Korean language to tell me they're going to take my life someday," she said.
"I am a woman, a mother to my son, and a wife to a husband. Every time I go out to protest or for an event, I take deep breaths before stepping outside. Even after that, I sometimes feel a weird chill down my back, like cold sweat, as if a North Korean spy might hurt me while everyone else is looking away," she continued.
She said that the most recent call she had received to stop her activities as a missionary was in early May.
Her main concern is the future of South and North Korean relations. She believes there needs to be a unified peninsula.
In March, at the Human Rights Council in Geneva, a report was presented by Marzuki Darusman, the special rapporteur monitoring developments in North Korea.
In the report, he said that North Korea's leadership should be put on notice about a pending investigation and told of the corresponding punishments if they are found guilty of the accusations, which include murder, enslavement, torture, imprisonment and rape.
Ma said that the international society's role is crucial in pushing for justice in the northern part of the peninsula, as South Korea has struggled internally to pass a bill within its own national assembly for more than 10 years since being introduced.
"I already risked my life once running away from North Korea, and I'm more than willing to be sacrificed while protesting for North Korea's human rights," Ma said. "But I choose to be in the United States, and hope to see a South Korea soon overcome our own political problems and save our suffering brothers and sisters."
Follow NBC Asian America on Facebook, Twitter, Instagram, and Tumblr.