What started as a prank at McDonald's became a widespread call for Asian representation in mainstream advertising and entertainment — and even McDonald's has taken notice.
Two University of Houston students, Jevh Maravilla and Christian Toledo, went viral on Twitter after sharing images of a fake McDonald's poster they made and hung at one of the fast-food chain's locations in Pearland, Texas. The reason for the prank, they said, was because they noticed a lack of diversity on the decorative wall posters. They returned to the Pearland location with a plan: to hang a photo of themselves in the restaurant and see if anyone would notice.
According to Maravilla, the plan involved taking a realistic photo to create the poster and finding a McDonald's uniform at a thrift store. Dressing himself up as an employee, Maravilla, with the help of some friends, was able to covertly hang the poster on a blank wall, which stayed in the restaurant for weeks.
"It's now been 51 days since i hung it up," Maravilla tweeted on Sept. 2 with photos.
Maravilla and Toledo had also posted a video of their prank on YouTube in August. It has since gained more than 1 million views. In the video, Maravilla noticeably wears a "(Re)model Minority" T-shirt in the viral video, inspired by Wong Fu Productions' latest web series "Yappie."
He told NBC News that increasing representation was a big reason behind the stunt.
"'Crazy Rich Asians' really inspired me, because not only did I see someone like me on the big screen, but it gives me hope that I can work in film and TV in the future, since both Christian and I want to get into that field," Maravilla, who graduates from the University of Houston in the spring, said. "I hope that we can inspire others through the use of film through media platforms — either on the web, television, or on the big screen."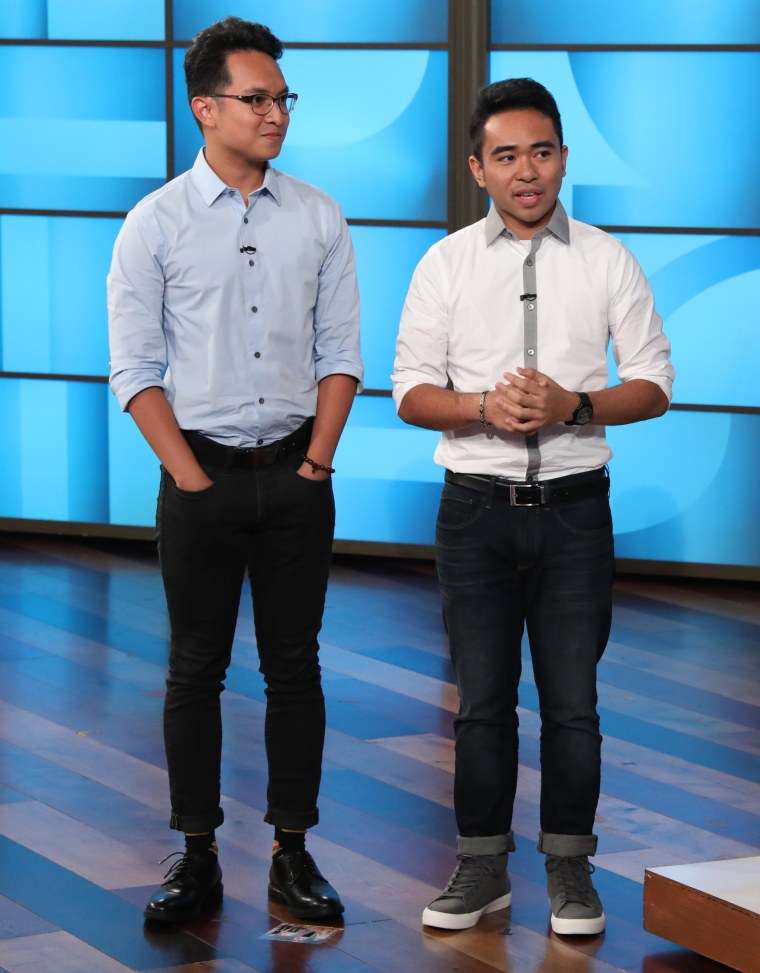 The video also caught the eye of Ellen Degeneres, who invited the Filipino American students on her show on Monday to talk about their stunt.
"We looked around we saw all these other posters on there. We saw that there's different ethnicities, and we saw that they're all these people having fun, so we decided to represent ourselves as Asians, to be up there as well," Maravilla told Degeneres.
Maravilla added that McDonald's did contact them after he tweeted about it, but instead of being punished, they told Degeneres that McDonald's corporate executives said the poster would be taken down because of a planned renovation — but that the new store would reflect more of the community's diversity.
McDonald's did not respond to requests for a comment, but did tweet Tuesday night at Maravilla and Toledo: "You guys earned this dream."
Degeneres surprised Maravilla and Toldeo with the news that McDonald's would be using the two in a future marketing campaign, along with giving them each checks for $25,000.
Maravilla told NBC News that he and Toldeo don't know what they'll do with their payout yet, but "we'll definitely put most in our savings for a rainy day."
"The whole world is a melting pot of different cultures, and it's about time for the media to mirror that," Maravilla added. "It's crazy how much of a difference I can make with a small prank and a tweet."
Follow NBC Asian America on Facebook, Twitter, Instagram and Tumblr.