There aren't many filmmakers who can say that Prince Charles helped shape the direction of their script, but that's exactly what happened to Gurinder Chadha when she mentioned she was making a film about Lord Louis Mountbatten to the Prince of Wales during a visit to St. James's Palace.
In addition to being the last viceroy of British India, Mountbatten was Charles' great-uncle and the two had a notably close relationship.
"It was important to show that Partition was a political act. It had been planned in the interests of the powers at the time."
"He immediately got excited because that was his favorite uncle," Chadha told NBC News.
She and her co-screenwriters had been working on a film about the 1947 independence and Partition of British India into India and Pakistan using the book "Freedom at Midnight" by Larry Collins and Dominique Lapierre as a reference.
"And [Charles] said, it's important that you look at some other texts. Look at this book 'The Shadow of the Great Game' by Narendra Singh Sarila because it shows a different view of what happened," Chadha recalled.
She immediately obtained a copy and scheduled a meeting with the author, whose book argued that the partition of the Indian Subcontinent had been planned long before Mountbatten had arrived in India in 1947.
"It was an amazing book about top secret documents that were in the public domain and so then it gave a very different version of history than the British Empire view of history that I had grown up with," Chadha said.
"Viceroy's House," Chadha's film about the last days of the British India, staring Hugh Bonneville as Mountbatten and Gillian Anderson as his wife Edwina, was released worldwide on Sept. 1. Manish Dayal and Bollywood actress Huma Qureshi play a young couple working at the house who fall in love during a time of increasing sectarian tension.
For Chadha, who is 57, the story of Partition is one that is closely linked to her family's history. While moviegoers may best know Chadha for comedies like "Bend It Like Beckham" and "Bride and Prejudice," the director said she had wanted to explore the impact of the forced migration of millions of South Asians, a group that included her grandparents, for a very long time.
"I grew up under the shadow of Partition because my ancestral homeland had become this new country called Pakistan," Chadha said. "As a child I was aware I didn't have an ancestral homeland and also that my family had lost everything and had been refugees."
Chadha added that she witnessed seeing the lasting psychological scars of partition on her grandmother while growing up. She "had lived through those events as a girl and she had been traumatized by the things she had seen. If a villain came on English or British TV she would become very agitated and say, 'Turn it off!'" Chadha recalled. "We'd say, 'It's OK, Biji, he's English, we're in England, it's a soap opera from Birmingham. So you know, I had a very traumatized grandmother growing up."
"I grew up under the shadow of Partition because my ancestral homeland had become this new country called Pakistan."
It was not until 2006, when Chadha was invited to be on the BBC show "Who Do You Think You Are?" that she had the chance to travel to the village outside of Jhelum, Pakistan, where her grandfather's family once lived.
"I met people who basically came out to greet me they threw flowers at me and gave me a really warm reception," she said. "Everyone said, 'we're so happy that you've come, you are our daughter. It was a very warm welcome."
Like the director of the film, many of the South Asian cast members in "Viceroy's House" brought their own personal history of Partition to their roles.
"Thankfully my family didn't suffer very hugely because I am a different generation," actress Huma Qureshi, who plays a young Muslim woman named Alia in the film, told NBC News. She did note that her family was divided along both sides of the India and Pakistan border and that her grandfather lost touch with his siblings long before he died because communication was so difficult.
"But my father runs a restaurant in New Delhi, and he is now 60," Qureshi said. "And one day a man walked up to him and said 'Hi, are you Saleem Qureshi? And he said yes, and the man said, 'I am your cousin.' He came to New Delhi looking for my father and they were just hugging and crying."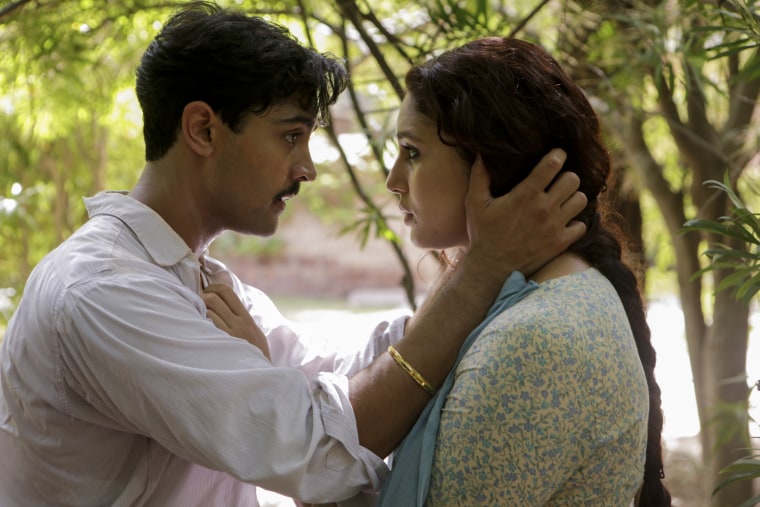 Qureshi added that it was particularly poignant for her to be part of the film's love story. "With Jeet and Alia's story, they were trying to show what was happening in the country at the time," she explained. "They are a Muslim girl and a Hindu boy coming together at not the best time to fall in love. So many families and so many lovers were separated like this — some very, very brutally."
Ultimately, Chadha said that she hopes her film will inspire viewers to look beyond the established views about why Partition happened.
"l was very happy that I was able to take on the British Empire version of history and take on my perspective of that history as a British Asian and as a woman. It was important to show that Partition was a political act. It had been planned in the interests of the powers at the time," she said, noting that many books interpreted the division of the subcontinent as inevitable given the demographics of the region. "People like my relatives were just pawns in the game."
Follow NBC Asian America on Facebook, Twitter, Instagram and Tumblr.