Ricky He walked into his "Freaky Friday" audition to read for the role of the main character's best friend, but walked away from the process cast as the film's leading man.
"I went in and read for Karl and I thought I did a pretty good job," He, a relative Hollywood newcomer, said. "But the issue when you see the movie is you know how unbelievably funny Isaiah [Lehtinen] is and how perfect he is for that role."
According to Disney, it was executive producer Susan Cartsonis who saw He as "leading man material" and asked him to read for Adam, the lead character Ellie's crush, instead.
"I'm in my car, flipping through my emails and reading the break down of what kind of character he is, only to find out that he is the romantic lead. I was ecstatic," He said.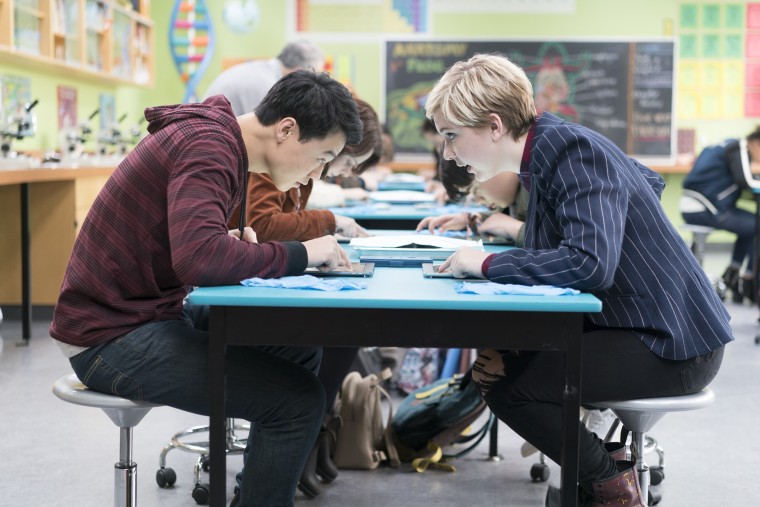 Born and raised in Vancouver, He describes his early pursuit of the performing arts as a "fun extracurricular" because he didn't see Asian Americans widely represented on TV or in films growing up. "In high school, I was part of a drama program, and before I graduated, I decided to stop the drama program because I said to myself, 'I'm going to do the 'responsible' and right thing. No one is going to cast me in anything and I'm not going to make a career as an actor.'"
He ultimately enrolled in college at the University of British Columbia, and attended for three years before the world of entertainment pulled him back in. He dropped out to focus full-time on acting – a decision he knows still makes his parents nervous at times.
"I'd be lying if I said that when I told them, 'Hey mom and dad, I dropped out of college,' they said 'Yeah, you go out and do that, man!' That's not real, but they have been very supportive in the decisions I'm making," He said. "I think, similar to 'Freaky Friday,' we've come to learn about accepting one another and having a genuine understanding for each other."
REMAKING A CLASSIC (AGAIN)
There are no surprises when it comes to "Freaky Friday." The message behind the plot is fairly straightforward: mother and daughter constantly butt heads before literally walking a day in each other's shoes and come to understand and appreciate one another in a way they've never done so before.
It's a well-loved story, with its roots in a 1972 children's book of the same name before being adapted into a film by Disney in 1976 starring Barbara Harris and Jodie Foster. Since then, it's been remade by Disney as a TV movie in 1995, a feature film in 2003 with Jamie Lee Curtis and Lindsay Lohan, and a stage musical in 2016.
The latest remake – a TV movie for the Disney Channel scheduled to air August 10 – is based closely off of the musical, which was developed two years ago by Disney Theatrical Productions and debuted in Virginia before moving to the La Jolla Playhouse in San Diego in 2017. It even shares a lead in Broadway star Heidi Blickenstaff, who reprises her role as Katherine, Ellie's perfectionist mother who's in the midst of planning her own wedding. Ellie (played by Cozi Zuehlsdorff), in the meantime, is obsessed with participating in an upcoming all-night scavenger hunt, which is set to take place the same night as her mother's rehearsal dinner.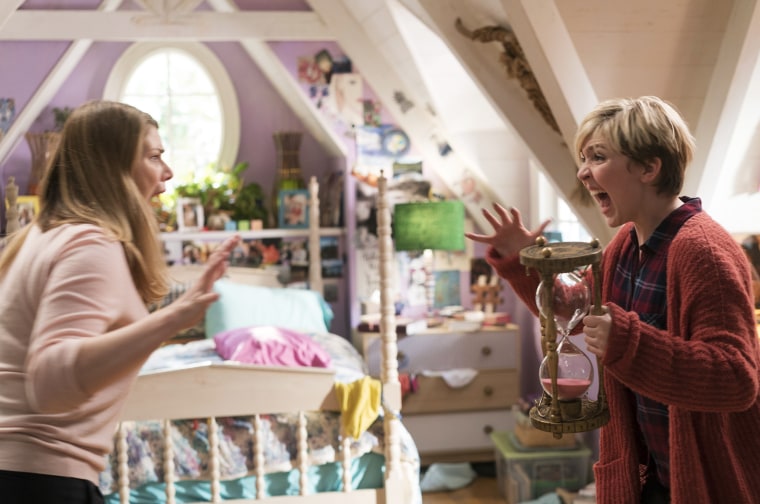 "Seeing it on the stage and seeing our demo – the 10-year-old kids in the audience – and how they reacted and feeling it in a theater, we [Disney Channel executives] walked out of it saying 'We have to make this work as a movie,'" Adam Bonnett, executive vice president of original programming for Disney Channel, said.
Bonnett added that at the heart of every Disney Channel production – whether it's a remake or an original – is the core belief that children and young adults want shows that are emotionally honest to experiences they can relate to. And in productions where songs and lyrics can convey emotions in a more obvious and direct way, adapting the "Freaky Friday" stage musical was a no-brainer for Disney.
"When I talk about the honesty of 'Freaky Friday,' there's a little more of it in the stage musical because it was created and produced for a very broad audience – not just for kids, but adults as well," Bonnett said. "I think that's one of the things audiences walk away from our movie is really feeling that we tackle things that we may have been afraid to tackle in the past, but because of the way you dealt with it, it felt real and appropriate."
I think kids really need to look at a show and say, "That's me up there! I'm about to go through that," and to really see themselves in characters is so important.
In this new "Freaky Friday" adaptation, the musical stays true to the fun and energetic moods created in the past by original productions like "High School Musical" (in one scene, students in biology class perform a dance number while wielding iPads), but the film really hits an emotional crescendo during a song about the pain and hurt behind why parents lie to their kids.
It's a moment, Bonnett said, that shows how carefully Disney Channel has always paid attention to it's viewers.
"Kids today want to taste a lot of different flavors. They want a full course meal that isn't just meat and potatoes, but has different flavors and different colors. You're underestimating the audience if you just want to give them one thing," he said. "We're working hard to give them a diversity of content. I think kids really need to look at a show and say 'That's me up there! I'm about to go through that' and to really see themselves in characters is so important."
NEW DIRECTIONS
With a primary cast more diverse than the past three film adaptations combined, the new "Freaky Friday" continues Disney's efforts to evolve with their target audience. In 2017, the New York Times highlighted the Disney Channel's "startling new direction" with the debut of "Andi Mack," a comedic drama about a 13-year-old girl who discovers her older sister is actually her mother.
The show has received positive reviews and praise for its representation of both Asian American and LGBTQ characters. It's a direction for Disney that executives have recognized as being risky, but that audiences are tuning into ("Andi Mack" is the top cable series for kids, 6-11, according to Nielsen data) – and that's exciting for an actor like He, who wants to be part of the effort to make Hollywood more diverse.
"As a kid, I was fortunate to have North American media and then I watched a lot of content from overseas," He said. "As an Asian-American person, I didn't really see a mirror of the two where I had American media and Asian media, but I didn't have a combination of both experiences. I felt like I owed it to my friends that I grew up with to show that experience and show that part of the world."
As for updating a classic story? Both Bonnett and He are on the same page: "Freaky Friday" is timeless, and this new adaptation is a chance for Disney to tell that story with its new efforts in mind to accurately represent and reflect today's youth.
"Adam, at the end of the day, wasn't written as an Asian character or a Hispanic character or a white character or a black character," He said. "He's just a kid that goes to a high school and I think that that's very honest to kids that go to high school because you see people of all diverse backgrounds, and it's a realistic representation of our world."
Follow NBC Asian America on Facebook, Twitter, Instagram and Tumblr.