In the winter of 2013, China experienced the worst air quality in its country's history — an "airpocalypse," some called it, with the Air Quality Index (AQI), which uses a scale of 0 to 500 set by the United States Environmental Protection Agency, showing a staggering reading of 755 in Beijing.
In Shanghai, where Charles Liao relocated to eight years ago from Carbondale, Illinois, air quality in January of 2013 was considered "the worst on record," according to city environmental officials, affecting the more than 20 million residents living in the country's largest city.
Liao was one of the many people living in Shanghai who was personally affected by the heavy levels of smog that covered the city, and says he and two of his friends became increasingly concerned for their families.
"AQI was 'beyond index,'" Liao told NBC News. "Purifiers were sold out, and the three of us were frazzled. We all had young kids, had been living in China for about 30 years collectively, and knew there had to be a better solution than what we had seen on the marketplace."
RELATED: 366 of China's Cities Don't Have Safe Air: Greenpeace
Liao and his friends, Grant Prigge and David Chitayat, decided to take matters into their own hands. In the spring of 2014, the three began working on Mila, a subscription-based air purifier named after Liao's six-year-old daughter. The company began taking orders this month.
"We developed Mila out of frustration as fathers and consumers," Liao, CEO and co-founder of Mila, said. "The air purifiers we were forced to purchase at the time were clunky, overpriced, and a hassle."
Prigge, a North Carolina native, told NBC News the main inspiration for the company, which brands itself as an affordable alternative to market purifiers, came after seeing the serious effects of the poor air quality had on his family.
"My wife became asthmatic, our two year old was constantly sick, and I started getting respiratory infections while training for a marathon," Prigge said.
According to a 2015 study conducted by physicists at the University of California, Berkeley, air pollution kills roughly 4,000 people in China every day. Researchers also estimate 1.6 million people in China die annually from heart, lung, and stroke problems as a result of dangerous air conditions.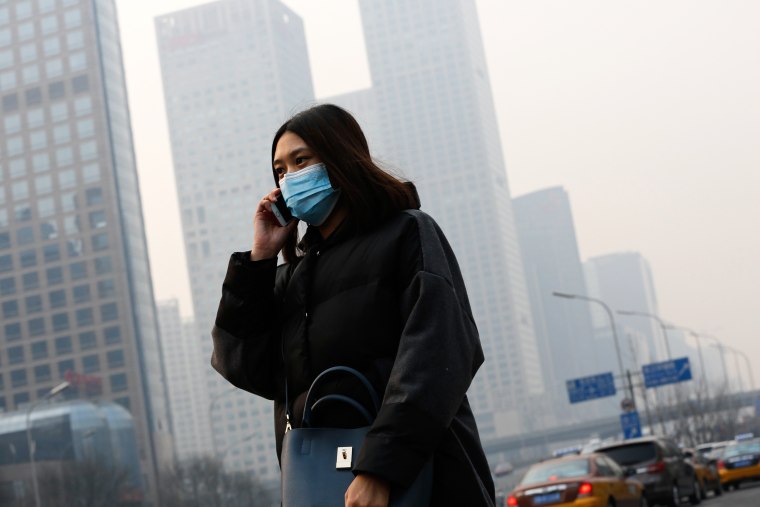 The health effects of polluted air are profound: the air breathed in is laced with carcinogenic [cancer-causing] substances, according to the World Health Organization's cancer agency. The International Agency for Research on Cancer (IARC) classifies the risk to be similar to that of breathing in second-hand tobacco smoke.
"We speak to our customers as three fathers. We know our customers are buying these units for the health of their loved ones and we take that responsibility seriously."
"I'm an avid runner and cyclist, I love being outdoors…but my health is affected by my environment," Liao said. "And it's really sad when the first thing [my daughter] Mila asks me in the morning is whether the air is good and she can play outside, not whether it's raining."
In recent years, officials in China have acknowledged the air quality situation, and made the country's first major revision to its 15-year-old air pollution law last year, which included the restriction of various sources of smog, particularly in vehicles.
But China's air pollution problems has been a significant struggle for years, primarily because due to emission through the burning of coal in factories and power plants. Despite numbers that show the air quality improved throughout 2015, at least in Beijing, the numbers are still severe: last month, Beijing officials issued a red alert for smog — the first time they had raised the alarm to its peak level since an emergency air pollution response system was declared in 2013.
China's fluctuating air quality has been reflected in the sale of air purifiers: according to China Market Monitor, more than 5 million air purifiers were sold in China in 2014, but sales declined 18 percent in the first half of 2015.
High-efficiency particulate arresting (HEPA) filters carry an industry standard that issues the filtering of 99 percent of particles sized 0.3 microns or larger, and are of high implementation in China. But even with increased regulation, the price of HEPA-equipped purifiers continues to soar.
"Most people buy air purifiers like French wine," Prigge said. "They have no idea if it's good or bad, they just buy the most expensive one they can afford and assume it must be good."
As a result, filter units have become bigger and driven higher profit margins, but Prigge adds that larger units don't necessarily mean a better product.
"It doesn't matter if you have a huge unit in your living room. It does little to nothing to improve the air in your kid's room down the hall," he said.
This defines the main concept of Mila: the system is equipped with multiple purifiers to maximize the coverage of several rooms throughout a home — a concept that is rooted in the founders' mission to create "the perfect family air purifier."
"We speak to our customers as three fathers," Prigge said. "We know our customers are buying these units for the health of their loved ones and we take that responsibility seriously."