Andy Lin was 18 when he left China on a tourist visa with little intention of returning home. In the early 2000s, it was understood that in Fuzhou, the capital of Fujian province, that's what you did when you became an adult, Lin, speaking in Mandarin, told NBC News.
Some made passage to Japan, he said, others to Singapore, staying after their visas expired. But Lin joined a Chinese tour group, crisscrossing Europe by plane for roughly two months and visiting more than 10 countries before landing in Miami, he said.
"Only if you leave China could you have a new life," Lin, now 30, said, referring to the mindset of those in Fuzhou at the time.
And so began Lin's journey 12 years ago that took him from working in Japanese restaurants and becoming a partner in one of them, to losing virtually everything after opening frozen yogurt shops in New York City, to becoming co-founder of a chain of Japanese creperies called T-swirl Crepe, which has nine stores in four states and in Canada and more on the way.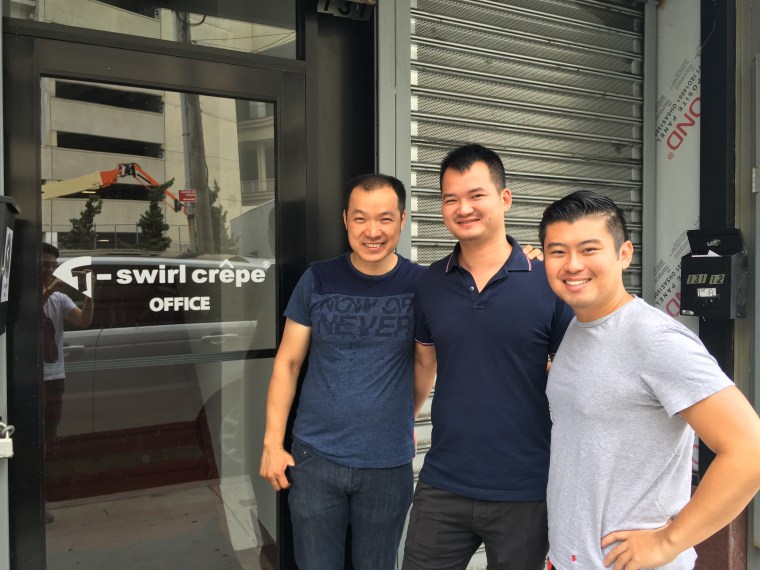 For Lin, a man with ruddy cheeks and a mellow voice, success in America didn't come easy. Shortly after arriving in Miami in 2004, Lin headed to New York City, where he cut hair for several months, a trade he had practiced in China for three years after graduating middle school, he said. Later, Lin took a job at a Japanese restaurant.
Living quarters in the borough of Queens were cramped and tight. Six men shared a small apartment, sleeping in bunk beds, Lin said. His cousin Jerry Lin, who came to the U.S. from Fuzhou four years earlier, was one of his roommates.
"We'd be hugging each other while we slept," Andy Lin said, laughing.
RELATED: How a Filipina Restaurant Owner Became a Guardian of American History
In 2007, Andy Lin moved out of New York, travelling to Pittsburgh, Pennsylvania, to begin work at a hibachi restaurant where Jerry Lin was already employed, he said. Andy Lin proved a quick study, Jerry Lin recalled, earning the plaudits of the owner who asked him to partner to open another store two years later.
But despite earning more than $10,000 a month, Andy Lin said he began to feel his career plateauing after years of doing the same thing day in, day out.
That's when he noticed the frozen yogurt shop across from his restaurant in Pittsburgh and decided to take a chance, he said.
Hoping to ride the frozen-yogurt wave washing up in cities across the country, Andy Lin returned his share of the restaurant and left at the end of 2010, he said.
"When I abandoned it, everyone thought it was a shame," Lin said. "But I still gave it up."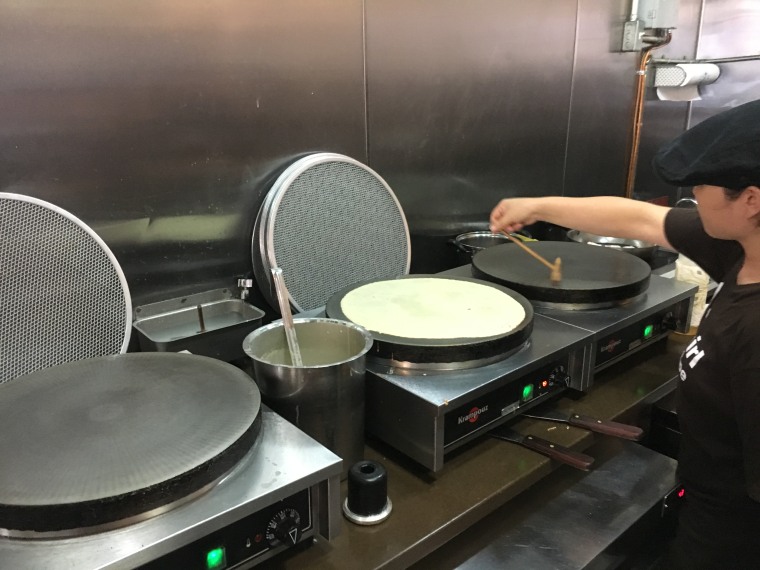 A year later, the former barber who never graduated high school opened his first frozen yogurt shop near Baruch College in Manhattan. It did well, Andy Lin said, so in 2012 he opened a second store near New York University (NYU). He also brought in his older cousin, who had still been working at the Pittsburgh restaurant.
But with a monthly rent of $20,000 and steep competition, the Lins suffered big financial losses, and the frozen yogurt shop went belly up, they said. With bills to pay and families to feed, it was the lowest point of their lives, Jerry Lin said.
"Andy won't say, because we did something wrong or there's no business, that he'll give up," Jerry Lin said. "At that time, when I was feeling down, he kept giving me encouragement. He said, 'It's okay. We will find an even better path to take.'"
That better path led them to Japanese crepes, which Andy Lin had seen on a Taiwanese television variety show and thought could be a big hit in the U.S., he said.
So the Lins camped out in their failed yogurt store's second-floor storage space, researching everything from the menu to the design of their future shop, Andy Lin said.
"You could say it was a last straw to clutch at," he said.
The Lins closed their frozen yogurt store near NYU in the beginning of 2014 and the one by Baruch College in May of the same year, Andy Lin said. Five months later, the pair opened their first T-swirl crepe in Flushing, Queens, a predominantly Asian-American neighborhood.
Business has been good these two years, the Lins said — so good, in fact, that they've turned their creperie into a franchise and hired a CEO, Edward Wu. T-swirl crepe has five stores in New York City, one in Philadelphia, one in Cupertino, California, one in New Jersey, and one in Toronto, according to its website.
Another 11 are expected to open this year, including in Baltimore and Los Angeles. One in Texas is scheduled to open soon, the website said.
"Our parents in China, seeing the way we've developed, actually they feel very gratified," Andy Lin said.
The T-swirl crepe in Flushing, Queens, is a cozy walnut wood-paneled space where customers sit on stools or a small bench and eat their crepes, or get them to go in one of T-swirl crepe's clear custom-made bags.
The menu, which is standard across the chain, features 22 types of crepes — 11 savory, 11 sweet. Each, made with rice flour, is cooked to order on industrial-size crepe makers in a small, open kitchen. Once the crepe is cooked through, its edges slightly crispy, another worker arranges the ingredients — either fruits, like bananas and strawberries, or meats and vegetables, like peppers and stringbeans — to fill in one semicircle of the crepe.
Homemade sauces are squeezed onto the filling, which protrudes from the crepe, and the pancake is folded shut. Working from left to right, the worker makes four more triangular folds, giving the crepe its cone shape. Additional sauces and garnishes are added before inserting the crepe into a cardstock holder.
It takes around two to three minutes to make one crepe, and the customer is guaranteed a similar portion of ingredients in every bite, Wu told NBC News.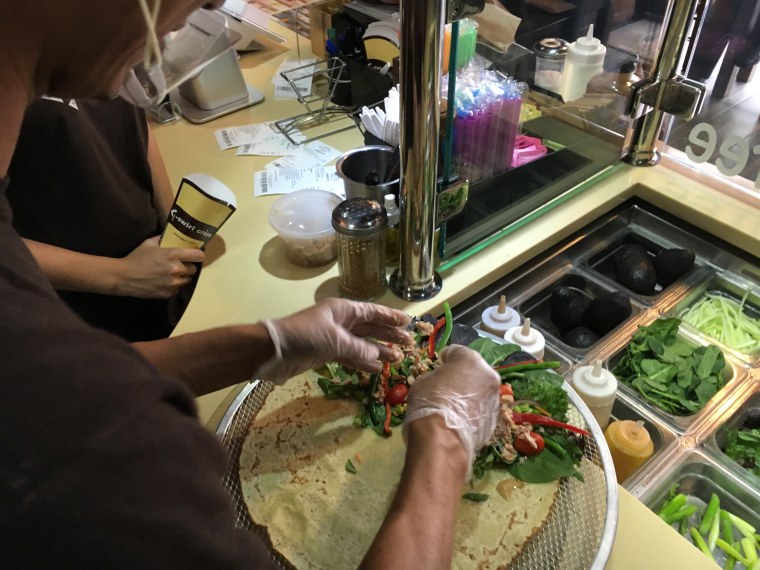 Queens resident Anhie Lam, 15, took her friend Tessa Islam, also 15, to T-swirl crepe one weekday afternoon in August when NBC News visited. Lam and Islam, a first-time customer, are almost part of the 18-to-46 year old demographic that Wu said cuts across ethnic lines and that forms T-swirl crepe's core patron base.
Islam ordered the T-Swirl Fruits Cocktail, which includes sliced strawberries, sliced bananas, blueberries, raspberries, mangoes, custard cream, whipped yogurt, crushed pistachios, and chocolate pearls.
"It's pretty good," she said. "I like the presentation. It's a good combination of fruit."
RELATED: Zing's Awesome Rice Brings a New Twist To an Old Standby
When customers are not pleased, Andy Lin said, the team makes adjustments to their crepes and beverages, which include 14 fruit-infused teas.
While the idea of Japanese crepes may be new to some, T-swirl crepe is not the only restaurant offering them. Just like the frozen-yogurt business, Japanese creperies face stiff competition from rival stores, Andy Lin said. A search on Yelp turned up at least a dozen restaurants that sell Japanese-style crepes in New York City, San Francisco, and Los Angeles.
Wu declined to go into specifics about the company's finances. But he did say T-swirl crepe offers carefully vetted franchisees a more competitive cut of monthly sales than the market rate, which Wu estimated is around six percent.
Wu added that the low square footage of space necessary for shops helps T-swirl crepe open in prime locations with cheaper rents than those paid by bigger-name franchise restaurants that take up more space.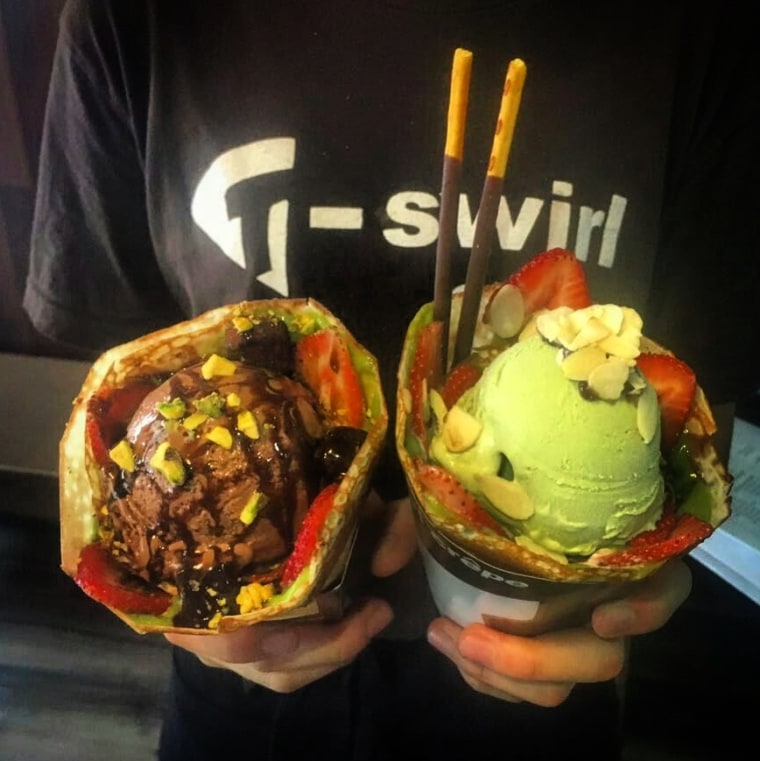 Japanese crepes are not the end for the Lins, Andy Lin said, adding he's confident they'll have success with other products, though he's not sure at this point what those products might be. But as 30-somethings with wives, young kids, and a successful franchise — Andy Lin has two girls, Jerry Lin a boy and a girl — they're happy with all they've accomplished so far, the pair said.
The Lins realize some might object to how they came to the U.S., they said. Both married American citizens of Chinese descent and applied for and received green cards through them, the Lins said. Jerry Lin, now a citizen, recalled a period after his own visa expired when he worked without paying taxes.
But Andy Lin said he has the self-confidence not to second-guess his own decisions, including to leave China the way he did, because of what others might think.
"Actually, when you start a business, it's a choice," he said. "When you make that choice and you're successful, then it's the right choice. It's just like that."
Follow NBC Asian America on Facebook, Twitter, Instagram, and Tumblr.