"One officer [was] holding my arm upwards such that I had to bend forward, and the other was squeezing my arm. My shoe fell off, and I was dragged without it. I told them it was hurting," said Chaumtoli Huq about her July 19 arrest in New York City.
Huq was arrested while standing on the sidewalk in Times Square, waiting for her husband and children to use the bathroom inside a local restaurant. She was charged for blocking the sidewalk, resisting arrest, and disorderly conduct. She and her family had been attending a rally in support of Gaza.
The charges were adjourned and will be dismissed on the condition that she would not get arrested again in the following six months.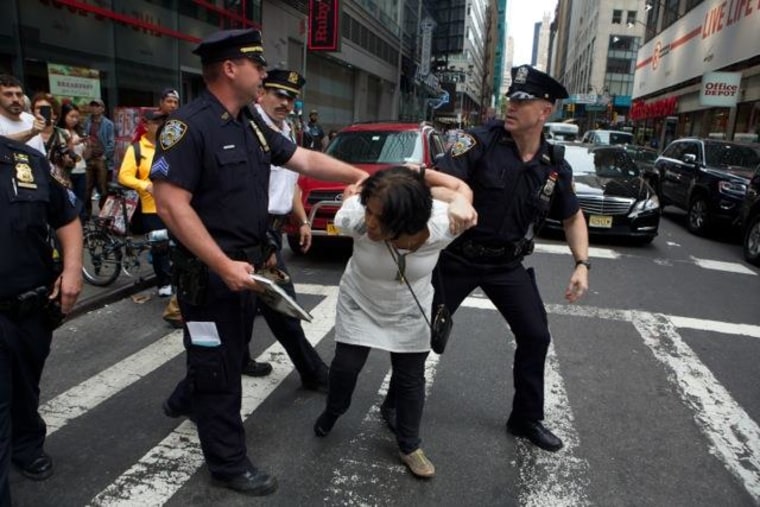 But Huq believes she was targeted as a woman of color, and has filed a federal civil rights suit claiming officers used "unreasonable and wholly unprovoked force… characteristic of a pattern and practice of the NYPD in aggressive overpolicing of people of color and persons lawfully exercising their First Amendment rights."
"It was so public, and so humiliating," said Huq. "No one should experience that."
According to Huq's complaint, the NYPD officers asked Huq to move as she waited outside a restaurant that afternoon. Huq says she explained her husband and two young children were inside using the restroom, and moved back against the wall "leaving the sidewalk completely clear." Huq claims the officers then grabbed her, pushed her against the wall, and handcuffed her. During the arrest, the officers allegedly told her, "Shut your mouth," "You're my prisoner," and, when they learned Huq has a different last name than her husband, "In America, wives take the names of their husbands."
"I was a mom, a loving partner to my husband of 12 years, but I become in a second the arresting officer's 'prisoner.'"
A spokesman from the NYPD responded to NBC News' request for comment with the following statement: "The matter is under internal review. Due to pending litigation, we are not at liberty to discuss the specifics of this case."
In an excerpt from the arresting officer's sworn statement, included in Huq's complaint, the officer describes maintaining "a crowd of approximately 1000 people," at the time and asking Huq to move "to maintain her safety."
"The defendant refused to move as directed and stated in substance to me, 'I'm not in anybody's way. Why do I have to move? What's the problem?'" the statement reads. The officer states Huq was repeatedly asked to move and refused to do so.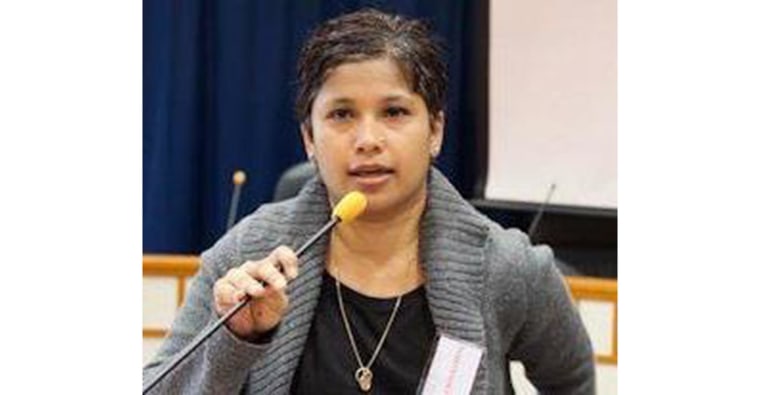 Huq has built her career on fighting for civil rights. A mother, Muslim, and Bangladeshi American, Huq is also a human rights lawyer, a former Associate Professor of Law at New York Law School, former general counsel for New York City Public Advocate Letitia James, Director of the first South Asian Workers' Rights Project in the country at the Asian American Legal Defense and Education Fund, and the first staff attorney to the New York Taxi Workers Alliance.
"Aggressive policing can lead to what happened to me," said Huq, "I was a mom, a loving partner to my husband of 12 years, but I became in a second the arresting officer's 'prisoner.'"
Huq is seeking unspecified monetary damages, and demanding that training be implemented for NYPD on Muslim and South Asian communities.
"Raising a boy of color, and knowing how youth of color are vulnerable to overpolicing, made me think, this is not about me but about my life's work of protecting New Yorkers and ensuring that no one experiences what I did," said Huq. "We need a serious dialogue about police-community relations."
Huq is currently in Bangladesh on a fellowship researching labor conditions of garment workers after the Rana Plaza building collapse. She says that workers are telling her how garment factory owners use local police to threaten workers for unionization efforts. "When you see what is happening in the U.S. in Ferguson and globally, you see an increased use of police to address social issues or to squash any activity in public space. I think this should be of concern for Americans and all global citizens who care about civil and human rights, and especially the First Amendment."
Huq says she was hesitant to bring a case against the NYPD, but was encouraged by friends and family. "Asian-American labor organizer Nahar Alam told me that if the NYPD could arrest you, as a lawyer, then, how would immigrants even dare to exercise their rights in the U.S.? This kind of action can frighten the Asian and immigrant community from speaking up for their rights."