Hundreds of people from Wisconsin and Minnesota turned out for a "Save our Children community peace march" Tuesday in Wassau, Wisconsin, to show support for 16-year-old Hmong American Dylan Yang, who was found guilty in the February 2015 stabbing death of another boy.
Arguing that the system failed all the children involved, organizers spoke out about community violence, school bullying, and called for improvements in Wausau's schools and courts. They also requested leniency for Yang and held a vigil for Isaiah Powell, the 13-year-old killed.
"This movement was truly organic and grassroots. We came together not as professional titles holders but as concerned citizens first and fellow Hmong Americans with one vision for justice," Hmong-American activist and comedian Tou Ger Bennett Xiong told NBC News."Our message about bullying, violence prevention, and racial justice was heard and echoed across the country."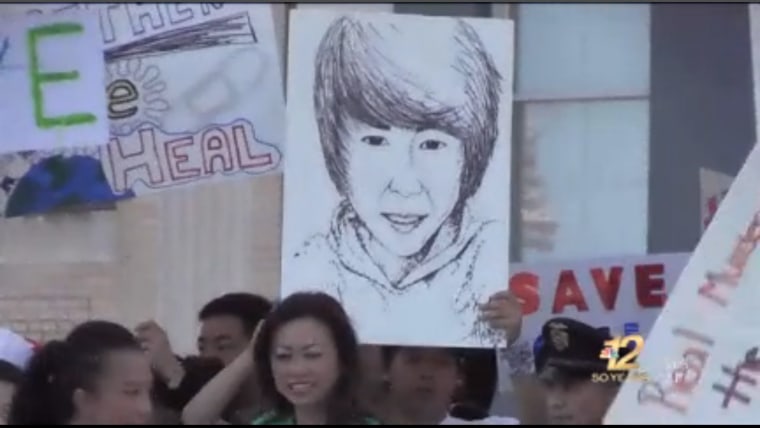 "If the notion holds true that 'it takes a village to raise a child,' then as a community we failed," Xiong wrote in a letter to school and community leaders. "There is no winner in this ordeal, just broken lives. The challenge now is how we begin to heal and repair these broken lives. Our hearts grieve for the mother who had to bury her son and the one who prepares to say goodbye as hers is taken away in handcuffs."
Charged as an adult, Yang was found guilty in March of first-degree reckless homicide for killing Powell. Powell had reportedly gone to Yang's house with several friends and a BB gun following a Facebook argument, according to NBC affiliate WJFW. Yang reportedly stabbed Powell twice with a kitchen knife. Powell died after being taken to a local hospital. Yang was 15 years old at the time.
Some people at the rally held signs that read "I am Dylan" or "Justice for Dylan," and many told WJFW that they did not believe Yang received a fair trial. Some of their concerns include Yang being tried as an adult, a million-dollar bail, and the lack of diversity on the jury.
"These aren't kids that just randomly met each other at the park and started fighting," Xiong told WJFW. "Their relationship started in the schools and it formed over months, years. What are we doing to teach young people to just respect one another and appreciate one another and celebrate diversity and not think so much 'us versus them'?"
Yang faces up to 60 years in prison and is scheduled to be sentenced July 12 in Marathon County Court.
Follow NBC Asian America on Facebook, Twitter, Instagram, and Tumblr.
This story has been updated.
Correction: An earlier version of this story's headline stated that Yang was convicted of murder. He was convicted of reckless homicide.