SACRAMENTO, Calif. — More than 500 people gathered at nationwide rallies in the past week to protest the deportation of Cambodian Americans as Immigration and Customs Enforcement data shows the number of such deportations over the past two fiscal years has seen a 279 percent increase.
Nearly 120 people gathered at the California State Capitol on Thursday, joining others in San Francisco, Massachusetts, Washington and Rhode Island, following a similar event in Boston on Monday.
There were 16 known Cambodian Americans across the country who had scheduled immigration check-ins Thursday, according to Anoop Prasad, staff attorney at civil rights group Asian Americans Advancing Justice — Asian Law Caucus. As of Thursday afternoon, seven of the 16 individuals who checked in with ICE had been detained, rally organizers said.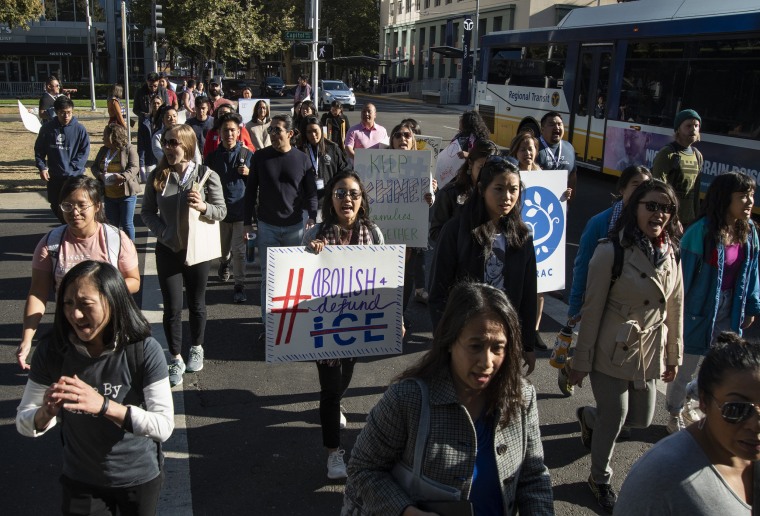 While organizers said they weren't expecting ICE check-ins in Sacramento, demonstrators marched and chanted from the Capitol to the U.S. Citizenship and Immigration Services building to support other community members across the country who faced the risk of detention.
"The U.S. continues to detain and deport Cambodians and Southeast Asian American refugees to countries that many of us escaped from and that some have never even known. The U.S. is now our home," Montha Chum, co-director of the Southeast Asian Freedom Network, said at the rally here. "We are speaking up across the country to denounce these roundups and will fight to keep our families together and bring our deported loved ones home."
Raids in the Cambodian American community ramped up in 2017 after the Trump administration issued visa sanctions on certain high-ranking officials in Cambodia because they refused to accept deported citizens.
Immigration raids in the community had typically occurred once to twice a year but have increased to three to four times a year since President Donald Trump took office, advocates said. This most recent round of raids is the sixth that have taken place under the Trump administration, Prasad said.
"It's just really unprecedented that it's our sixth back-to-back round of raids," Prasad said. "They've just drastically increased in frequency and in size under this administration."
The number of Cambodian nationals deported over the past two fiscal years has seen a 279 percent increase, according to Immigration and Customs Enforcement data — that's 110 in fiscal year 2018, up from 29 in fiscal year 2017.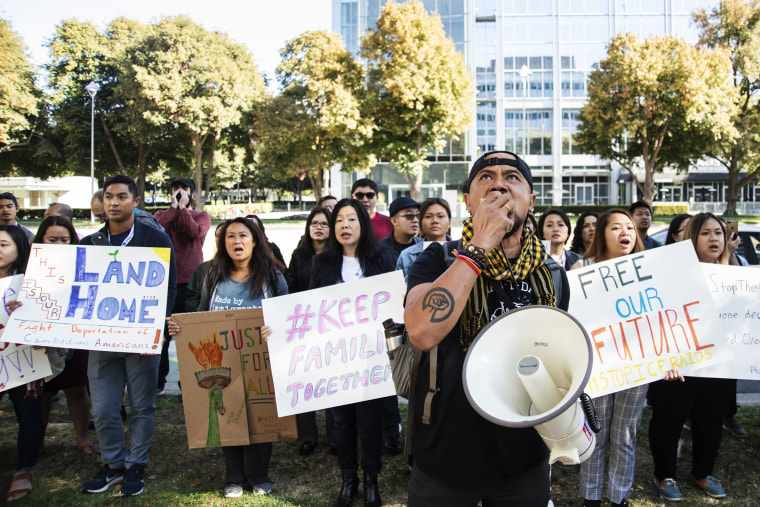 "Cambodia is among the nations on a list of 'recalcitrant countries' so they have been under more scrutiny by the White House to speed up removals for those with old convictions," Katrina Dizon Mariategue, director of national policy at the Southeast Asia Resource Action Center, a Southeast Asian civil rights group, said in an email.
About 16,000 Southeast Asian Americans in the United States have a final order of removal, according to the civil rights group.
ICE spokesperson Paige Hughes told NBC News in an email that as of Sept. 21, 1,764 nondetained Cambodian nationals had a final order of removal, of whom 1,276 were convicted criminals. As of that date, there were 24 Cambodian nationals in ICE detention with a final order of removal, of whom 21 were criminal, she added.
The agency has so far deported 80 Cambodians in the current fiscal year as of Sept. 21, Hughes said, adding that 70 were convicted criminals.
Since Cambodia and the United States signed a repatriation agreement in 2002, the Khmer Vulnerability Aid Organization (KVAO), a nongovernmental organization that assists deportees transitioning to life in Cambodia, has assisted 743 Cambodian American deportees, the group's spokesperson, Bill Herod, said in an email.
"Our hearts are really with those families and those seven individuals [who were detained] and all their loved ones and their friends and their communities who this is a shock for," Quyen Dinh, executive director of the Southeast Asia Resource Action Center, said. "For us, I think it's important that they have organizations on the ground to help them deal with the immediate trauma of being separated and supporting them through the healing process, as we also uplift their experiences to policymakers to say that this is not right, and we're creating so much pain in our communities that it just has to stop."
Follow NBC Asian America on Facebook, Twitter, Instagram and Tumblr.