It was only eight weeks ago that Uyen Tieu became curious about the Asian-American vote as she watched election coverage. When she went online to learn about how many Asian Americans vote in the United States, the numbers she found shocked her.
"I found out that half of Asian Americans don't vote, and I was like, 'Okay, that's low,' but then I found out that only 36 percent of Asian-American millennials vote, and I was completely surprised," Tieu told NBC News. "I started texting with my sisters, and we were just going back and forth with ideas, and thought that we should do something about it."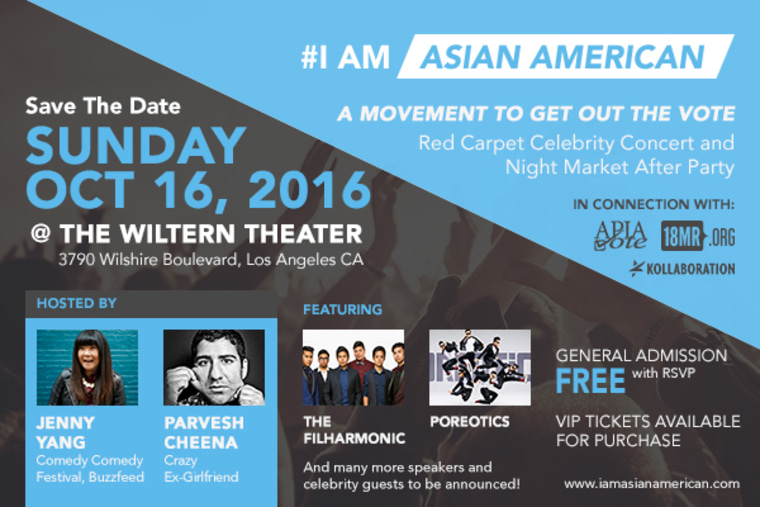 Tieu — who is a former vice president of strategy at MTV — and her sisters continued to bounce ideas off each other about how to best mobilize the Asian-American millennial vote.
"We thought maybe we should do something about food, because Asian Americans spend 40 percent more than the average American on going out to eat," Tieu said. "And we thought when it comes to millennials, we should do something more, like a concert."
RELATED: Asian-American Population Surges, But Voter Turnout Still Lacks
As more and more people were added to the group chat, Tieu's ideas inched closer to becoming reality.
"Now we have a huge network, a spontaneous movement, of artists, of entrepreneurs, business owners. The list goes on and on," Tieu said.
The "amazing spontaneous display of unity" that began as a group text is now the "I am Asian American" campaign, which encourages Asian Americans to register to vote in a variety of ways.
The campaign is holding four free concerts on Sunday, Oct. 16, where attendees can register to vote as they try food trucks and listen to music. The flagship concert, in Los Angeles, has comedians Parvesh Cheena and Jenny Yang scheduled to be hosts, and has booked Asian-American entertainers, such as a capella group The Filharmonic and Nickelodeon star Megan Lee. Additional concerts in New York, Chicago, and the greater D.C. area are also scheduled to take place.
The concerts are the culmination of voter registration drives that are already happening at prominent restaurants and food trucks in the four cities. Kogi in Los Angeles, Nom Wah and Korilla in New York, and Tamarind in Chicago are already hosting drives until Oct. 14, Tieu said.
Tieu, who describes herself as a "numbers person," said that these four locations were targeted strategically.
"I did my research. I looked at the 85 districts where Asian Americas make up 10 percent or more of the electorate. These [numbers] are so important because Asian Americans can swing the vote," she said. "I just looked at the numbers of where there are Asian Americans to drive to make an impact."
Tieu noted that Asian Americans who lived elsewhere could also participate in the campaign. Viewing parties in Seattle and in Las Vegas are already in the works, and "I am Asian American" has started a social media campaign encouraging participants to create a fifteen second "selfie" video to share their identities and the issues that matter to them, with the hashtag #IAmAsianAmerican.
The PSA campaign is in partnership with the National APIA Panhellenic Association (NAPA), which encompasses the nationally recognized Asian-American fraternities and sororities at universities across the country. The campaign referred to the recent Fox News segment that some denounced as racist, saying "Let's speak up and let everyone know what Asian American Voters really think, and film your own #IAmAsianAmerican PSA."
For Tieu, the campaign is as much about inclusion as it is voter registration.
"I think it's just really important for me personally and for everyone that has been involved in this movement to make sure that we're open to as much of a diverse set of voices as possible, to represent Asian Americans in a manner that's not just broad strokes," Tieu said. "I want this to be in your face. I want [people to] know your own power."
Follow NBC Asian America on Facebook, Twitter, Instagram, and Tumblr.