Angela Guanzon remembers learning about human trafficking growing up in the Philippines, but she never imagined that one day she would be a trafficking survivor.
"All I heard about was human or sex trafficking—not labor trafficking," Guanzon, 38, told NBC News.
After graduating from college, Guanzon struggled to find work to support her parents and five siblings. With her father's health rapidly deteriorating, she looked for opportunities outside of the Philippines. In 2005, she was recruited to work as a caretaker at a residential care facility in Long Beach, California.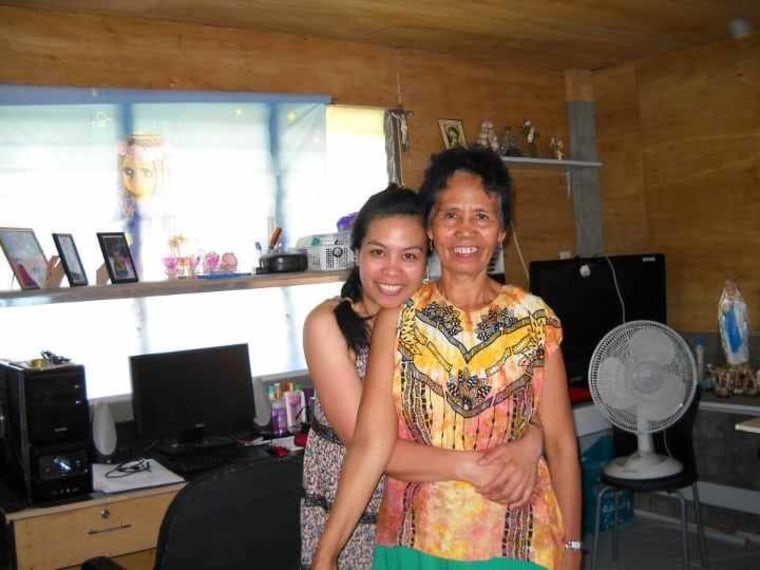 But when she arrived in the United States, Guanzon's trafficker took her passport and told her that she owed $12,000 in transportation and housing costs, which had to be paid off with a decade of work. The $600 per month salary Guanzon was promised in the Philippines was halved to $300.
"I have to work for her for 10 years, and she told me that after 10 years if we want to work with somebody, we have to go back home. … She's basically telling me that she owns me," Guanzon said.
Guanzon's work conditions caused her to live in constant fear. She would wake up at 4:30 a.m. each day to make sure the elderly residents were cared for and fed.
She and her co-workers ate leftovers from her residents' meals, she said, and her trafficker verbally abused her. She never got a day off from work and spent her nights sleeping on hallway floors.
"I was just waiting for my 10 years [to] finish," Guanzon said. "I was scared. It feels like you're just living every day … like every hour and you don't want to think about tomorrow. I know that tomorrow is going to be the same: tiring."
RELATED: 'Abolitionista!': Fashion Show Benefits Anti-Child Trafficking Comics
False Promises and Misrepresentations
"When they realized what had happened, some of them were living in shipping containers with no running water, no electricity, and they had to scourge around for food."
Christopher Lapinig, a Skadden Fellow and staff attorney at Asian Americans Advancing Justice-Los Angeles (Advancing Justice-LA), told NBC News that labor trafficking is a major issue in the Asian-American and Pacific Islander community and disproportionately affects people on guest worker visas, many of whom come from labor recruitment industries in the Philippines, India, and Bangladesh. According to the National Human Trafficking Resource Center, 721 out of the 5,544 cases of human trafficking reported in 2015 were labor trafficking, 4,136 involved sex trafficking.
"Unfortunately, these industries are rife with unscrupulous recruiters who lure unsuspecting workers with false promises and misrepresentations about wages and working conditions," Lapinig said.
Many of the workers often sell their homes and other assets in order to pay the recruitment fees, he added.
RELATED: Study Takes New Look at How Big Events Fuel U.S. Sex Trafficking
Asian-American and Pacific Islander service organizations in Southern California have confirmed with Advancing Justice-LA that labor trafficking among the Filipino community is most prevalent in the domestic work, health care, and hospitality industries, Lapinig said.
He added that it's important to recognize that "human trafficking has many faces."
"Human trafficking is indeed modern-day slavery, but in many situations, trafficking victims may live and work in conditions that do not necessarily match up with the image of slavery that many of us have in our minds," Lapinig said.
Rescue
Angela Guanzon was rescued in 2008 after a neighbor noticed she and her co-workers never seemed to get a day off. The neighbor alerted the police and the FBI got involved, enabling Guanzon to build a case against her trafficker, she said. Guanzon had been afraid to speak out because her trafficker would threaten her due to her immigration status.
"She said that if they learn that I'm undocumented … if [strangers] call police she would tell them that she didn't know me, so I would end up in jail," Guanzon said.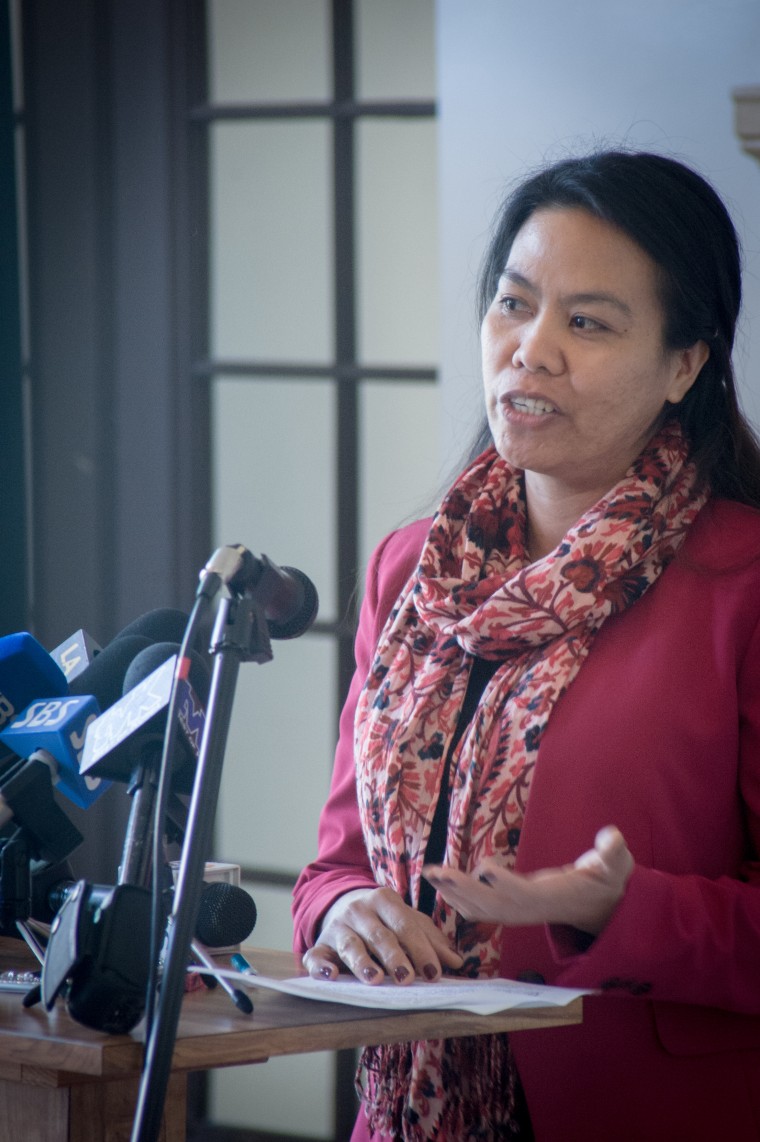 Anti-trafficking attorney Song Kim of the Asian American Legal Defense and Education Fund told NBC News that in many cases, the lack of immigration status often prevents survivors of human trafficking from coming forward, making it more difficult to collect evidence.
"Lack of immigration status is one thing that traffickers control," Kim said. "It's a big thing and it causes people to live in the shadows… You have to dig a little deeper. A lot of times these things happen in homes — they are domestic workers in private homes."
Survivors of human trafficking are already protected under federal law. The T visa, which was created in 2000 with the passage of the Trafficking Victims Protection Act, protects survivors of human trafficking and holds traffickers accountable. Survivors are provided health care, employment assistance, and other resources, if they comply with investigators.

Staff at the Coalition to Abolish Slavery and Trafficking (CAST) in Los Angeles helped Guanzon, who received a T visa after testifying against her trafficker, rebuild her life. She lived in a CAST shelter for 18 months and met other survivors who had been coerced and threatened into working under unlawful conditions.
Today, Guanzon works as a certified nurse's assistant and is a member of the CAST Survivor Advisory Caucus, a support network for survivors of human trafficking.
"The more I talk, the more I heal," she said. "I think it's part of my healing process. I know it's hard. But time comes and time goes by and I keep talking and healing. And for me, it's getting better."
In addition to her work, Guanzon raises awareness about labor trafficking.
In 2013, she testified before the House Foreign Affairs Committee about her experiences. She also spoke on behalf of California law SB 477, which was signed by Gov. Jerry Brown in September 2014 and goes into effect this June. The law protects workers by requiring foreign labor contractors to register with California's Labor Commissioner. They are also prohibited from charging recruitment fees, according to CASTLA.
In January, Guanzon and Thai labor trafficking survivor Aniwat Khadphab spoke at an event announcing the creation of the Asian Pacific Islander Human Trafficking Task Force, a partnership between the Asian Pacific Policy and Planning Council and 14 other partner organizations in Southern California. The task force aims to share resources and increase awareness and services available to the survivors of labor trafficking.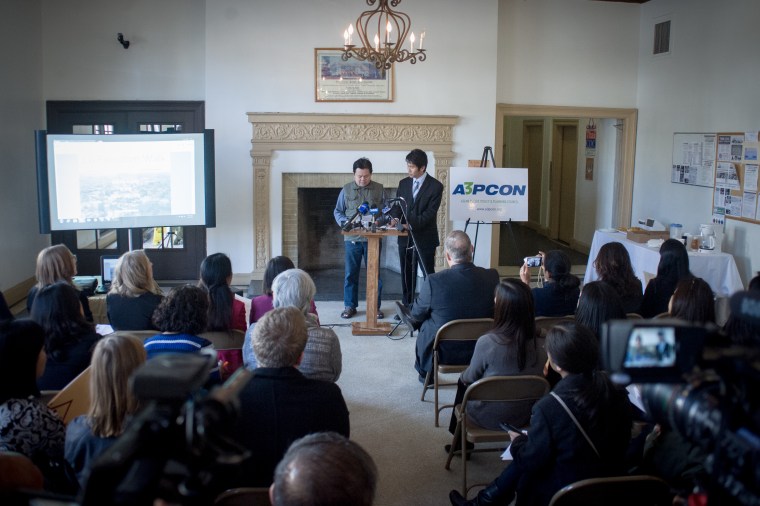 Connie Chung-Joe, executive director of Korean American Family Services, is one of the leading members of the task force — possibly the first in the United States founded by Asian-American service agencies, she said.
"We know it's not being served and reported and there's not enough infrastructure in the community to deal with the issue," Chung-Joe said. "That's what we want to change. With more visibility and capacity, we are going to start seeing more cases."
The Thai Community Development Center (Thai CDC), another task force partner, has been on the forefront of cracking down on human trafficking cases since its founding in 1994. They helped free Aniwat Khadphab and 300 other Thai farm workers at Global Horizons, a former labor contractor that provided workers to farms in Hawaii and Washington during the 00s.
"When they realized what had happened, some of them were living in shipping containers with no running water, no electricity, and they had to scourge around for food," Thai CDC Executive Director Chanchanit "Chancee" Martorell told NBC News.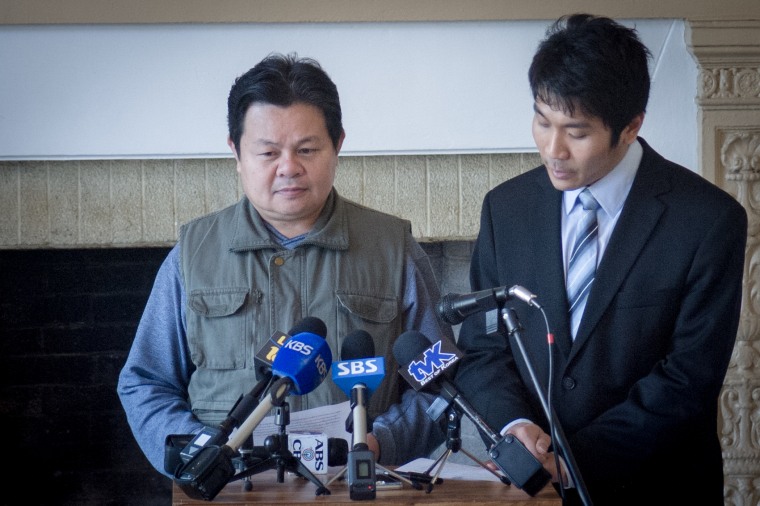 Khadphab was recruited in Lampang, Thailand, he told NBC News. He said the recruiters convinced him of better opportunities in the U.S. Khadphab's family were rice farmers, and he was determined to come to the U.S. with the hopes of finding a better job.
"If I was still working for them [traffickers], I feel like they would have chewed away my freedom. After I came out and stopped working for them, I feel like I had freedom. I have freedom now."
Once in the country, his passport was seized. He worked at an apple orchard in Washington for approximately four months before being transferred to a farm in Hawaii.
According to a lawsuit filed by U.S. Equal Employment Opportunity Commission, Global Horizons physically and mentally abused its employees.
"They call us names like 'you bastard,'" Khadphab said through Thai CDC staff attorney and interpreter Phatchara Udomsin. "They told us that you have to work hard or else we will send you back to Thailand. We're not really educated so they see us this way."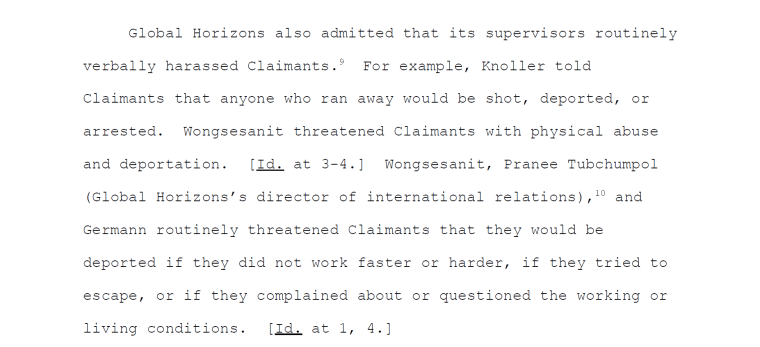 Tired of being mistreated, Khadphab escaped from his traffickers. The traffickers had planned to transfer the Thai workers from the farm in Hawaii to Florida, he said. During a layover in Phoenix, Khadphab and several coworkers left the airport with nothing but the clothes on their backs and some spare change.
Together, they took a bus to Los Angeles and reported themselves to Thai CDC. "They helped reunite me with my family here in the U.S," he said. "I am thankful they gave me hope."
Khadphab has been working as a cook at a Thai restaurant in Los Angeles County for more than six years now and is a free man, he said.
"If I was still working for them [traffickers], I feel like they would have chewed away my freedom," he said. "After I came out and stopped working for them, I feel like I had freedom. I have freedom now."
Follow NBC Asian America on Facebook, Twitter, Instagram, and Tumblr.