LOS ANGELES — On a warm November night at the Upright Citizens Brigade Theatre on Sunset Blvd., a room of more than 300 people watched as a cart carrying a frosted sheet cake was rolled on stage.
"It's a yellow cake with white frosting," comedian Will Choi announced as he led the room in singing "Happy Birthday" to his fellow performer Jenny Yang, who was celebrating her birth month alongside three actresses Choi and Yang had spent the night making digs at: Scarlett Johansson (whose name Choi borrowed for his sold-out UCB comedy show, "Scarlett Johansson Presents: Opening Night of Doctor Strange"), Emma Stone, and Tilda Swinton.
The joke, Choi said about naming the comedy showcase, wrote itself. In May, Choi produced his first "Scarlett Johansson Presents" show to coincide with Asian American and Pacific Islander Heritage Month. The title, he told NBC News, was an effort to call out the whitewashing in Johansson's upcoming role in the 2017 film, "Ghost In the Shell."
"I didn't have to sell the show at all," Choi, who co-hosted the November show with "Gilmore Girls" actress Keiko Agena (the two donned wigs to portray Johansson and Stone, whose role as Allison Ng in the 2015 film "Aloha" is another still-fresh example of whitewashing), said. "Everyone was on board because it was so pertinent at the time."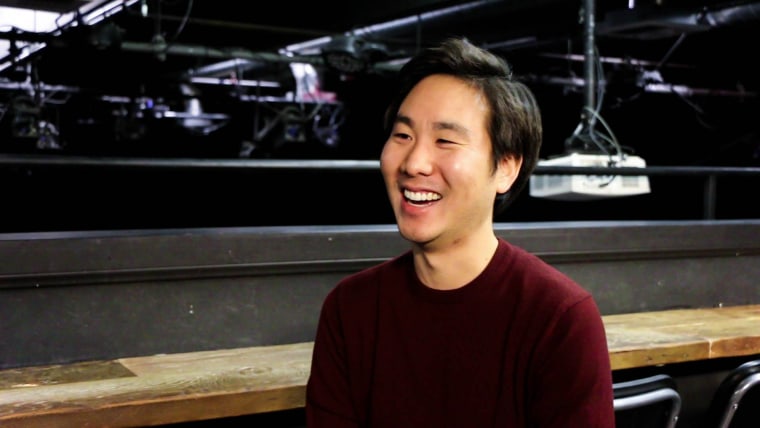 The "Scarlett Johansson Presents" show in May sold out, prompting a second show in November that took place the same night Marvel's "Doctor Strange" opened in theaters. Swinton's role as The Ancient One in "Doctor Strange" had been another dart on the wall of Hollywood missteps when it came to casting actual Asian Americans in major film roles meant for Asian Americans, and Choi saw an opportunity to continue highlighting Hollywood's problem in the way he knew best: through comedy and performance.
"With the 'Scarlett Johansson' show, it's showcasing all these amazing Asian Americans on stage and letting them have the chance to perform in front of an audience that really resonates with them," Choi said, "and for the audience members to see someone onstage that looks like them and to be empowered to feel like, 'I can do that too. I can make a change too.'"
Pushing Back
While Choi's philosophy isn't a novel concept, the number of opportunities to respond to misrepresentation (and non-representation) in the media showed almost no sign of slowing down in 2016 — from Chris Rock's "joke" at the Oscars involving three Asian-American kids to continuing concerns of whitewashing on the big screen.
"I feel like a lot of 'asshattery' happened," Yang, who appeared at UCB's "Scarlett Johansson Presents" show as Swinton/The Ancient One, told NBC News. "I feel like there's so many low points [in 2016] that have gathered together."
RELATED: Oscars 2016: Twitter Reacts to 'Asian Joke' at Academy Awards
For Yang, the "low points" this year were part of the fuel for her bursts of creative fire. In September, after Bon Appétit published a piece on "how you should be eating pho" that featured a white chef demonstrating the "right" way to make and eat the Vietnamese dish, Yang responded not just with outrage, but with satire.
Yang's "How to Eat PB&J" video, which directly mocked Bon Appétit's take on pho — or, as it's known online, the "Columbusing" of pho — makes wild assertions about the proper way to consume and appreciate peanut butter and jelly sandwiches, and ends with a "pro-tip" on not telling Asians how to eat their own food.
Since it was posted online, Yang's video has nearly 900,000 views on Facebook. Bon Appétit has since removed their original video and amended their article to include an explanation.
Although this style of comedy isn't new for Yang — she's appeared in numerous BuzzFeed videos commenting on the Asian-American experience — she says 2016 has given her confirmation that creating laughter could also create change in a meaningful way.
"I love that we are actually creating the kind of buzz and racket in media that is making mainstream media take notice."
"What I feel very privileged to be able to do is to use this wonderful format of comedy to say something that I feel like really gets to the heart of what I care about, what I think about, and the kinds of thoughts and feelings and values that the people I know care about," Yang said. "It's satisfying because I know for a fact that I'm hitting a nerve or I'm hitting a stream of discourse, a stream of conversation that hasn't been elevated to a more mainstream conversation."
One month later, Yang was back at it again, responding to a segment by Fox News correspondent Jesse Watters which saw Watters using stereotypes to poke, what Watters and Fox News called, "gentle fun" at Asians in New York City's Chinatown. The segment, which was decried as "racist and offensive" by civil rights organization, included references to karate and questions about North Korea.
RELATED: Chinatown Responds as Fox Reporter Defends 'Tongue-In-Cheek' Segment
In a video for Fusion, Yang responded by going to Beverly Hills, where she mimicked the style and tone of Watters' segment, but turned the tables on interviewees with stereotypes about white people.
"I feel like I've developed a brand," Yang joked. "If they need an Asian face to make fun of white people… 'Let's get Jenny Yang!'"
'In the Driver's Seat'
Whether it's been through improv or satirical videos, the media's lack of responsible representation of Asian Americans continues to showcase the need for the kind of work Yang and Choi have brought to both stage and screen. It's the kind of work that actor Neal Dandade, who performed in Choi's "Scarlett Johansson Presents" show in November, says is essential in changing the industry.
"Making your own work puts you in the driver's seat," Dandade told NBC News. "To a certain degree...you are a product, you have to present yourself in a certain way. So people who'd like to act in things that others write, a great way to get to that stage is to show people how to write for you. And you're the person who can tell people how to do that most accurately."
Dandade, who was most recently seen on TV in ABC Family's "Kevin From Work," got his first taste of the theater while in college, studying both theater and pre-med. After graduating, he moved to Chicago where he worked as a researcher in a lab, but also began taking classes and seeing improv shows at night.
"I was very lucky in Chicago. I found some really cool people to make videos with, that's usually how a lot of great videos start: it's just people having fun," he said.
Along with his theater and television work, Dandade has appeared in videos for Funny Or Die and the Second City Network, the web portal for The Second City, whose alum include Tina Fey and Steve Carrell. Dandade himself is an alum of Stir Friday Night, a Chicago-based Asian-American comedy troupe that also boasts impressive alumni — for starters, actors Danny Pudi and Steven Yeun, who Choi cited as one of his biggest inspirations for getting into comedy.
"I hadn't seen longform improv before and I'd never seen an Asian person doing improv," Choi recalled of Yeun, "so when I saw him [at iO West in Los Angeles], I was like, 'Wait. That guy looks like me and is doing something that seems so fun and scary and just really cool…'"
In his own creative career, Choi has found success in being, as Dandade puts it, "behind the driver's seat," with projects such as The Comedy Comedy Festival (produced alongside Yang) and "Drunk Monk Podcast" (which he co-hosts with Keiko Agena). At the end of November, Choi and comedian Mike Lane debuted UCB's first mainstage, all-Asian-American show, "Asian AF."
"Depending on how successful that is, hopefully it'll become a monthly run," Choi told NBC News at the beginning of November.
One week later, tickets for the show went on sale; four days later, it sold out.
Not Playing It 'Safe'
"The only way we can shift culture is through culture is through creating culture, and that's through art."
If you ask Choi, Dandade, or Yang why they use comedy to respond to moments that bother them, their answers vary, but they all share similar philosophies: it's the best way they know how to process what could easily turn into rage. Through tools like social media platforms and YouTube, "there's been a general loosening and freeing of our voices," Yang notes, adding that the best way to reach people by "being able to move people emotionally or through humor."
"Not only are we speaking up about issues that are happening in general, but we are also feeling more empowered to speak up about issues that affect us, especially in regards to representation," she said. "I love that we are actually creating the kind of buzz and racket in media that is making mainstream media take notice."
And without traditional "gatekeepers" online to put the brakes on every piece of commentary, the possibilities, Dandade says, can be endless. "It's a place to try out your ideas, to see what works, to fail," he said. "If you put something on the web, you have the entire world [in front of you] in a way, so you can see what kind of ripples your video makes."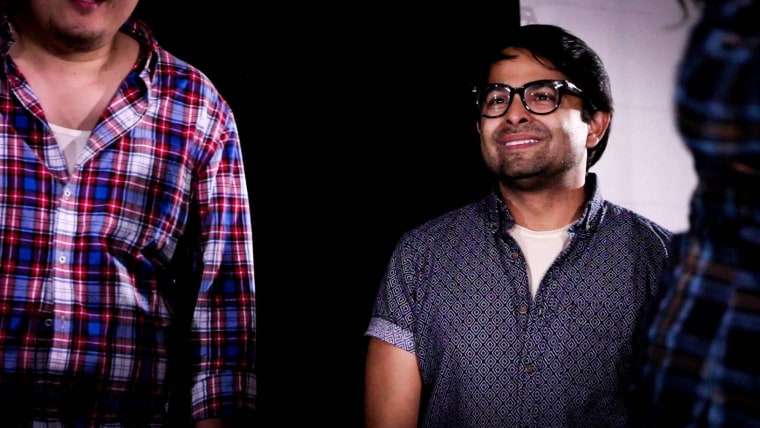 One of those videos in 2016 making ripples came in May, three months after rapper Dumbfoundead sat down to watch the Oscars and — as he says in his song "Safe" — saw that "the only yellow men were all statues."
"The title 'Safe' is a reference to how I felt Asians and Asian Americans were being perceived: the model minority that'll take it and smile, the punching bag of America," he told NBC News at the time.
RELATED: With New Video, Rapper Dumbfoundead Challenges Hollywood 'Whitewashing'
Dumbfoundead's music video for "Safe" went viral in the first few days of its release. And while he uses humor by superimposing his face into iconic movie scenes (it's a creative move also used in the viral hashtag #StarringJohnCho, which superimposed actor John Cho onto movie posters as a lead role to push back on those who might suggest Asian actors weren't leading men, according to hashtag creator William Yu), the message is deeper: "What you talkin' 'bout there ain't no space / Guess I gotta go and make more space," Dumbfoundead raps in the song.
RELATED: New Twitter Account, Hashtag Re-Imagines Films #StarringJohnCho
"We can't wait," he said in an interview with the LA Times in June. "If you wait it's gonna take forever. You just have to write these stories."
Make 'Em Laugh
Ahead of the release of "Ghost in the Shell" in 2017, Choi already has a third "Scarlett Johansson Presents" show scheduled — this time, in February on the opening night of "The Great Wall," an action film starring Matt Damon that has Damon's character saving China from dragons.
"ATTN: ASIANS - Meet at the UCB Theatre on February 17th, 2017. Matt Damon is coming to save us all," the Facebook event reads.
"It's not like I'm saying, 'Boycott this movie,' or whatever. It's already getting made," Choi said of both "Ghost in the Shell" and "The Great Wall." "It's just a way to empower people to stand up for whatever they don't think is right."
RELATED: 'Correcting Yellowface': One Woman's Project to Fix Whitewashing
Choi's committed to that model of letting his opinions speak through his art: with another "Asian AF" show lined up already in the new year, he hopes to use the stage to help comedians and performers catch the eye of agencies and producers who claim to be on the lookout for diversity. "Let this place, this show, be a place where you can find that talent," he said.
"Making your own work puts you in the driver's seat."
And while every joke in Choi's shows or Dandade's web videos or Yang's sketches aren't always direct jabs at Hollywood's fumbles, having the platform and opportunities to create — to perform, to watch — and to laugh at an industry that still hasn't figured out how to properly support diversity is as important as any other means of demanding change.
"As a storyteller, as a comedian, as a writer — to create videos that actually move people, at the minimum, through humor is very powerful," Yang said. "We can legislate all we want, and we know this through history: people can say from up high, 'Be a certain way.' But as a culture, if we also don't shift our practice and our mindset, things don't change. And the only way we can shift culture is through culture is through creating culture, and that's through art."
Follow NBC Asian America on Facebook, Twitter, Instagram, and Tumblr.