After collecting and preserving more than 200 stories from immigrants in Minnesota, Immigrant Stories is expanding its scope beyond the state.
Starting in 2013, the digital storytelling and archiving project created by the University of Minnesota's Immigration History Research Center has worked with individuals and community organizations to create, share, and preserve digital stories about immigrant and refugee experiences in hopes to advance teaching and research about international migration.
With a grant from the National Endowment for the Humanities, the project now is expanding beyond Minnesota in partnership with organizations nationwide such as the Angel Island Immigration Station Foundation in San Francisco and Arab American National Museum in Dearborn, Michigan.
"Immigration is one of the most important issues in America and around the world today," Professor Erika Lee, director of the University of Minnesota's Immigration History Research Center and author of The Making of Asian America, told NBC News. "Yet, too often, the experiences of immigrants and refugees get lost in the deluge of alarming newspaper reports and statistics-driven policy studies that dominate the news cycle. There is an especially urgent need to publicize the diverse experiences of Asian Americans — the fastest growing group in the U.S. and largely made up of immigrants and the children of immigrants."
A new story-making web platform uses writing prompts, instructional videos, and video-editing software to guide individuals through the process of creating and sharing three- to five-minute digital videos made out of images, text, and audio. The website will soon be translated into several languages, including Spanish, Chinese, Arabic, Swedish, and German.
"We are always seeking innovative methods for collecting, preserving and sharing Arab-American stories, so this was a natural partnership," Kirsten Terry-Murphy, Arab American National Museum librarian, told NBC News. "We invited staff from local non-profits, including ACCESS, as a training opportunity. After taking this chance to try out the software and produce their own stories, the participants can go on to share the tool with their students and clients. We hope this will lead to more contributions to the Immigrant Stories project from Arab Americans in the metro Detroit area, particularly first- and second-generation immigrants."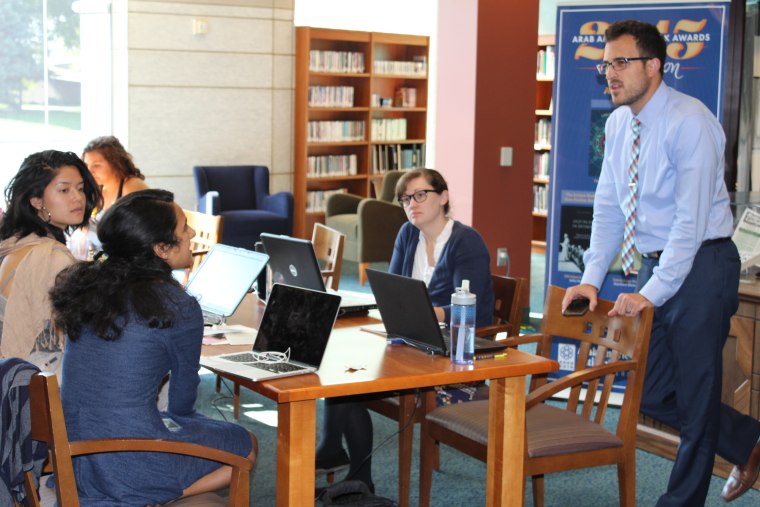 Next year, the project will work with partners in Sweden and Germany to create, share, and preserve the stories of new immigrants and refugees as they arrive in Europe from the Middle East and Africa, according to the organization.
Follow NBC Asian America on Facebook, Twitter, Instagram, and Tumblr.