Of the more than 250,000 Filipino vets of WWII, just 40,000 remain alive. For their service, they were promised benefits and citizenship, though it took decades - until 2009 - for the largest portion of pay benefits to be restored. Today, one issue still remains outstanding, and close to their hearts: family reunification.
Many of the vets, now in their 90s, have been working to reunite with their sons and daughters who were born in the Philippines and remain there to this day, but are stuck behind a immigration backlog that's taken nearly three decades to navigate.
Immigration advocates are now calling on President Obama to take action, and use a little-known mechanism called parole to finally bring these families together. A new report issued this week by Advancing Justice in Washington, DC, said parole power would allow certain admissible family members who are currently waiting in the backlog to live and work in the United States while they await their visas.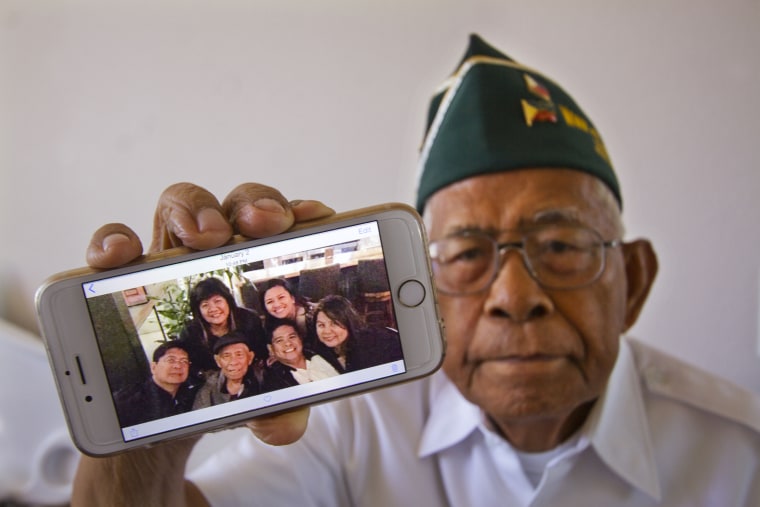 Parole has been used since the 1950s as an approach to help refugees and was used as recently as 2014 to help Haitian family members, according to the report.
"Nothing precludes the current president from using parole on a case-by-case basis for urgent humanitarian reason or significant public benefit," the report reads. "These war veterans courageously served the United States, and need their loved ones beside them. Granting parole to allow their now adult children in the backlogs would ensure that these veterans are treated fairly and with respect. With only 6,000-10,000 Filipino war veterans remaining in the United States, and many needing urgent medical care, the number of eligible parolees would likely be small, albeit significant."
Related: Filipino Veterans Seek Formal Recognition for WWII Roles
As the report points out, given the current pace of visa processing, if a son or daughter of a Filipino WWII vet were to apply today, the reunification would take 27 years. With an aging veteran population, bringing families together, they say, would be "mathematically impossible," without the use of the parole tool.
"Congress should enact commonsense reforms that fix the legal immigration system in a manner that enables families to stay together," the report said. "Until then, President Obama should use the parole tool in his arsenal to reunite families estranged by the broken legal system."