Democratic presidential hopeful Hillary Clinton addressed attendees at the National Immigrant Integration Conference (NIIC) in Brooklyn Monday afternoon, laying out parts of an immigration reform policy that would affect the Asian American and Pacific Islander community.
Clinton, along with Democratic candidates Sen. Bernie Sanders and former Gov. Martin O'Malley, were the only presidential candidates who accepted invitations to speak at the three-day conference, held this year in New York City. The conference is in its eighth year and brings together community leaders and policy makers to discuss immigration in the U.S.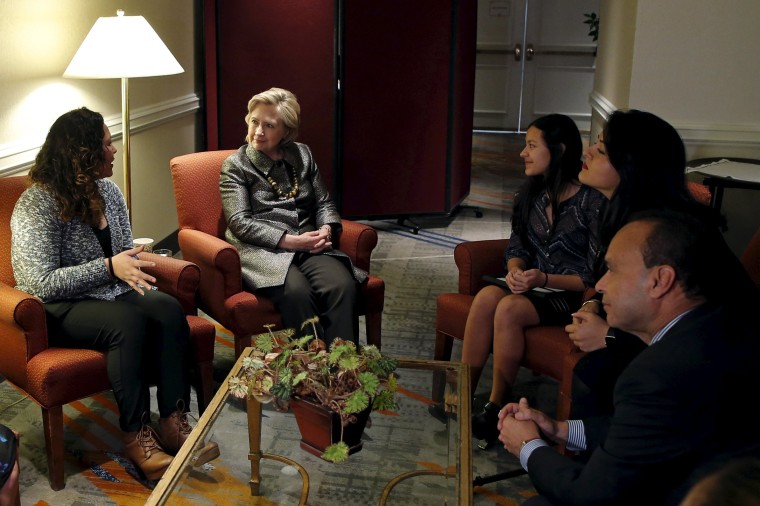 Speaking at the Marriott in downtown Brooklyn on Dec. 14, Clinton told a packed ballroom that she would expand application fee waivers for potential citizens, close private immigration detention centers, and expand access to healthcare for undocumented immigrants.
RELATED: Asian-American Groups Urge SCOTUS to End Injunction Against Obama's Immigration Actions
Clinton said she would also defend President Barack Obama's executive actions on Deferred Action for Childhood Arrivals (DACA) and Deferred Action for Parents of Americans and Lawful Permanent Residents (DAPA), which defer deportation for undocumented immigrants who grew up in the U.S. and parents of American citizens or legal residents.
"If we say that we support families in this country, then that has to mean something," Clinton said. "I want to put an end to families being torn apart, or hard-working, law-abiding parents having to prepare their kids for the day that mom or dad might be taken away."
RELATED: South Asian Detainees Continue #Freedomgiving Hunger Strikes
RELATED: Sanders, O'Malley Back More Than 100 Detainees On Hunger Strike Across the Country
Three times during Clinton's speech, protesters interrupted the former secretary of state, who continued to talk. One group of protesters silently unfurled a banner that read, "People are Starving for Freedom" in support of detainees currently participating in hunger strikes in immigration detention centers across the country. All of the protesters were escorted from the ballroom.
Sanders and O'Malley, who are scheduled to speak Tuesday at the conference, previously issued statements supporting the detainees after protests outside of Clinton's campaign headquarters in Brooklyn on Dec. 3. Until Monday, Clinton had not publicly commented on the hunger strikes, but acknowledged the detainees during her speech, saying that ongoing hunger strikes should force Americans to examine their immigrant detention system, according to the Huffington Post.
Christina Chang, immigration policy manager for the New York Immigration Coalition, the local co-host of this year's conference, told NBC News that Asian Americans are overwhelmingly voting for Democrats because, just as it is for Latinos, immigration is a core issue.
"We just need to do a better job as a community of bringing that out into the mainstream media, showing that one in eight Asian Americans are actually undocumented," Chang said. "We're the fastest growing population in the U.S., and so as an electorate, we're kind of the up-and-coming power base that politicians are going to have to look at."
"We also need government agencies to look at us is in a more nuanced way, and not just broadly say, 'OK, Asian Americans, check that box.'"
Apart from immigration, Chang said, language access is another significant issue affecting Asian Americans and Pacific Islanders, who oftentimes are grouped together despite representing more than 48 ethnicities and speaking over 300 languages.
"The way we're counted by government is not disaggregated by our language abilities, so they don't think we have the numbers to then service us in our languages sometimes," Chang said. "We also need government agencies to look at us is in a more nuanced way, and not just broadly say, 'OK, Asian Americans, check that box.'"
Steven Raga, president emeritus and board of directors member for Pilipino American Unity for Progress, a nonprofit based in New York City, told NBC News that lack of access to Medicare and Medicaid for seniors 65 and older is prevalent in the Filipino immigrant community.
"Even though they qualify, they're hesitant to approach an agency in fear of rejection," Raga said.
Chang added that this mindset is also common among Asian-American seniors as a whole. "Because of language, there is a lot of isolation, and they depend on their children," she said.
One source of concern for some immigration advocates are the low numbers of Asian Americans and Pacific Islanders who have applied for DACA.
While DACA does not grant legal status, it does offer applicants a chance to apply for a work permit and social security number and to renew their DACA status every two years. Earlier this month, the National Council of Asian and Pacific Americans, along with 11 of its member groups, joined more than 200 immigration, civil rights, and social justice organizations to urge the Supreme Court to lift an injunction issued by the U.S. Fifth Circuit Court of Appeals against Obama's executive actions on immigration.
According to a 2014 White House report, DACA enrollment rates for Asian Americans and Pacific Islanders were "disproportionately low." Mexico led as the top country of origin for DACA applications, while South Korea, the Philippines, and India placed 5th, 10th, and 13th respectively, according to the U.S. Citizenship and Immigration Services. China and Vietnam did not make the list.
RELATED: Undocumented Immigrants Not Acting on Eligibility for Help
From 2012 to 2015, for both initial applications and renewals, the USCIS accepted 1,267,761 DACA requests out of 1,349,875 received, according to figures released by the agency on Dec. 4. A total of 1,142,935 cases have so far been approved, the data showed.
"In terms of getting them to actually apply for some of the benefits they are eligible for right now, I think government agencies really need to do some targeted outreach and recognize that there needs to be a little bit more of a heavier touch if you want to ensure that Asian Americans are also benefiting from these services," Chang said.