INDIANAPOLIS — The attorney for an Indiana woman whose feticide conviction for a self-induced abortion was overturned said Tuesday he's pleased the state's attorney general decided not to appeal that ruling and hopes she's freed soon from prison.
A deadline for the attorney general's office to ask the Indiana Supreme Court to take up the state Court of Appeals ruling that reversed Purvi Patel's feticide conviction passed Monday without such a request. Patel's attorneys also did not ask the court to weigh in on the July ruling.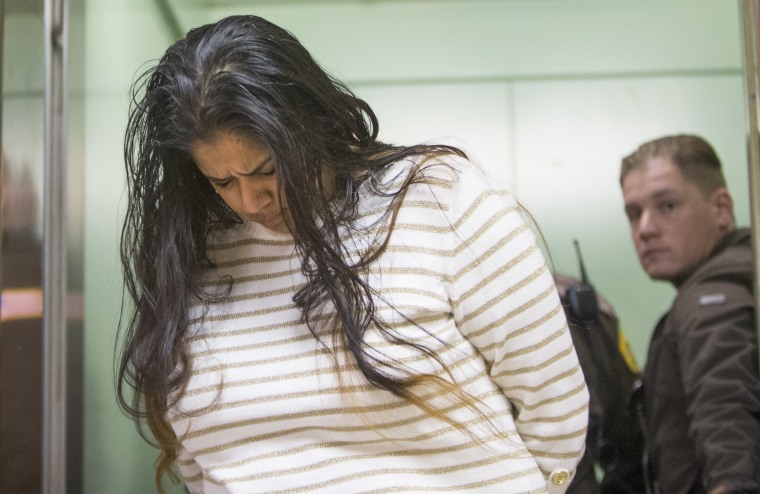 Patel appealed her 2015 feticide and child neglect convictions that resulted in a 20-year prison sentence. In its ruling, the appeals court vacated both of those convictions. But it found that Patel, 35, should be resentenced on a lower-level child neglect charge that carries a maximum three-year sentence.
Patel's attorney, Larry Marshall, said the reasoning laid out in the appeals court's unanimous ruling "was really unassailable, so I'm very pleased the state didn't drag things out just for the sake of dragging things out."
RELATED: Indiana Court Tosses Purvi Patel's 2015 Feticide Conviction
"I hope now that we'll get to a point where Purvi will be able to put this nightmare behind her and hopefully get on with her life," Marshall, a Stanford University law professor, said Tuesday.
In a statement, Attorney General Greg Zoeller said the state decided not to seek a rehearing before the appeals court or ask Indiana's high court to consider the case "after carefully reviewing" the ruling and consulting with local prosecutors.
He said they "concluded that further appeal would not be productive and that resolving the case now will serve the interests of justice."
Marshall said he expects the appeals court decision to be certified within about 10 days. After that, the St. Joseph County trial court judge will set a resentencing hearing.
If that judge sentences Patel to the maximum three years, Marshall said she actually would face an 18-month sentence because of credit for good behavior.
Under that sentence, Patel could potentially be released as early as late September because she has already served about 17 months, Marshall said.
"We're hoping for a speedy resentencing and for Purvi's speedy release," he said.
RELATED: What's Next for Purvi Patel?
Patel was 32 when she was arrested in July 2013 after seeking treatment at a hospital for profuse bleeding after delivering a 1½-pound infant boy and putting his body in a trash bin behind her family's restaurant.
Court records show Patel purchased abortion-inducing drugs online through a Hong Kong pharmacy, took those drugs and delivered a premature baby that died in the bathroom of the home she shared with her parents and grandparents in Granger, northeast of South Bend.
Her attorneys argued that evidence did not support Patel's convictions and that the laws prosecutors used didn't apply to her alleged actions in the premature delivery.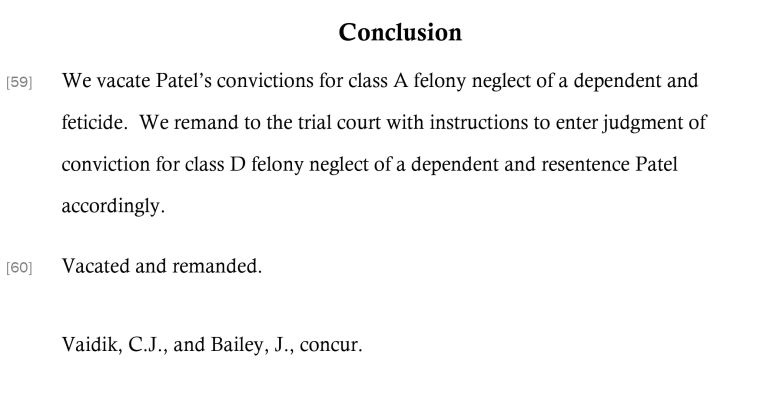 Attorneys for Indiana said she was at least 25 weeks into her pregnancy, just beyond the threshold of viability, and the infant took at least one breath before dying. The state also argued that Indiana's feticide law could apply to a pregnant woman, not just "to third-party actors."
But the appeals court disagreed, saying that since being enacted in 1979 the law had only been used to prosecute those who attacked pregnant women.
The judges also wrote that the wording of state law on illegal abortions shows the Legislature "intended for any criminal liability to be imposed on medical personnel, not women who perform their own abortions."
The court said Patel endangered the child by not seeking medical care, but that prosecutors failed to prove this action resulted in the boy's death.
Follow NBC Asian America on Facebook, Twitter, Instagram, and Tumblr.