A beautiful woman, wrapped in a sari, sits calmly on top of a ferocious tiger. This is how much of the world meets Priya, India's newest superhero and a rape survivor.
Created by Indian-American filmmaker Ram Devineni, 'Priya's Shakti', a comic with futuristic augmented reality features, combats the prevalent issue of sexual violence and harassment in India and around the world.
Devineni was inspired to create 'Priya's Shakti' after the horrific 2012 New Delhi gang rape.
"At one of the protests, my colleague and I spoke to a Delhi police officer and asked him for his opinion on what had happened on the bus," he said. "Basically the officer's response was that 'no good girl walks home at night,' implying that she probably deserved it, or at least provoked the attack."
The comic tells the story of Priya, a gang-rape survivor attacked by men in her village, and ostracized by her family and community. She teams up with the Hindu Goddess Parvati to speak out against sexual violence and gender discrimination. Priya breaks her silence and shares her experience, encouraging people around the world to take action against sexual violence and injustice.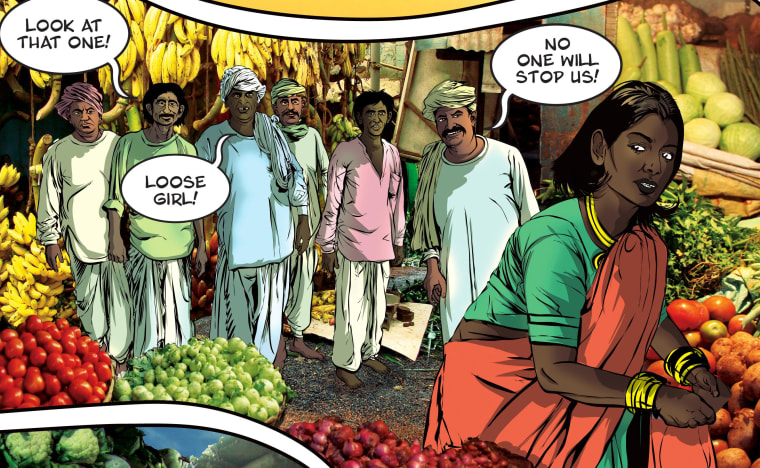 For nearly a year, Devineni traveled around India and Southeast Asia learning from poets, philosophers, activists, and sociologists focused on gender-based violence.
"Talking with several rape survivors, I realized how difficult it was for them to seek justice and how much their lives were constantly under threat after they reported the crime," said Devineni. "Their family, local community, and even the police discouraged them from pursuing criminal action against their attackers. The burden of shame was placed on the victim and not the perpetrators."
"We want people to tell their friends 'I stand with Priya.'"
Devineni was motivated by these real-life stories to create a new Indian "superhero" – the result was Priya. "By overcoming fear, she finds her 'Shakti' [strength] which is the tiger, and challenges society to change," he explained.
To create the stunning illustrations, Devine teamed up with Dan Goldman, a comic book designer he met at a StoryCode Meet-Up in New York City. "His design is based on deep respect and affection for Hindu mythology, and the power of the image. Each page is a stand-alone painting that can be mounted in a gallery," Devineni said.
Devineni chose the comic book format because of its lasting impression on children and teenagers.
"Comic books characters like Superman, Batman, and Wonder Woman have become modern mythological icons, and other comics book stories such as Art Spiegelman's 'Maus' address important historical events. We are using existing constructs that are familiar to everyone in India, but presenting them in a fresh and original way," he said.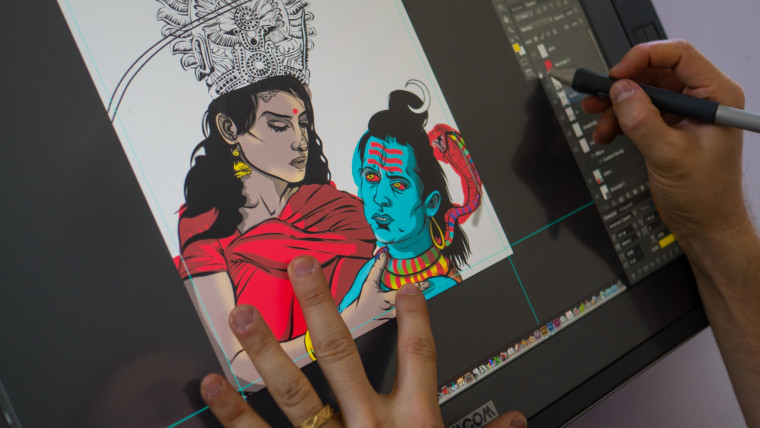 A recipient of the 2014 Tribeca Film Institute New Media Fund, 'Priya's Shakti' is making waves for its layered and futuristic approach to storytelling. By scanning the comic book with the popular augmented reality app blippar, users can view animation, real-life stories, and other interactive elements that pop out of the pages.
The project also includes colorful street murals showcased on walls throughout Mumbai. Special animation and movies pop out of the wall art when scanned with smart phones.
"Our goal is to paint hundreds of them all over India and in other cities in other countries. We hire local artists and work with the community," Devineni said.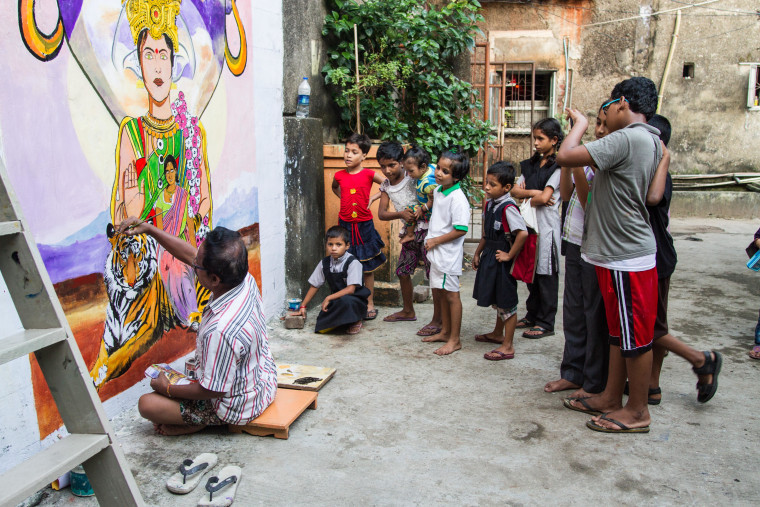 Devineni wants the murals to resonate with people that pass by them. "We want people to tell their friends 'I stand with Priya,' he explained, "and support women's equality and the struggles of rape survivors to seek justice."
Aapne Aap Worldwide, a US and India-based non-profit that works with sex traffic victims and the 'Priya's Shakti' team have partnered up to provide the comic as an education tool, to get the book out to communities and schools. Future issues of the comic book will tackle other social problems, and take Priya around other parts of India and the world.
"We want the image of Priya sitting on the tiger to be the iconic image for women fighting gender-based violence around the world," said Devineni.
'Priya's Shakti' was released to the public for free on Monday, December 8th and can be downloaded from the website and at ComiXology, Apple's iBooks, Amazon, and BitTorrent. The comic will also be premiering at the Mumbai Film and Comics Convention from December 19th to the 21st.