New York's Madison Square Garden is expected to be filled to capacity today, but it isn't a sporting event or rock concert that people are traveling across the country to see. The recently elected Indian Prime Minister Narendra Modi is scheduled to deliver a speech from the storied arena during his much-anticipated first visit to the United States since taking office in late May.
Sunday's event is unusual in that it marks the first time an Indian Prime Minister has courted the country's vast diaspora in such a public fashion. "Mr. Modi, I think, views Indians all over the world as an extension of the Indian national family. This is especially so for the Indian Americans, given their remarkable commercial and professional success," writes Brown University professor Ashutosh Varshney in an email to NBC News. "Perhaps at the back of his mind is also the fact that the Chinese diaspora was quite critical of China's monumental economic progress in recent years. He perhaps thinks that the Indian diaspora can play a similar role in the economic revival of India."
The conservative Bharatiya Janata Party, which selected Modi to be Prime Minister, won India's month-long election in a historical landslide, in which it received over 66 percent of the vote. Some Indian Americans say their own desire to see India succeed has led them to temporarily put their political differences on hold.
"This is a big moment for India and I want to see it firsthand."
"I really don't agree with a lot of [Modi's] politics, but this election was a big deal and I have high hopes for him," says Priya Arora, an Indian-American graduate student at Columbia University who has a ticket to the event. She hopes there will be some discussion of women's issues during Modi's address. "This is a big moment for India and I want to see it firsthand."
The Prime Minister's visit also comes just a few years after he was denied a visa to visit the United States because of his alleged involvement in the 2002 communal riots in his home state in India of Gujarat. Several South Asian American activist groups say they're protesting Modi's speech to draw attention to the primarily Muslim victims of those clashes.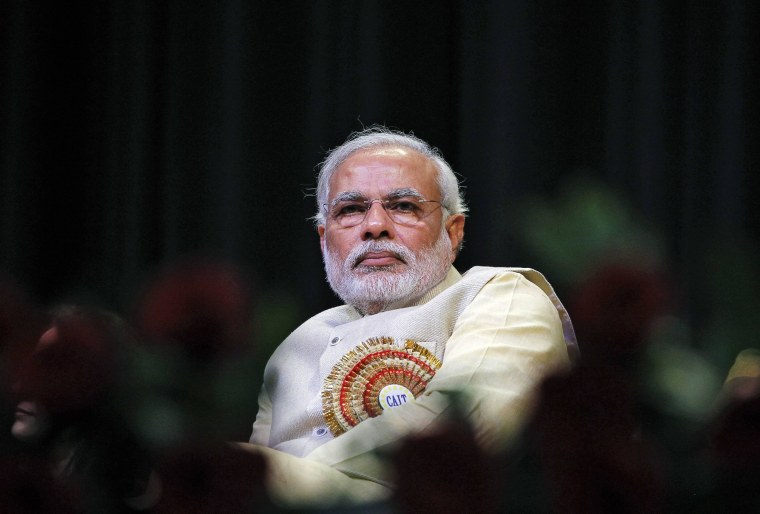 "Most of his rhetoric was focused on development [during the campaign] and sometimes people have amnesia or they don't care, because it happened many years ago," says Prachi Patankar of the South Asia Solidarity Initiative. "It's true that there is silence about it or that people are forgetting about it, but it's our job to remind people."
"Mr. Modi, I think, views Indians all over the world as an extension of the Indian national family."
Modi will head to Washington, where he will be hosted by President Obama and other administration officials, after his events in New York. "The administration is looking forward to welcoming the prime minister to Washington as we continue to develop a reliable and resilient partnership that bolsters international security and stability," said a senior State Department official speaking on background. He also notes that this is also the first time both leaders will be meeting in person.