Brooklyn Nets point guard Jeremy Lin started the season with an electrifying performance, scoring 21 points during his team's October home opener to beat the Indiana Pacers 103-94. Linsanity had officially returned to the Big Apple.
Then came the injuries. Lin has hurt his left hamstring twice — once in November and again in December — and has spent much of the season on the bench watching his new team tank. The Nets have won just eight games and lost 29, coming in dead last in the Eastern Conference.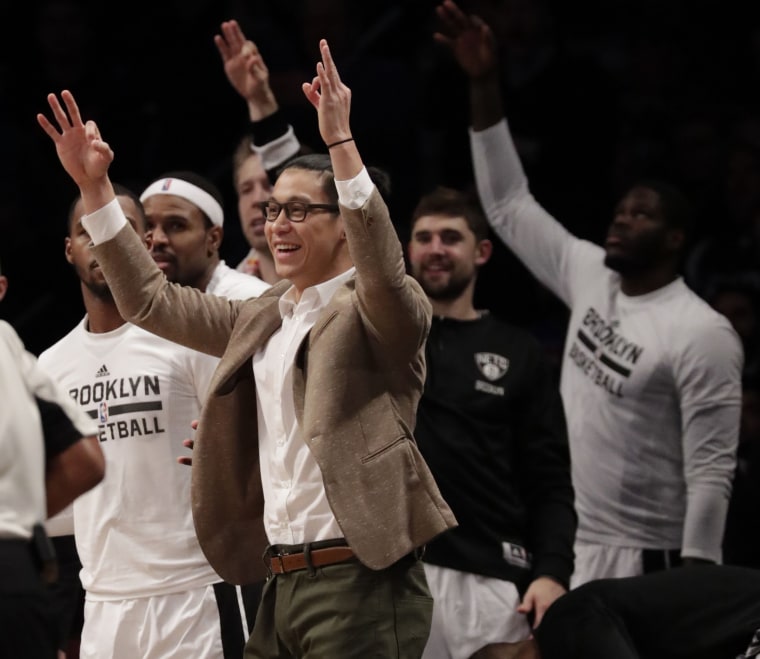 But none of that has dampened the enthusiasm Borcheng Hsu has for the 28-year-old Taiwanese-American NBA star, who first exhilarated basketball fans in 2012 during his time with the New York Knicks.
Taiwanese Culture Night at Barclays Center in Brooklyn, which Hsu helped organize, is still on for Sunday — even as Nets officials told NBC News that Lin's return to the court that night to face his other former team, the Houston Rockets, is still unclear.
RELATED: Fans of All Ages Pack Barclays Center to Watch Jeremy Lin Wow Brooklyn
"Of course, we'd like to see him play," Hsu, vice president of the Taiwanese American Council of Greater New York, the event's non-profit sponsor, told NBC News. "If there are some health reasons why he cannot play, we totally understand that."
He added, "We still are here and we want to support him."
"Of course, we'd like to see him play. If there are some health reasons why he cannot play, we totally understand that."
Hsu hopes the event, the first for the Brooklyn team, introduces Nets fans to his native Taiwan, the Democratically self-ruled island off the coast of China. More than 1,000 Taiwanese Americans are expected to show up for Sunday night's game, he said.
Half-time will feature Santaizi dancers — performers dressed in colorful head-to-toe costumes of various gods and deities — and Taiwanese rapper Dwagie, who has collaborated with both Nas and the Dalai Lama.
The first 10,000 fans will receive Jeremy Lin bobbleheads, sponsored by Kenda, a Taiwanese tire manufacturer.
Hsu said fans can also learn about the 29th Summer Universiade, an international sports event for university athletes, to be held in Taiwan's capital of Taipei in August. A Universiade representative and Bravo, a bear that serves as the Taipei event's mascot, will also be on hand at an arena booth, Hsu said.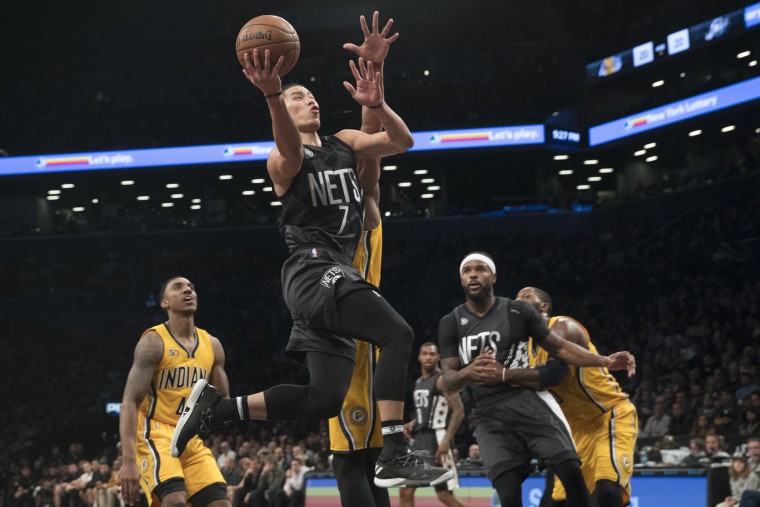 "We know that Taiwan is less well known internationally," he said. "So we want to get [as many] opportunities as possible to let more people know that there is Taiwan."
Whether Lin makes it into Sunday's lineup remains unclear. Nets spokeswoman Megan Walsh did tell NBC News that while injured, Lin has still attended all his home games.
Assuming Lin is at Barclays Center, Hsu said he has but one small request.
"Even if just from his mouth he says, 'Welcome to Taiwanese Culture Night from the Nets,' that would mean a lot to the people who bought the tickets to come and to support the team and support him," Hsu said.
Follow NBC Asian America on Facebook, Twitter, Instagram and Tumblr.