The first time Peter acknowledged his attraction to other boys was during prayer.
He grew up in a conservative Chinese church in Manhattan's Chinatown and used prayer as a space to name his secret feelings — as well as a tool to combat them.
He knew the leaders of his church disapproved of same-sex marriage. One day, the pastor's wife asked his youth group to pray for someone who had been banned from the church because he was struggling with being gay, a clear indication that he had "invited the devil into his heart."
Believing he was destined for the fires of hell unless he changed, Peter devoted himself to countless hours in prayer and even fasted for 36 hours, but to no avail. One day, when he was in the seventh grade, Peter, who asked that his real name not be used, decided to accelerate his path to hell.
His parents, who immigrated from Fujian, China, often weren't home, because they worked long hours in Chinese restaurants and spent their free time at church. He locked his bedroom door and doused himself with lighter fluid. After a few attempts at lighting matches, he set them aside.
If I'm going to hell anyway, maybe I can just do whatever I want, he thought.
The turning point for Peter came when he moved to California for college and befriended openly gay peers for the first time. It gave him the courage to come out despite his fear that doing so would alienate him from his family.
Now 28, Peter is openly queer and has long abandoned his faith.
"I realized that I was a lot happier without it," he said.
The path he chose is typical for many queer kids who grow up in Chinese churches, which are predominantly conservative and evangelical: Embrace yourself, drop the faith.
But a new church in Manhattan's Chinatown is trying to change that. Grace Alive Fellowship, which meets on the fourth floor of First Chinese Baptist Church, fully affirms and includes LGBTQIA people.
Anyone who walks in on a Sunday morning is handed a bulletin that includes the pronouns of each person involved in the service — a clear sign of the church's posture.
During its Friday night Bible studies, the fellowship discusses topics such as a video series unpacking the history of the biblical translation of words like "homosexuality."
This year, the fellowship participated in Chinatown's Lunar New Year parade, marching in a contingent with other LGBTQ+ Asian groups.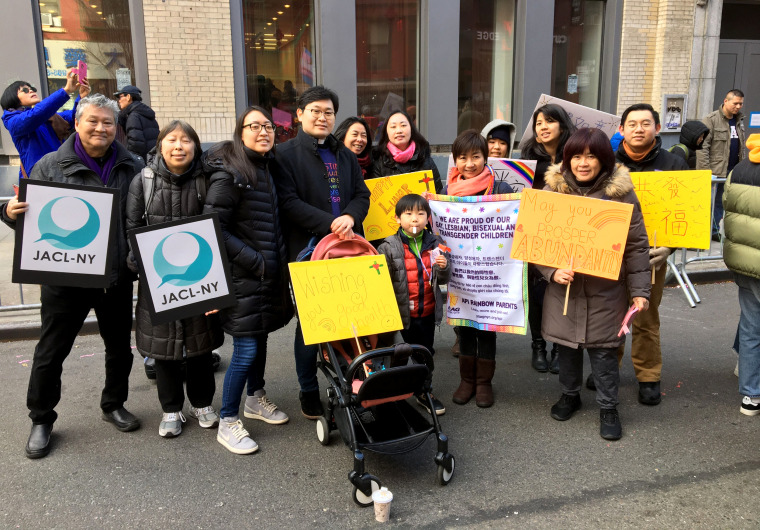 The fellowship, which is headed by an all-women board, has about 10 regular congregants. Its leaders, Pastor May Lee, a seminarian, and Manni Lee, see their progressive posture toward LGBTQ folks not as the defining element of their church but rather as part of what it means to be connected to one's community.
"Being progressive to me means we care about the most vulnerable, we watch out for those at risk," Manni said.
Download the NBC News app for breaking news and alerts
May and Manni met at Church of the Living Lord, their former congregation in Manhattan's Chinatown, which shared a building with a community center, Chinese Christian Herald Crusades. There, they built a thriving immigrant youth and children's ministry, JubiKidz, which engaged and developed the teens most churches rejected.
After the church shut down five years ago, May wanted to replicate the intimate, non-hierarchical ethos she had cultivated in JubiKidz. Eventually, Grace Alive Fellowship was born, with the vision of building what she called "relational community," where members can journey through life's challenges together.
The fellowship hosts Sunday services only once a month — the rest of the time is for community building or social justice activities.
When the city proposed building a detention complex in Chinatown, the fellowship hosted a discussion on the history of jails in Chinatown. When a fire burned through the archives of the Museum of Chinese in America, they prayed for and donated to its recovery. (During the COVID-19 pandemic, gatherings are now held over Zoom.)
May and Manni don't see it as their role to be strident advocates for LGBTQ equality in Chinatown's churches. Instead, they want to start conversations and break taboos around gender and sexuality. That is, after all, how their own minds were changed.
In 2011, May participated in a march against same-sex marriage with Church of the Living Lord. But after engaging with progressive authors and Asian American pastors, she started to change her stance.
So far, the fellowship hasn't encountered much vocal opposition.
When May and Manni tell their friends in conservative Chinatown churches that Grace Alive is LGBTQ-affirming, people usually respond with support. "That's so good. You're brave," May recalled many of them saying.
May and Manni try not to engage in theological debates but instead let other church leaders know they can refer queer congregants to them.
For some who grew up in Chinatown's churches, a church like Grace Alive has come too late.
"I'm glad they are trying to be more inclusive," said Jennifer Tsui, who left Church of the Living Lord's youth ministry partly because of its stance on the LGBTQ community. "But the damage has already been done."
For others, the fellowship presents a new opportunity. For Kevin Chu, who uses "he" or "they" pronouns, Grace Alive was the first spiritual community they found that didn't require choosing between faith and queerness.
In college, Chu came out as queer to their student group, InterVarsity Christian Fellowship.
"A lot of people I used to be close with just stopped talking to me," they said.
After graduating, they were drawn to Grace Alive because of its priority on community and its connection to Toi San, a city in Guangdong, China, where many fellowship members — as well the majority of the first wave of Chinatown immigrants, including Chu's parents — are from.
For Cal Hsiao, Grace Alive was a breath of fresh air after her experience with white, progressive churches and multiethnic churches in St. Louis, where she moved for college.
"My experience in the Midwest was that 'multiethnic' meant 'white and black,'" she said. "I was tired of explaining cultural things to my peers. Culture plays a big part in spirituality, so I like the way the two are connected in GAF."
In March, Hsiao delivered a sermon that was part of a series on Patrick Cheng's 2012 book, "From Sin to Amazing Grace: Discovering the Queer Christ." Drawing upon Cheng's arguments, Hsiao discussed how God "came out of the closet" by incarnating in the form of Jesus Christ.
As a progressive church in Chinatown, Grace Alive occupies what can feel like a no-man's land.
Like Peter, most of the youth raised in Chinese churches have either left the church entirely — as is the case in many Asian immigrant churches — or have retained a conservative model of faith. This middle space, however, presents new possibilities, especially for kids who grew up like Peter.
"I strongly encourage everyone to question their faith and leave the church for a little bit to understand if their lives would be better," he said. "But I think it would've been amazing for myself to have a resource like that growing up."
Follow NBC Asian America on Facebook, Twitter and Instagram.