SALEM, Ore. — Sitting in a conference room on the activities floor of the Oregon State Penitentiary (OSP), Johnny Cofer is quick to answer when asked to identify the biggest misconception people outside of prison have about those living within.
"That we're all bad horrible people that aren't worth a second look or a second chance," he said.
Cofer, 45, is serving two concurrent life sentences for murder at the penitentiary and has taken responsibility for the decisions that led him there. But after nearly 18 years of being incarcerated, Cofer said he's determined to show he still has the ability to do some good in his life.
"Prison is not just everything we see on TV," he said. "There's a lot of positive things going on in prison that don't get illuminated."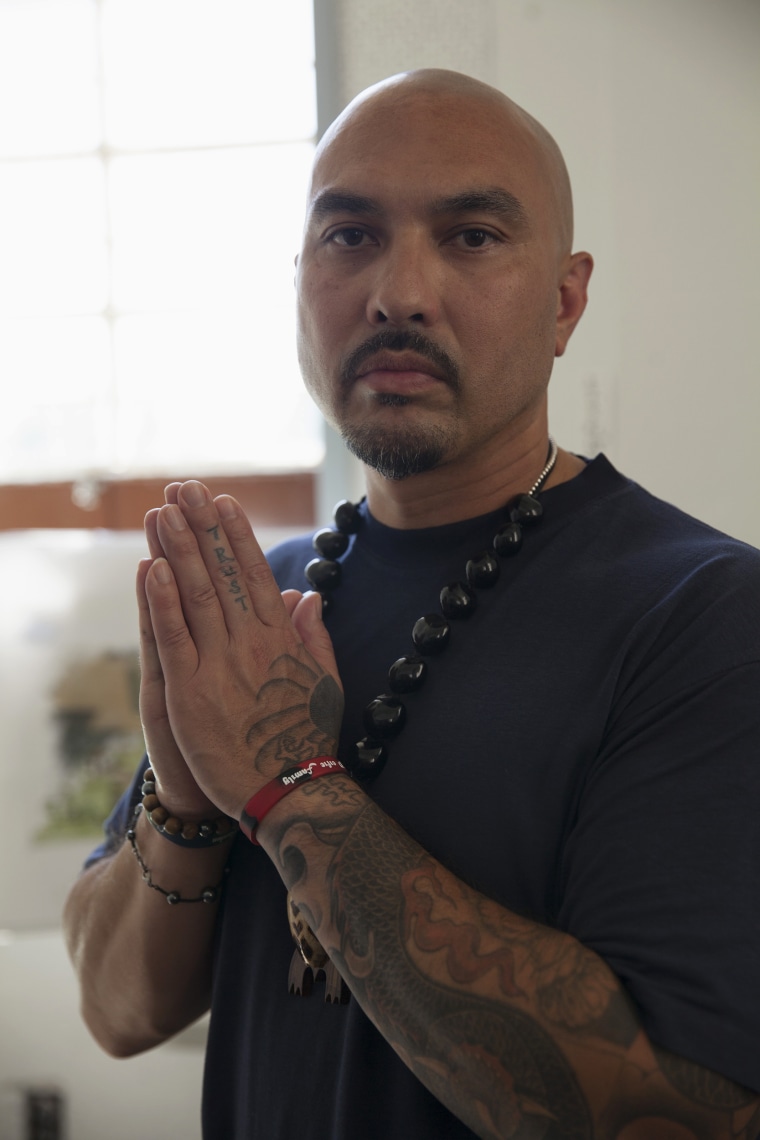 Cofer is an active member of the Asian Pacific Family Club — a sanctioned club made up of 138 members currently incarcerated at OSP. Through a celebration of Asian and Pacific Islander heritage, the club is helping to create a community inside the penitentiary while also providing a platform to effect positive change both inside and outside the prison.
Home to about 2,000 adults in custody, OSP is the only maximum-security prison in Oregon and has 11 sanctioned activity clubs, each meant to improve the quality of life for those who are incarcerated.
"Some of [the clubs] are cultural based, some of them activities based, and some are just a club with a mission," Cofer said. "The Asian Pacific Family Club is probably the most diverse … it's made up of quite a melting pot of different people. It might be less than 25 percent Asian."
According to the Oregon Department of Corrections, less than 2 percent of those incarcerated within its system are classified as Asian. As a result, the arrival of a new Asian or Pacific Islander at OSP is always known among the prison's population.
"You'll hear it, you'll go to the chow hall and they'll say, 'Did you hear there's a new Asian here,'" Cofer said. "There's not a lot of us, so, right away, they're like, 'Go out to the yard today and meet him and welcome him.'"
My life started out full of good intentions, full of aspirations. Somewhere that got lost. They're back, and I feel that every single day.

Johnny Cofer
For those who are not of Asian descent, Cofer believes the draw to the Asian Pacific Family Club is simply through an appreciation of Asian culture.
"[The club is] something to look forward to month to month — you might get to taste some Asian food, you might get to participate in a cultural event, whether it be music or something as simple as folding origami," Cofer said.
Toshio Takanobu, 34, is the acting president of the Asian Pacific Family Club and sees it as a way to reconnect with his own heritage — something he lost when he moved away from his home in Saipan as a teenager.
"I grew up around family rich to the culture, connected to my culture in Saipan," Takanobu said. "And when I came out here to America when I was 19 years old I was disconnected from that."
Takanobu is 11 years into a 27-year prison term, and believes his disconnection to his family and culture was a factor that led him to incarceration.
"When I involved myself in the club, I started to reconnect with my culture, I started to find myself, who I was really and I started to cultivate that and share that amongst our members," he said.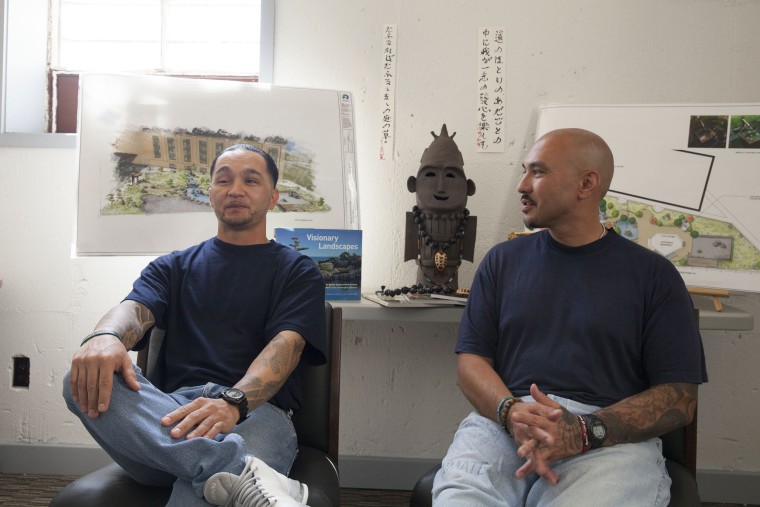 Besides teaching about Asian culture, Takanobu said the club strives to build relationships with outside organizations that can support programs that prepare adults in custody for their release back into society. Since 2015, members of the Asian Pacific Family Club have partnered with noted Japanese landscape designer Hoichi Kurisu to bring a Japanese healing garden to the penitentiary, which they hope will promote rejuvenation and healing through a reconnection with nature. Working under the condition that they fund the garden themselves, the club has raised close to $160,000 through grant writing and community fundraising, and received a commitment of nearly $144,500 in in-kind donations.
"I think reconnecting with nature reconnects us with ourselves, with our humanity," Cofer said.
The project has the support of OSP Superintendent Brandon Kelly, as well as community partners outside the prison, who helped connect members of the Asian Pacific Family Club with Kurisu.
"We have been striving for so many years to make a space for people to heal," Kurisu said. "But to be honest with you, I never thought of a prison."
For nearly 50 years, Kurisu has built a career as an award-winning designer and builder of Japanese gardens in the United States and abroad and has designed Japanese healing gardens in locations such as treatment centers and healthcare facilities.
But Kurisu has never designed a garden for an environment like a prison — where security concerns like placement and height of trees must be carefully considered. It wasn't until after he met with the Asian Pacific Family Club inside the penitentiary that Kurisu realized the club's vision for a garden made sense. He has been donating his services to design the garden ever since.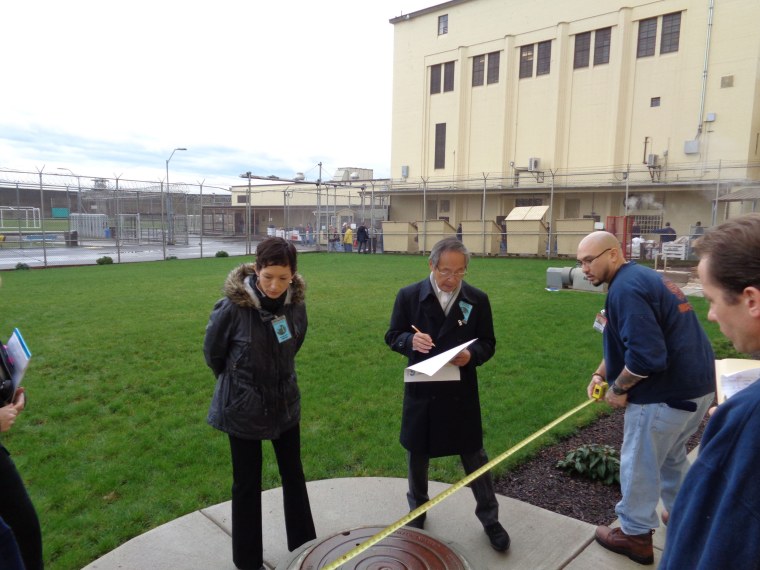 "In many ways … Johnny and the Asian Pacific Family Club, they are the ideal clients," Kurisu's daughter, Michiko Kurisu, said by phone. "Not logistically, but because they already have a deep understanding of what a healing garden is."
Michiko Kurisu noted that even though funding isn't complete and construction hasn't begun, the kind of healing transformation that a physical garden can bring to people has already started happening at OSP — just by the attempt and desire to do it.
"The healing process begins with a receptive mind, which opens up all kinds of possibilities for transformation of mind and heart," she said.
For Johnny Cofer, he said he can never take back the actions that led him to OSP, and he doesn't expect to be forgiven. But he said he can make choices on a day-to-day basis that are redeeming and restorative — and his work with the Asian Pacific Family Club and its garden project are part of that.
"Working on this thing for the last four years has definitely transformed me," Cofer said. "My life started out full of good intentions, full of aspirations. Somewhere that got lost. They're back, and I feel that every single day."
Follow NBC Asian America on Facebook, Twitter, Instagram and Tumblr.