San Francisco, perhaps the most Asian American of the country's large cities, celebrated the Giants third World Series victory in five years, with another parade last week.
The Giants had champagne celebrations after winning each post-season playoff series (five in all, culminating in the World Series), this time it was the fans' turn to get doused.
Duke Piythaisere, Chinese American, born and raised in San Francisco stood under his umbrella waiting for his heroes. He'd been to the previous parades in 2010 and 2012, but he's no fairweather fan.
"I figure the third times a cham," Piythaisere said. "Even in the rain."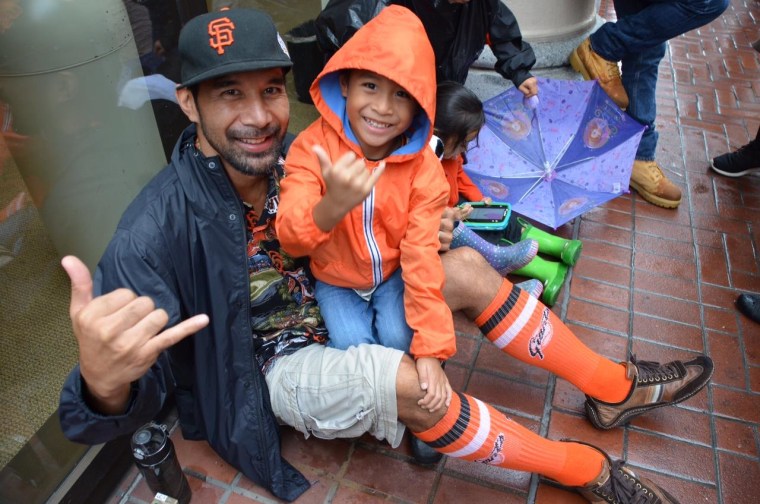 Martin Choy, who grew up in Chinatown, stood with his wife Janet. They missed the other two and vowed not to miss this one. But they drove up from the suburbs.
Robert Nievera, 42, a Filipino American who grew up in San Francisco, flew from Honolulu with his pregnant spouse and four kids. He also missed the first two parades. And when the final out was made in Game 7 on Wednesday, that was it. He was coming.
"I was raised on the Giants and wanted to establish that with my own son," Nievera said holding four-year-old Robert Jr. "It's about culture and unity, and we still have family here."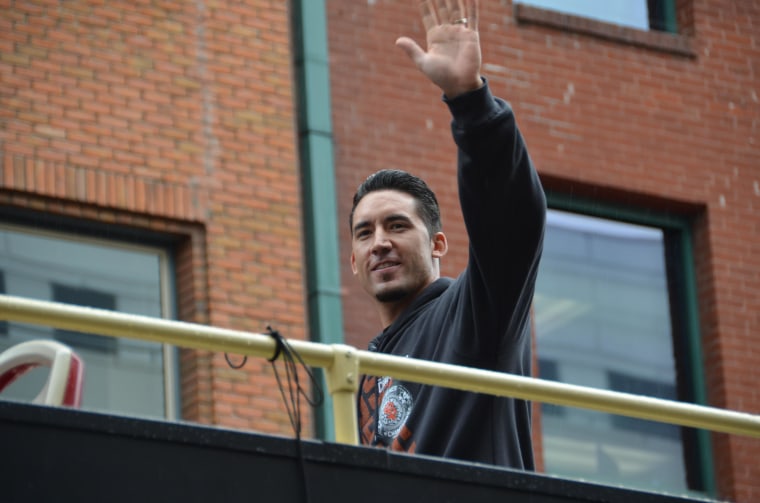 The fans have their Asian-American heroes on the Giants. Travis Ishikawa's walk-off home run in Game 5 of the National League Championship sent the Giants to the World Series. Tim Lincecum, of part Filipino heritage, earned his third World Series ring to go with his two Cy Youngs, and two no-hitters.
As he cheered fans waving from office buildings, Lincecum had just one word. "Awesome," he said.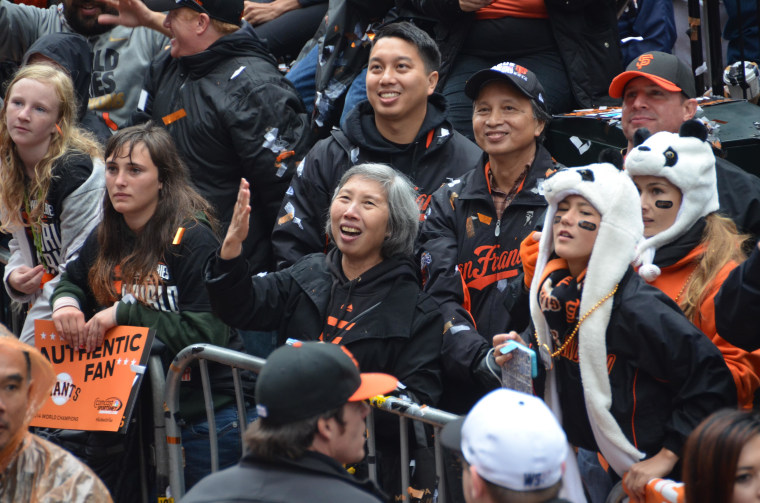 The parade culminated at City Hall where Mayor Ed Lee gave honored the team with the key to the city.
Was it worth it?
Nievera had no regrets. "This is a great event," he said. "We like to do family events, and this is one to share."