Ji Lee was worried about his dad.
For years, his father Chanjae Lee's daily routine had involved taking care of grandsons Arthur and Allan, but two years ago, Ji Lee's sister and her family moved from Brazil — where their father lived — to South Korea.
With the family gone, Chanjae Lee, who remained in São Paulo, had nothing to do.
"[My father] started to spend his day watching Korean TV and that worried us," Ji Lee told NBC News.
"We almost gave up on him, it was so much work to ask him to draw."
Looking for something for his father to pass the time, Lee — who lives in New York — remembered that his dad drew for him and his sister when they were children. The family asked Lee's father to start drawing again and to post those drawings on Instagram so Arthur, Allan, and eventually Lee's son Astro could experience them.
Since then, Chanjae Lee's near-daily drawings have found success, with nearly 100,000 followers on Instagram account, "Drawings_for_my_Grandchildren" and a video Ji Lee made about the story breaking 3 million views. But it wasn't easy to get Chanjae Lee to open up.
Lee — who works as a creative director for Facebook and Instagram — said that his father was initially "very resistant."
"He didn't want to do it," he said. "He didn't understand what Instagram was. My father has never used Google, never owned an e-mail account. He'd heard about Facebook and Instagram, but is completely tech-illiterate."
Lee's mother, who is "a little more savvy," had to force her husband to draw something, Lee said. Even so, posting the drawings were difficult. Lee noted that the first few posts are "terrible, and dark, and cropped terribly."
Those posts continued for several months, with Lee's father posting intermittently and begrudgingly.
"We almost gave up on him, it was so much work to ask him to draw," Lee said.
The turning point came with the birth of Lee's son, Astro, in April of last year. Lee's parents flew from São Paulo to New York in order to meet their new grandchild, and Lee was determined to teach his father how to use Instagram while they were all together. His father remained as "grumpy and resistant" to learning as ever, Lee said, until one dinner, when Lee's father posed a question about the future after a few drinks.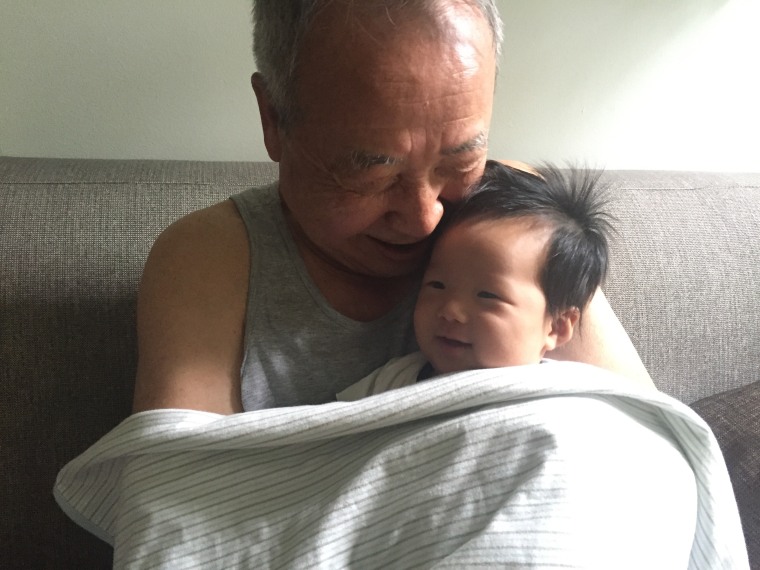 "He said, 'Oh I wonder what Astro will be when he grows up, because I won't be around,'" Lee said. "I'd never thought about his death until that very moment. It made me sad that Astro will never get to know his grandfather the way I know him, all his talent and the things that he can do."
Lee suggested that his father draw for his grandchildren — the two teenagers in Korea and his own son when he grows up.
"I told him, 'We can call your Instagram account 'Drawings For My Grandchildren.'' He was a lot more eager and open to draw and learn. He suddenly saw a purpose, and understood why Instagram would be a useful tool for his grandchildren in Korea and later on for Astro," Lee said.
Since his parents left New York, Lee's father has been producing a drawing every day for his grandchildren. His mother, who teaches Korean and Korean literature in Brazil, writes a story for the caption, and Lee and his sister translate her words into English and Portuguese.
"What's nice about this whole process is that it involves the whole family," Lee said. "We use Facebook messenger to communicate, with my sister in Seoul, Korea, and my parents in Brazil and me in New York."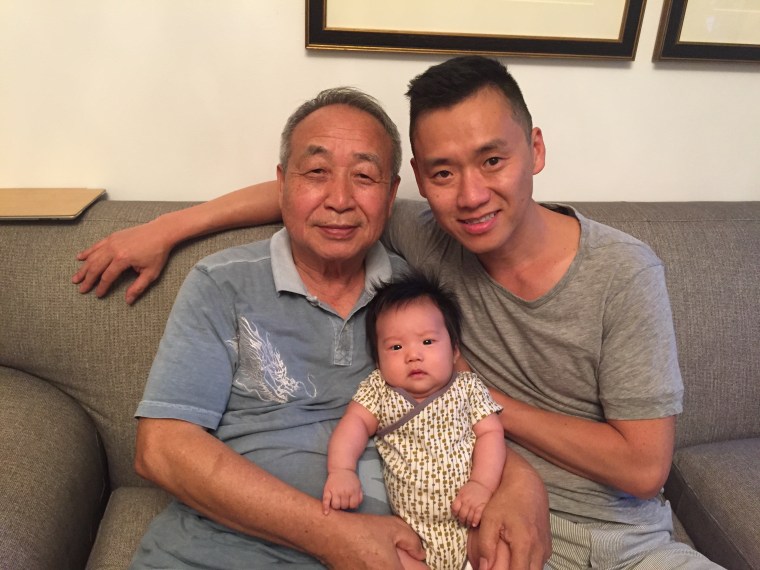 Lee and his family continued drawing, writing, and translating for a year and a half when Lee felt inspired to share the story with more people on Facebook. He created a short video to tell the story of his father's Instagram account, and went to bed shortly after posting it on Sunday night.
When he woke up, he saw that his "very simple" video had a few thousand views, and had been shared by a few hundred people.
Within days, the video reached millions, with over three million views as of Dec. 1. Lee has received hundreds of e-mails from "people around the world who have aging parents who, at one point were passionate about things — photography and drawing and film — but with age stopped doing that," he said.
Lee said those messages are the most rewarding part of the project.
"I think it also spoke to immigrants who are often separated from their families, or who have connection issues," he said. "That's really the power of technology. It's amazing to connect people and enable people to express themselves. "
Lee said that, since the video, there have been high levels of interest in his father's work from prospective buyers and publishers.
Lee's father's drawings feature a range of techniques and styles, and are influenced by his favorite "classic Western painters" as much as by his interest in traditional Korean painting, Lee said. Their subject matter is just as varied. Lee's mother usually suggests a story — a scene from Korean Thanksgiving tradition or plants that change color with the season — and his father illustrates it. One of the most striking posts is a piece written in English but in the style and tradition of Korean calligraphy, reading, "Black Lives Matter."
"In that case, I had been messaging him and saying in America that there are these stories happening with police brutality against black people, and that a lot of people are talking about Black Lives Matter on social media," Lee said. "The next day, he wrote that in calligraphy style."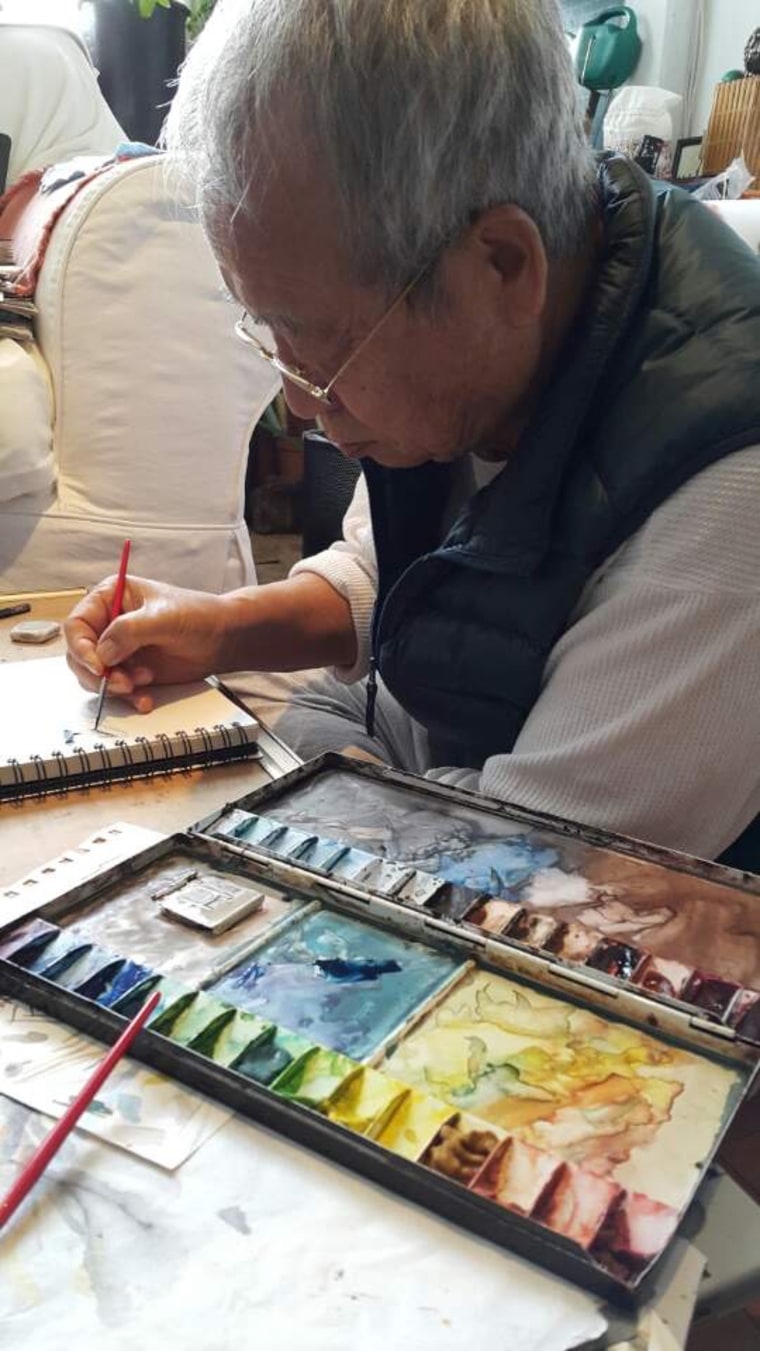 Although Lee has been working to keep up with all the new-found interest in his father's work, his father, he noted, remains "completely oblivious" to the attention.
"He thought and still thinks that his drawings are not that great. He didn't understand why anybody would be interested in his drawings," Lee said. "I've been telling him constantly about all the comments and stories people have been posting about reconnecting with their parents, just to make him realize he has had an impact on people's lives. Hopefully he will start to realize slowly."
For Ji Lee, the patience and frustration that initially accompanied teaching social media platforms to his reluctant father have been rewarded in a way he could not have imagined.
"It's a personal story but it also shows how someone like my father, who is 75 and doesn't understand anything about technology, can use this tool to rekindle his passion and connect with his family," Lee said. "It definitely shows the power of technology."
Follow NBC Asian America on Facebook, Twitter, Instagram, and Tumblr.