After a fire damaged archives of the Museum of Chinese in America in New York last month, items feared to have been lost forever have now been recovered. Some of the treasured surviving pieces include original copies of the first English-language Chinese American newspaper in the United States and a Chinese typewriter believed to be the oldest one of its kind in the Western Hemisphere.
It was initially feared that the museum in Manhattan's Chinatown, known as MOCA, might have lost its entire collection of 85,000 sculptures, textiles, photos and other rare historical artifacts after the fire broke out on the building's fourth floor on Jan. 23.
But one-third of its archives have been recovered and much of it is salvageable, museum officials say. The other two-thirds of the collection is still in rooms deemed unsafe to enter.
The city delayed initial retrieval efforts out of safety concerns, which would have resulted in irreparable damage. The building, a city-owned former elementary school, was also home to several community organizations, including the United East Athletics Association and the Chen Dance Center.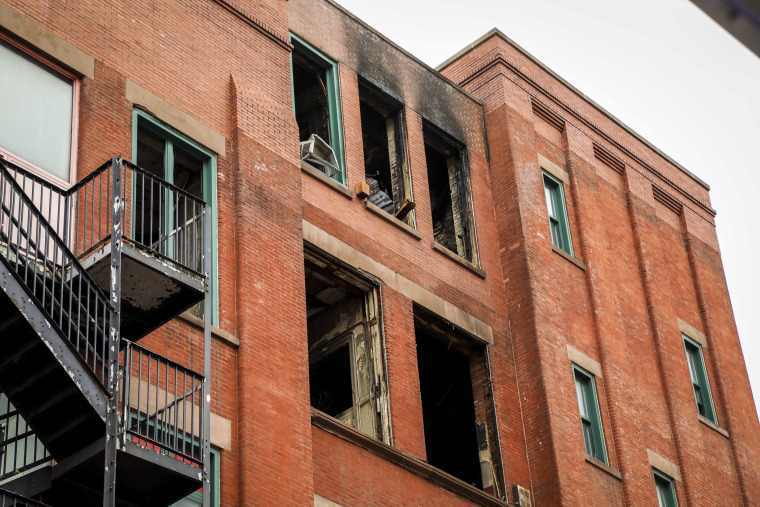 Many of the items, now in wet boxes, had to be assessed and repacked before they could be loaded onto pallets and transported by trucks to the museum's main space a few blocks away. Some objects, such as paintings and sculptures created by incarcerated undocumented Chinese immigrants, had to be walked over and hand-delivered by curators and volunteers, many of them in white Tyvek jumpsuits as a precaution.
Recovered items included Chinese folk art depicting eagles and other American iconography; an extremely rare Chinese typewriter from 1926 that can produce more than 70,000 Chinese characters; and original copies of The Chinese American Times, a one-man operation by journalist William Yukon Chang, who began publishing it in 1955.
"It was the first Chinese American newspaper published entirely in English," museum spokesperson Edward Cheng said. "We have the most complete collection of that, and the thought of it being lost was just unimaginable."
Cheng said film reels, canisters and photo negatives of works from Chinese American playwrights, comic book artists, filmmakers, and more from 1914 to 2015 are among the recovered objects. But the museum's curator and director of exhibitions, Herb Tam, said most of what he assessed had varying degrees of moisture. Before the fire, the museum had only digitized and backed up approximately 35,000 objects, many of which had strong ties to local families and artists.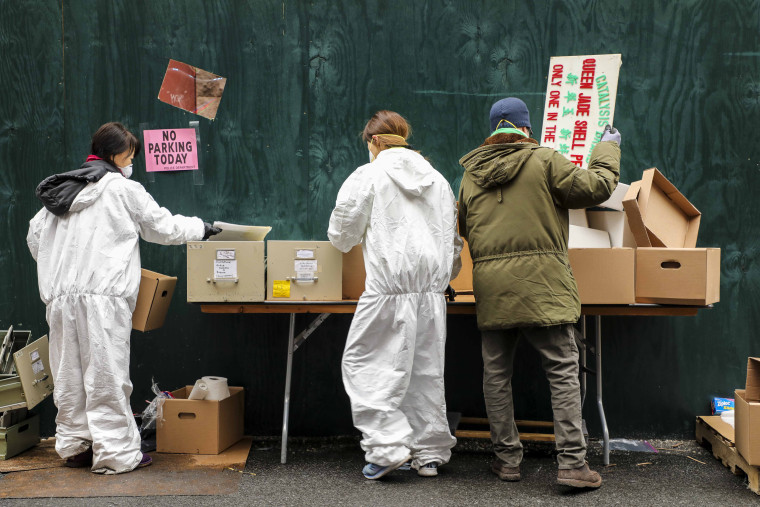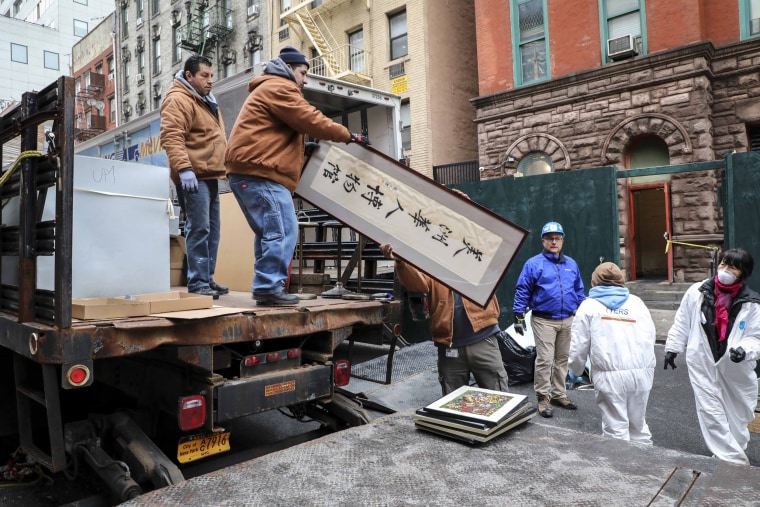 It's been difficult for Tam to predict the exact resources he will need in the short and long term, including what kinds of supplies are needed and what types of costs MOCA will incur.
"We don't even have enough staff to manage the recovery right now," he told NBC News. "We're just trying to make sure we're one step ahead, but it's been hard to juggle everything."
He did estimate that the cost of recovery efforts will be at least "in the six figures."
Support has come from conservators across New York and the United States, as well as offers of advice, expertise and resources from the C.V. Starr East Asian Library at Columbia University and the nonprofit volunteer organization Alliance for Response NYC. "And without us even asking, we have a list of 200 volunteers and dozens of conservators on a big database of people willing to help," Tam said.
Stephanie Shih, a ceramicist who helped with recovery after Hurricane Sandy, became a MOCA volunteer not long after she arrived at 70 Mulberry a week after the fire, on Jan. 31. Shih's work often features popular Chinese American and Asian American grocery staples, and she plans on donating a sculpture (of a grass jelly can) to an artists' auction organized by Chinatown retailer Wing on Wo & Co to raise funds for MOCA's recovery and restoration efforts.
"My sculpture of Chin Chin grass jelly has a lot of nostalgic value and it's slated to be in a show at the American Museum of Ceramic Art, but I think I'm going to remake it and donate the original to the fundraiser," she said.
In addition to its normal operations, MOCA also needs to locate — and possibly pay for — additional space to dry, sort, process and store items recovered from its collections and research center. A representative from the Polygon US Corp. confirmed by email that it was handling the freeze-drying process for MOCA (in Allentown, Pennsylvania), and said the typical restoration of water damaged archives takes four to eight weeks. The representative declined to give a cost estimate.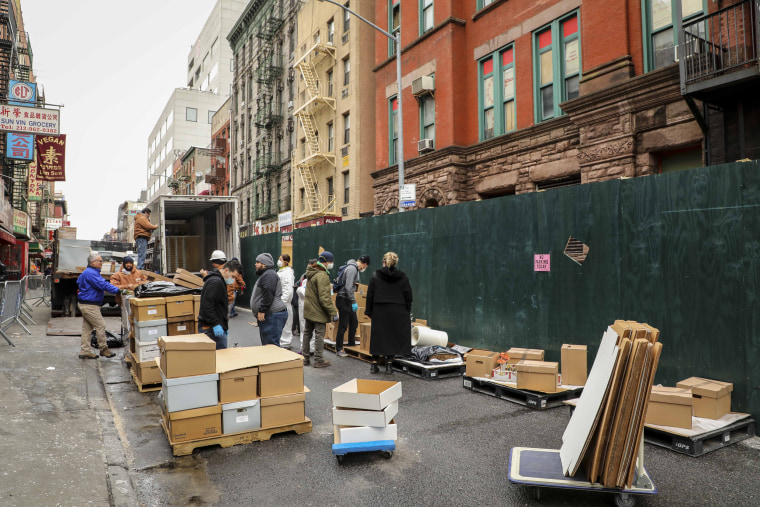 MOCA has already received donations from the Museum of Food and Drink and Deutsche Bank, but the museum plans on applying for an emergency grant from the National Endowment for the Humanities and reaching out to foundations for additional financial support. The staffing and consulting company Comrise has also promised to match MOCA's GoFundMe, which had raised more than $121,000 as of Feb. 4.
Cheng said donations have come from as far away as Saudi Arabia and the United Kingdom. "People around the world can see something of themselves in this museum and are willing to open their hearts to give what they can."
MOCA's has 13 full-time staff members, and Cheng said they can't keep devoting their time to dealing with the recovered items. "We have to keep the lights on," Cheng said simply.
Still, there's already concern that public interest in volunteering and in raising funds will soon drop off. "When Hurricane Sandy happened, I took a bunch of time off from my full-time job, but volunteers dropped off three weeks later," Shih said.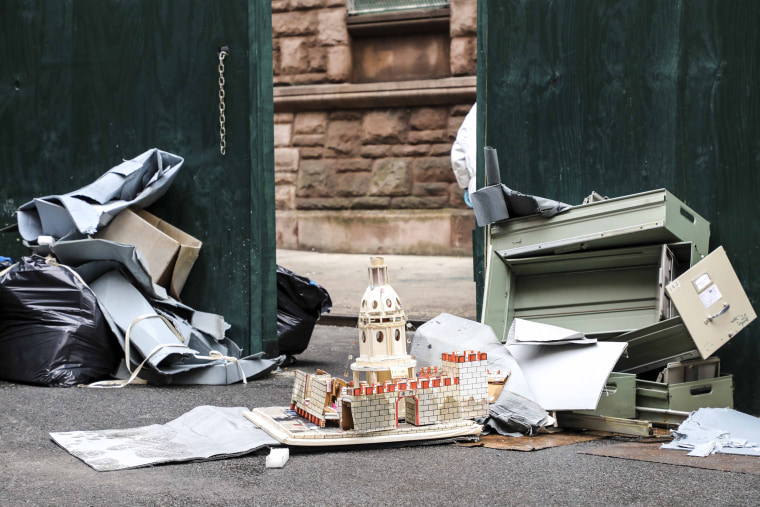 MOCA's current exhibit "Gathering: Collecting and Documenting Chinese American History" is next to images, artifacts and other examples of anti-Chinese racism and Sinophobia from its core collection. They strongly resemble some of the anti-Chinese messages that have spread online in response to the coronavirus outbreak and the new travel restrictions from the State Department.
New York's Chinatown neighborhood has seen significantly lower business and traffic during what should normally be one of the busiest periods of the year, the Lunar New Year (which ends Saturday). Community members like Shih say they are fully aware of the similarities to the injustices MOCA staff work hard to document.
"Xenophobia is real, and anti-Asian racism is always under the surface," Shih said.