Growing up, Carol Cabrera had a difficult time finding characters in children's books she could relate to.
It wasn't until she was 26-year-old masters of fine arts student at New York University that she found one in a book titled "Cora Cooks Pancit," written by Dorina K. Lazo Gilmore and illustrated by Kristi Valiant, that she thought resembled her.
"I love literature and after teaching it for years and majoring in it, I have always felt pretty successful at it in my schooling" Cabrera, who grew up in Southern California and double majored in theater and literature writing at the University of California, San Diego, told NBC News. "However, the book made me realize that when I read works of fiction that do not mention race, I always see white people. When I found this children's book, and thought she looked like me, I came to a shocking realizing. A place I didn't realize could be colonized was my imagination."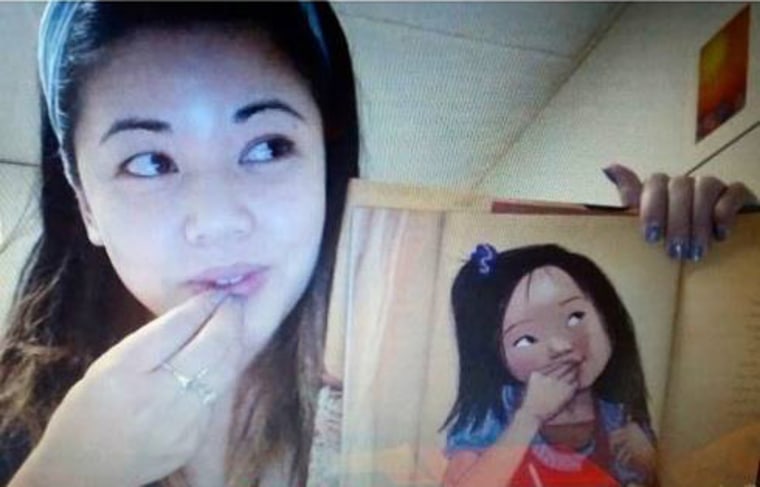 From there, Cabrera did reading on representation in children's storybooks. She came across a survey by the Cooperative Children's Book Center that found that of 3,600 books for children released in 2012, 2.1 percent were about or written by Asian Americans and Pacific Islanders, 3.3 percent were about or written by African Americans, 1.5 percent were about or written by Latinos, and 0.6 percent were about or written by American Indians. In a 2014 survey she found from Publishers Weekly, 89 percent of respondents to a salary survey identified their race as white.
It was these statistics that drove her to create Invisible Storybook earlier this year. The project started as her masters' thesis but became a way for her to increase representation among Filipino Americans in order for children from those communities to see themselves in the media they consume.
Cabrera reached out to friends in San Diego to form the Invisible Storybook team. Instead of going to bookstores and seeing what is on the shelves, their mission focused on collaborating with underrepresented communities to create children's storybooks reflective of that community's experiences, hopes, and dreams, she said.
The first project Invisible Storybook embarked on was reimaging "Si Malakas at Si Maganda," the story of how the Philippines was created. In the tale, Malakas is the name of the first man on earth while Maganda is the name of the first woman on earth. They are born out of a bamboo stalk that is cracked open by a bird.
In order to create their version of "Si Malakas at Si Maganda," Cabrera collected different versions of the story that were available on the internet and reached out to the elderly in the Filipino community to share their iterations of the legend.
"It's an interesting story to begin with because of the way we can so easily see parallels between Malakas and Maganda and Adam and Eve," Cabrera said. "Children who have never heard of Malakas and Maganda before can still make interesting connections almost immediately, no matter what culture they come from. This is an observation I made after doing some readings with different groups of children."
RELATED: Read This! The Asian-American Summer Book List You Can't Miss
Fresas Flores Balistreri, a community advocate for Invisible Storybook and the 2006 Miss Philippines of San Diego County, met Cabrera when Cabrera was in the incoming group of contestants that Flores Balistreri mentored for the Miss Philippines San Diego County pageant. The two of them stayed in touch, and when Cabrera posted an open letter to the San Diego community about starting Invisible Storybook, she wanted to be involved because of its unique mission.
"Being a mother of two young children, I have had the pleasure of reading 'Si Malakas at Si Maganda' to them," Flores Balistreri said. "Instilling a love of reading and lifelong learning to my children is very important."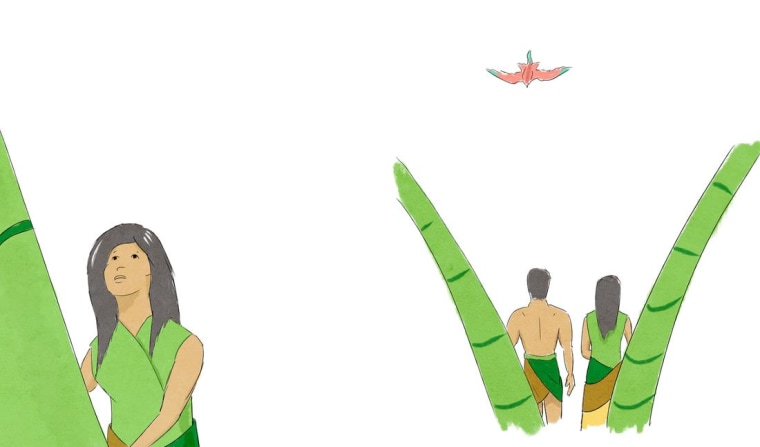 Jet Antonio, who illustrated the book, said Cabrera reached out to him because she wanted someone could truly capture the graphics for the book.
In order to create the illustrations, he said he let the imagery pop into his head as he read the draft of the story.
"When it came time to draw, I felt thin lines and large swaths of color captured the idea of an origin story," Antonio told NBC News. "It's textured and snarky rather than solid and precise. The former reminds me more of an old story that's been pressed through many filters and generations, with many versions out there."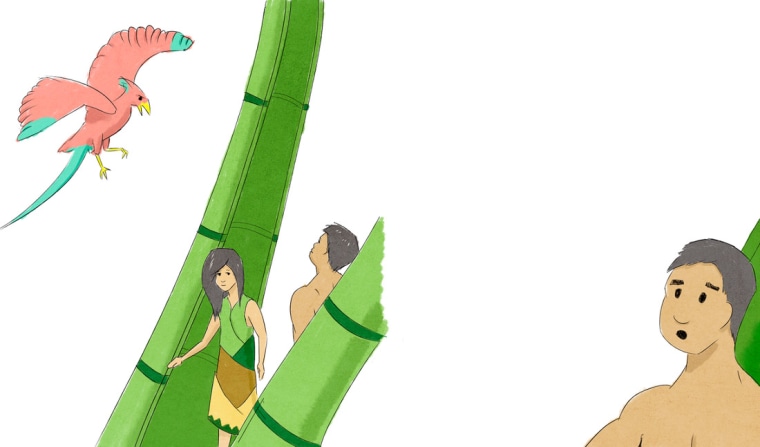 Since the conception of Invisible Storybook, Cabrera has traveled between California and New York to host and participate in various events. Recently, Cabrera read "Si Malakas at Si Maganda" at the Worldwide Woodside and the Filipino American Book Festival in Queens, New York, and hosted a reading last month at the Filipino Independence Day Festival in Oceanside, California, where Flores Balistreri acted out the role of Maganda for the children.
"I enjoy this social and collaborative process with the community," Flores Balistreri said. "It promotes access, culture, and education."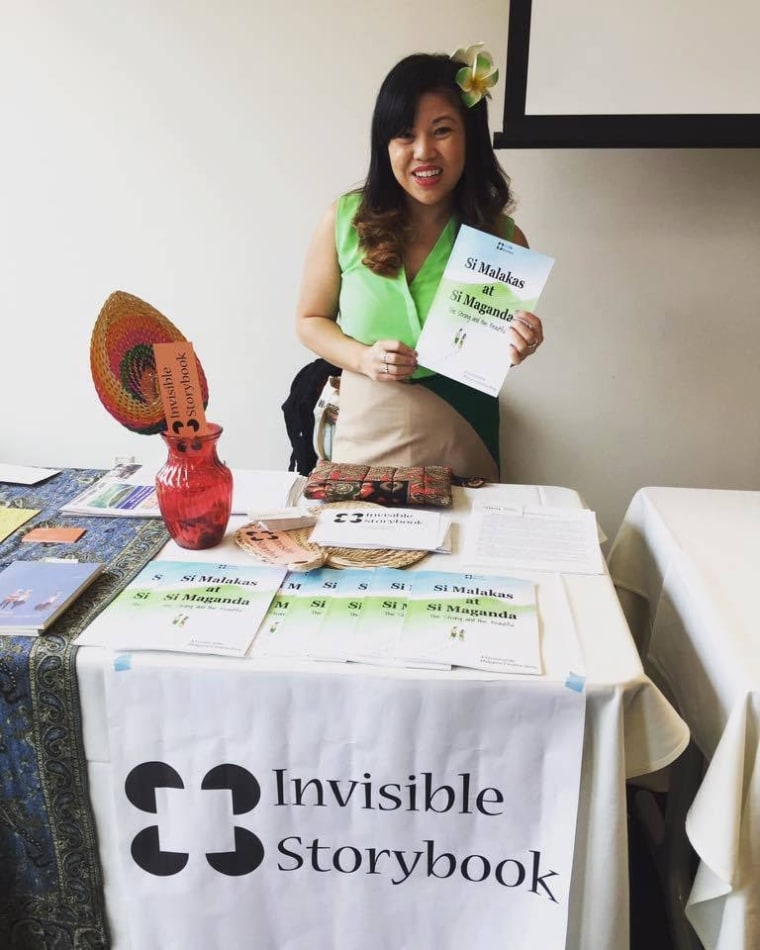 This fall, Invisible Storybook will be releasing final copies of "Si Malakas at Si Maganda" at their official release party at the Charity Wings Art & Craft Center in San Marcos, California.
As for the future of Invisible Storybook, Cabrera said she hopes to work with even more individuals in the Filipino-American community to represent their voices for future generations.
"You can tell a lot about a culture by the stories they tell their children," Cabrera said. "Even more, you can tell a lot about a group of people by asking them the types of stories they want to tell their children. I think that's what's different about Invisible Storybook is its focus on fiction and fantasy, and my particular intense focus on weaving the past into the present. We can learn so much by turning around and seeing what has come before us, and I think in particular, fiction gives us an incredible gateway into discovering feelings and imaginings of those who are older than us."
Follow NBC Asian America on Facebook, Twitter, Instagram, and Tumblr.
Correction: An earlier version of this story stated that Carol Cabrera studied at the University of Southern California. She studied at the University of California, San Diego.