DES MOINES, Iowa — The Asian and Latino Coalition, an Iowa-based political action committee and the state's only Democratic race-based political organization, endorsed Senator Kamala Harris as the Democratic presidential candidate on Monday night.
"We support her because of the way she communicates and the strong message she sends about the Democratic party," Asian and Latino Coalition Chair Prakash Kopparapu said after the vote, citing her healthcare plan as one of her strongest points. "All our members think she can win and compete on the debate stage against president Donald Trump. Definitely she has a strong background in law and knows a lot about what to change in order to bring equality."
Founded three years ago, the group has become known for hosting regular town halls with presidential candidates in Iowa, and the coalition's widely sought stamp of approval helps a candidate gain status on a national stage, said Lucken Professor of Political Science of Iowa State University Steffen Schmidt.
Last week, the political action committee's event was the site of a much-discussed gaffe by candidate and former vice-president Joe Biden, who told the crowd that "poor kids" are just as smart as "white kids." In recent months, the group organized popular events including Harris' Iowa debut.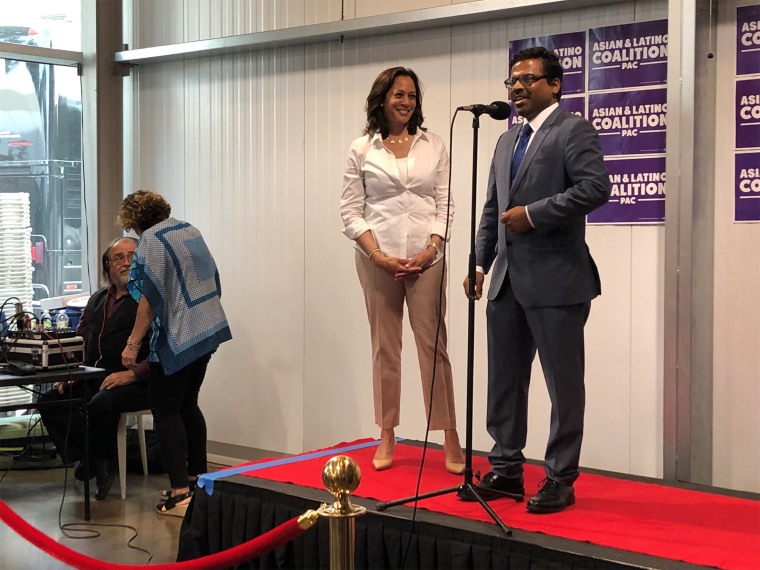 Iowa's Latino and Asian populations together number around 260,000 — arguably not a powerful voting block. However, as race and immigration become top issues in the presidential election, the support of these underrepresented communities in Iowa is symbolic, said Schmidt, adding that neither the Asian or Latino populations are monolithic in their political opinions.
In a relatively short amount of time, the coalition has earned a reputation for getting candidates elected in local Iowa elections from school boards to state senate, throwing their support behind not only Latino candidates in local Iowa elections, but also progressive white candidates who support their causes.
The coalition raised $24,000 last year from average donations of $30. This year, their goal is $50,000. With contributions from groups like the Asian American and Pacific Islander Victory Fund based in Washington, D.C., the coalition is quickly becoming a key influencer in the Iowa caucus.
"What the Asian and Latino Coalition has done is make it mandatory requirement for presidential candidates to have meetings with them to discuss their platforms and to discuss how their platforms would support both the Asian and Latino communities," said League of United Latin American Citizens (LULAC) National Vice President of the Midwest Region Joe Henry. "They've become the soundboarding for those discussions."
Those conversations are taking place in a first-in-the-nation state where 91 percent of the population is white, prompting some critics to say results from Iowa can be misleading or unrepresentative of nationwide issues.
Meanwhile, Asian and Latino populations are the two fastest-growing groups nationwide, according to the Pew Research Center. Even though Iowa's Asian and Latino populations are small, state trends reflect this growth. From 2000 to 2017, Iowa's Latino population grew 130.2 percent, according to the State Data Center of Iowa. Iowa's Asian population grew 124.8 percent.
One in five of both Iowa's Latino and Asian population are under the poverty level, whereas for the entire state the poverty rate is one in 10.
Key issues for the coalition include workers and union rights for low-income factory workers, progressive stances on immigration, and reforming gun control, according to Mitch Henry, the former political director for LULAC and brother to Joe Henry.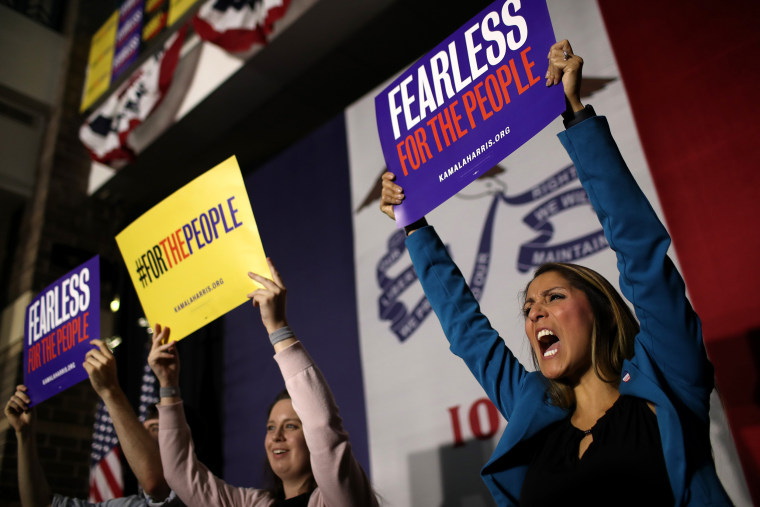 Iowa also represents a state where Latino and Asian immigrants are challenging ideas about what it means to represent rural towns, which are typically seen as white and conservative.
In West Liberty, Iowa's first majority Latino town, Latinos are the largest racial group in its 3,746 population. In places like Storm Lake, Denison, and Columbus Junction, where there is an abundance of meatpacking and agricultural jobs, Latinos make up almost half of the population.
Humble origins
The coalition began in December 2015 when Mitch Henry, who is Latino, and Som Baccam, a Laotian immigrant who has lived in Iowa since 1975 and serves as a leader of a local cultural center, met with a small group in a nearby Southeast Asian restaurant. They felt that the Iowa Democratic Party's agenda didn't always accurately reflect the issues important to their communities in an increasingly diverse state.
What started as a membership of seven people has now become 500.
"We're not brown and brown," Mitch Henry, co-leader of the coalition, said of the its makeup. "We're black and white, we're gay and straight, we have union members and we have veterans like myself."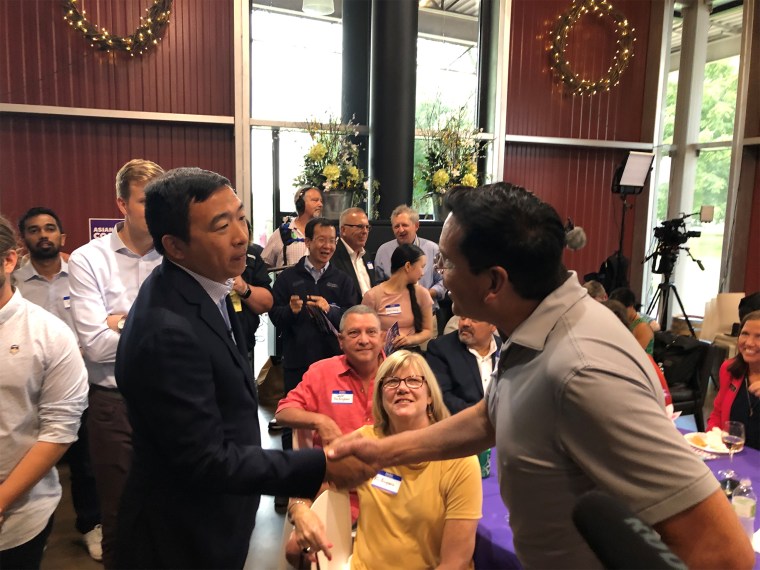 Henry, who was named as one of Iowa's top desired organizers for Democratic candidates competing in the caucus, has been key in mobilizing underrepresented communities. Groups like the Iowa Asian Alliance, LULAC, the Latino Political Network, Latino Forum are also involved in grassroots organizing and registering voters. However, their focus is primarily on activating voters — not political endorsements.
At a fundraiser on Saturday with Harris, Andrew Yang and Sen. Amy Klobuchar, candidates talked about their immigrant roots to an audience that was half white and half black, Latino and Asian.
Swallow Yan, 57, from Des Moines, Iowa, who attended the event, leads the Chinese Association of Iowa and is a top donor to the Asian and Latino Coalition. He told NBC he was glad to be able to support a group that could politically engage Iowa's Asian and Chinese populations.
"We have spent too much time on the Chinese New Year, on the Chinese language school, and other cultural educational programs," Yan said. "I feel that it's more important to have the political involvement and political influence and political reasons."
After endorsing Harris, the coalition will shift to mobilize voters for the caucus in February.
"I tell our group constantly, we cannot depend on others for success," Henry said. "We need to do it on our own. Nor can we blame others for our failures. We live or die by our own capacity That's why we have this PAC."
CORRECTION (Aug. 13, 2019, 10:10 a.m. ET): A previous version of this article misstated Prakash Kopparapu's role with the coalition. He is its chair, not vice chair.