Less than two weeks before the release of "Marvel's Iron Fist" on Netflix, the debate over the casting of Finn Jones as Danny Rand as opposed to an Asian-American actor is back in the spotlight — this time due to Jones' own Twitter engagement.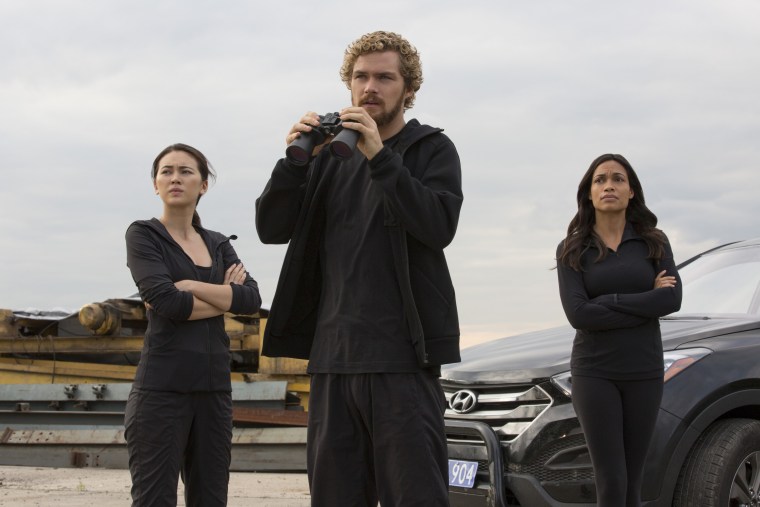 On Sunday morning, Jones tweeted a video of actor Riz Ahmed speaking at the United Kingdom's House of Commons about the importance of representation in media with a comment saying "representation is important. and here's why."
For those who had been urging Netflix to cast an Asian or Asian-American actor in the role of Danny Rand, Jones' tweet about representation seemed tone deaf.
Asyiqin Haron, a Singaporean artist based in Australia and the creative director of the website Geeks of Color, retweeted Jones' comment, asking "are you for real?"
RELATED: Debate Over Netflix 'Iron Fist' Casting Asks: Should Danny Rand Be Asian American?
Jones responded to Haron with a series of tweets defending the casting of "Iron Fist" and highlighting the diversity in the rest of the cast. Haron responded with arguments for representation and questioned whether Jones really understood the issues.
Jones then took down his Twitter account. He reactivated it on Monday.
Some of the arguments advocates have made for casting an Asian or Asian-American actor as Danny Rand include avoiding "white savior" tropes and giving Asians and Asian Americans an on-screen superhero.
"I never expected this to blow up the way it did," Haron told NBC News, who made her Twitter account private after the exchange. "I still stand firm on my beliefs. I thought the conversation I had with Finn was civil. We weren't cussing each other out. We were calm throughout the entire thing but people took it as me harassing him. There was no hostility."
RELATED: Report: British Actor Finn Jones Cast as Iron Fist in Netflix Series
"When I first quoted his tweet, it was just to bring up the irony of it. I didn't even know he replied until someone told me. When Finn deactivated his account, it felt weird. I didn't expect my replies to affect him that much. It was unexpected," Haron added.
"My original intention was to amplify a speech made by Riz Ahmed at the House of Commons," Jones said in a statement to Deadline. "It was a very articulate and important speech on representation that I wholly agreed with. After posting I was inundated by people accusing me of not being allowed to share his voice based on an assumption that our show is going to play into the problems of racial inequality on screen. I engaged politely, diplomatically and attempted to bridge the divide. I'm currently in the middle of filming and I need to stay focused on bringing to life this character without judgment, so I decided to remove myself from twitter for the time being."
NBC News has reached out to Jones' representatives and Netflix for comment.
RELATED: Editorial: The 'Asian Superhero' Is Not An Oxymoron
"I don't know Aysi personally and I didn't see the exchange in real time, but from what I did see, it seemed that Finn Jones was ill prepared to engage in an honest discussion about representation," Keith Chow, editor-in-chief of pop culture blog The Nerds of Color, told NBC News. "Of course, our beef over Iron Fist was never about Finn personally, but about Hollywood's long history of centering narratives — even those ostensibly about people of color — around white characters."
Follow NBC Asian America on Facebook, Twitter, Instagram and Tumblr.