Asian-American and Muslim-American congressional leaders are asking Department of Justice Attorney General Loretta Lynch to investigate possible civil rights violations during the arrest of Ahmed Mohamed, a 14-year-old Sudanese-American Muslim boy in Irving, Texas, who was arrested for bringing a clock that he had made to school.
"Profiling and mistreatment of an individual based on presumed or actual faith or ethnicity has no place in the world, let alone in the United States of America," Representative Mike Honda, who is leading the effort, told NBC News.
"Together, we must take a vocal stand against fear mongering and hate speech. No person should fear mistreatment or persecution simply for being who they are," Honda said. He was joined by Representatives Keith Ellison and Andre Carson, the two Muslim members of Congress, and other Asian-American leaders, including Representatives Judy Chu, Grace Meng, and Ted Lieu.
Twenty-nine members of Congress signed the letter to Lynch, which asserts that the youth's civil rights may have been violated several times per Texas Family Code Section 52.025. The code states: "a child may not be left unattended in a juvenile processing office and is entitled to be accompanied by the child's parent, guardian, or other custodian or by the child's attorney."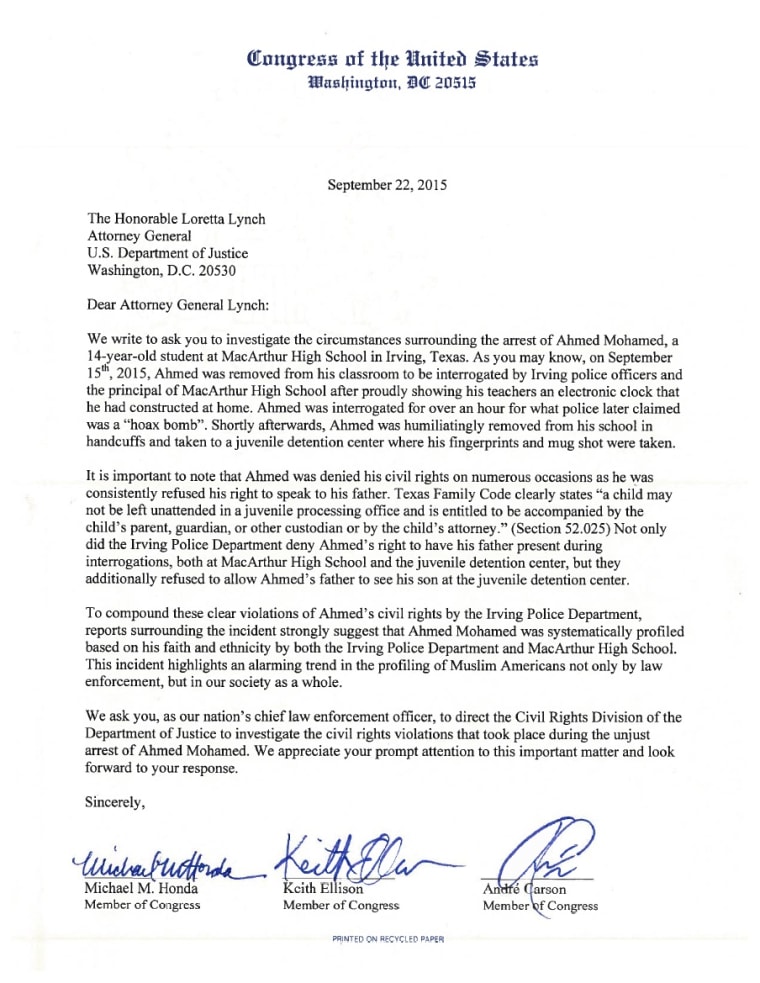 The letter describes how the youth was not allowed to speak to his father, not allowed to have his father present during interrogations, and not allowed to see his father at the juvenile detention center. The letter also goes on to suggest that both MacArthur High School and the Irving Police Department may have systematically profiled Mohamed based on his faith and ethnicity.
RELATED: Ahmed Mohamed: Texas Boy's Family Hires Legal Counsel to Get Clock Back
Although the story sparked widespread interest across the nation under the hashtag #IStandWithAhmed, Honda points out the importance of further investigation. "As a world leader, we should be setting the bar for tolerance and equality--principles that speak to the foundation of this great nation," he said.