LOS ANGELES — In a Beverly Hills hotel near the end of February, the cast of "Crazy Rich Asians" has been trading stories about auditions — both the good ones that have led to successful roles, and the bad ones filled with exaggerated stereotypes.
"I'm very new to the whole auditioning thing," admitted Henry Golding, the Malaysian-born Hollywood newcomer who will make his film debut in "Crazy Rich Asians" this August. "I've seen some notices for 'ethnic' roles, but…"
"They just need you to not be white," Awkwafina explained.
"Because the lead is white," Constance Wu added.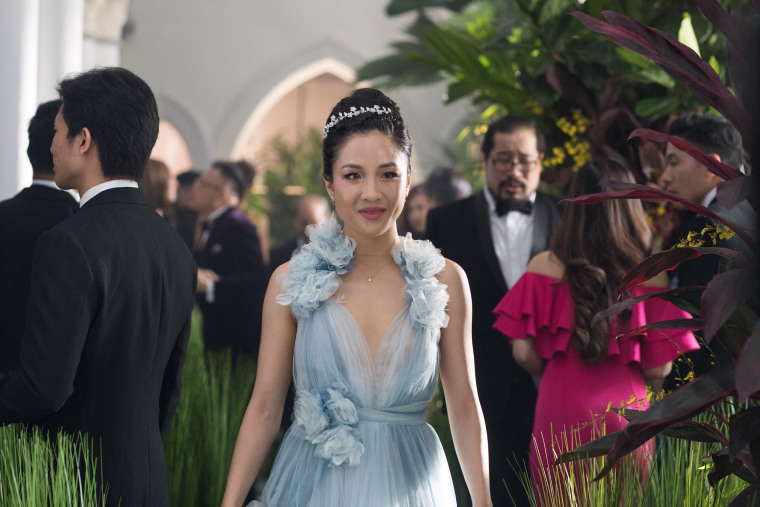 There's a sarcasm to their conversation, but beyond that are numbers to back up a well-documented truth: A report released earlier this year by the Ralph J. Bunche Center for African American Studies at UCLA found that 1.4 out of 10 lead actors in film are people of color. Of the 174 theatrical films released in 2016 that the report looked at, Asian actors and actresses made up 3.1 percent of top film roles.
It's part of what's driven the buzz around "Crazy Rich Asians." With an ensemble cast led by Wu, "Crazy Rich Asians" will be the first major Hollywood project in a quarter of a century to feature an all Asian and/or Asian-American cast.
But 2018, Wu reflected, is not just the "right time" for a film like this. "I think the time is overdue and we should've been doing it a long time ago," she said.
'IT'S A MOVEMENT'
Kevin Kwan's debut novel "Crazy Rich Asians" was first published in 2013. Loosely inspired by Kwan's own family and his upbringing in Singapore, the story follows California-born economics professor Rachel Chu and her boyfriend Nick Young, the son of a wealthy family from Singapore whose family's riches are unknown to Rachel. When the two travel to Singapore for a wedding, Nick's hopes that his family will approve of Rachel are dashed by his mother's icy reception.
The positive response to the novel landed Kwan on the New York Times bestsellers list and resulted in two sequels to fill out the "Rich" trilogy. In 2014, talks of a film adaptation began under Color Force's Nina Jacobson and Brad Simpson and two years later, with director Jon M. Chu attached and a screenplay by Adele Lim and Peter Chiarelli done, a "heated bidding war" landed the film at Warner Bros.
That sell, Chu said, wouldn't have been possible without the success of Kwan's series.
"An existing IP is valuable, no matter what. When executives go to the internet and they look and they see people dream casting a movie that doesn't exist yet, that's a great indication that the world wants to see this movie," Chu said.
He also acknowledged that it was easier to develop the film — its budget, the characters, a production schedule — outside of Warner Bros, who came into the picture after the creative process had begun. That, screenwriter Lim agreed, helped add to the authenticity of the story.
"It wasn't coming from a place of fear, it wasn't coming from a place of what we shouldn't do," Lim said. "We just knew what we didn't want to do: We didn't want to have a romantic comedy dip into really easy Asian stereotypes in terms of depicting Singaporeans or depicting Asian Americans. We wanted to find a way to say, 'What was specific to our experiences growing up that we can bring that you haven't seen in a rom-com before?' We wanted it to feel true."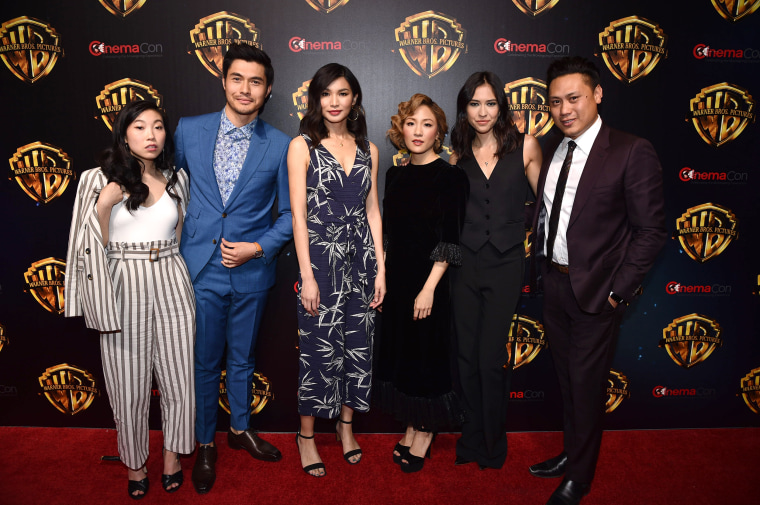 Added Chu: "We were able to say, 'We're making this, and you're either in or you're out,' and that's a very privileged position to be in."
That privilege is one Chu, Lim, the creative team, and the cast all recognize as coming with a large responsibility too. Along with they hype of "Crazy Rich Asians" has come backlash as some say the film doesn't accurately represent the ethnic diversity of the Asian-American community. At a Los Angeles screening of the film in April, Chu told a crowded theater that he hoped the success of "Crazy Rich Asians" would enable more films like it in the future — films that can show the real diversity of a community long under-represented in Hollywood.
"It's not a movie," Chu said to the audience. "It's a movement."
DIVERSITY VS. REPRESENTATION
In the 25 years since "The Joy Luck Club" brought an all-Asian cast to a major Hollywood production, the dearth of Asian-American representation on the big screen has been hard to ignore — though not for the community's lack of effort.
"A lot of the things that are optioned are these immigrant, transnational stories," said Nancy Wang Yuen, one of the authors of a 2017 study that examined Asian American and Pacific Islander representation on television.
Pointing to "The Joy Luck Club" and the current ABC sitcom "Fresh Off the Boat," Yuen noted that immigrant narratives were part of many Asian Americans' lived experiences, but it was rare to see "second, third, fourth generation stories."
"Every 'big' Asian-American film has been an immigrant, first generation story," she said. "We get annoyed with being conflated as being from Asia, but all the representation that's been big still has the 'Asian foreigner' label. It's a legitimate story, but there's a glut of those."
One theory, she suggested, was confusion over Asian versus Asian-American stories. "That conflates us with foreignness, that our story isn't an American story and therefore won't sell in America," she said.
For "Crazy Rich Asians," Wu — who stars as Rachel Chu — said that the theme of identity was not lost in the storytelling, despite the film mostly taking place in Singapore. At the start of the film, Rachel is shopping in New York with her mother when a conversation about being from Asia versus being an Asian American surfaces.
"I think Americans are really into creating their identity not based on wealth, but based on internal meaning," Wu said. "I think Rachel really does that, and she goes to Asia with the man she loves, and she also lets that part of her journey inform the identity she's creating for herself."

That narrative, Wu added, is necessary in Hollywood.
"We're now understanding the difference between diversity and representation. In the past, what we've done is diversity, which is when you put somebody in there so we have somebody of color so that it looks like we're being inclusive — which is great — but representation is saying, 'Let's not only have that person there, but let's explore and appreciate that thing that makes them different. Let's tell those stories,'" she said.
'WE'RE NOT DESPERATE ANYMORE'
The pressure surrounding the release of "Crazy Rich Asians" has not been lost on anyone involved in the film. Dozens of advanced screenings have taken place since the end of 2017 across the country; panels and interviews with the cast have slowly trickled out all year, including a glamorous Entertainment Weekly cover shoot; Warner Bros. also moved up the release date by two days (though exact reasons for why have not been confirmed), and advanced ticket sales began nearly three weeks before the film's premiere.
At the February interview with NBC News, the excitement — and nervousness — from the cast and Chu (who's since taken on several high profile projects, including Lin-Manuel Miranda's "In the Heights" adaptation and a film about July's dramatic Thai cave rescue) was a clear indicator that they know there are a lot of eyes on them.
"I think when we all sat down on that first day, I remember all of us being like, 'Let all that weight, all that stuff we carried — throw it to the side. Be our characters and tell our truths. That's what we need,'" Chu said.
It's also an opportunity for the cast, which includes everyone from new faces like Golding to veterans like Michelle Yeoh, to collectively send the message to Hollywood that the days of bad stereotypes and whitewashing are over — and if they're not over entirely, Awkwafina said, then at least the industry should be prepared to get called out.
"I'm not going to put on a 'Fu Manchu accent' for comedy. …We're not desperate for roles anymore. This movie is going to say we're not sheep, and if a role sucks, then we're not going to do it," she said.
And that attitude, Chu concluded, is exactly the point that "Crazy Rich Asians" is trying to make.
"When people see 'you can be whoever you are' in a movie like this, it makes me excited," he said. "Our cast has a confidence about who they are and what they're bringing. I think that confidence is definitely reflected in the movie. They're over the top, they're crazy, they're rich. And at the end of the day, they're human beings."
Follow NBC Asian America on Facebook, Twitter, Instagram and Tumblr.