"Everyone knows what an egg looks like?"
On a recent Tuesday afternoon, J. Kenji López-Alt is hosting a cooking demonstration centered around breakfast at the International Culinary Center in New York City. Dozens of culinary students are in attendance, and, after running through his theories on potato hash and sausage, he moves on to a brunch favorite: poached eggs.
"One of my previous jobs, I was at a restaurant in Boston," López-Alt tells the students. "As the new person in the kitchen, it was my job to come in early and make breakfast whenever they wanted to have fancy breakfast, which is not the funnest job. I had to poach a lot of eggs. I had to poach a lot of eggs and make a lot of Hollandaise."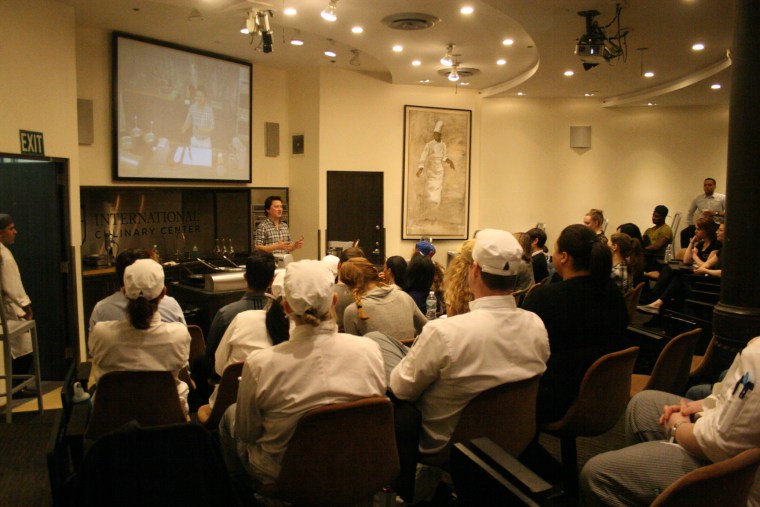 López-Alt continues his lecture, recounting how he has issues with the classical egg poaching technique because he didn't go to culinary school as he cracks half a dozen eggs into a strainer sitting in a metal mixing bowl.
"I always have to make a few extra because I know I'll mess some of them up," he says. "If you're in a restaurant and you're trying to poach 50 eggs at once, once the eggs get in there, the water gets so cloudy, it gets difficult to see what's going on, and you accidentally poke them, and you end up losing a lot of them that way."
"It's my worst nightmare," a student says from the crowd.
Looking up, López-Alt, grins slightly, as he lifts the strainer, separating the eggs — yolks and most of the firm whites — from the "ectoplasm," loose egg white that he explains causes most of the issues with poached eggs. He plops the contents of the strainer into boiling water and, within moments, five nearly perfectly poached eggs are cooking. The students begin to murmur excitedly.
"What has my life been?" a student says.
López-Alt, the managing culinary director of Serious Eats and author of the New York Times-best-selling cookbook "The Food Lab," hasn't always been as comfortable in the kitchen. Born to a lineage of scientists, his education growing up prepared him for a life in the lab. It wasn't until the summer after his sophomore year studying biology at the Massachusetts Institute of Technology that he even stepped foot into a professional kitchen.
"I spent a couple summers working in biology labs," López-Alt told NBC News. "I basically decided that — as much as I love biology and science — that actual lab work was not something I wanted to do forever."
"The real reason we cook and we eat and why we enjoy food is that it brings people together. If you can get those people there, you've already done 90 percent of your job."
Turned off by the solitariness of the laboratory, López-Alt looked for a summer job as a restaurant server and found instead a place in the kitchen of a Mongolian barbecue restaurant after one of its prep cooks failed to show up for the day. Though he wasn't particularly interested in food at that point, he excelled. Within two weeks, he was promoted from prep to "Knight of the Round Grill."
"I'd never, ever really cooked before that in my life," López-Alt said. "I was really good at making mediocre guacamole."
López-Alt fell in love with working in the kitchen. He changed his major to architecture and worked in restaurants until he graduated. After college, he went into food service full-time, working his way up from chains to family-owned restaurants, pizzerias, and, eventually, fine dining.
"The whole idea behind food is you're feeding people and bringing people together and giving people pleasure," López-Alt said. "That I really enjoy. I'm in this kitchen and I'm starting with these raw ingredients, and I'm performing some function, and the end result is something that somebody is really into or willing to pay money for."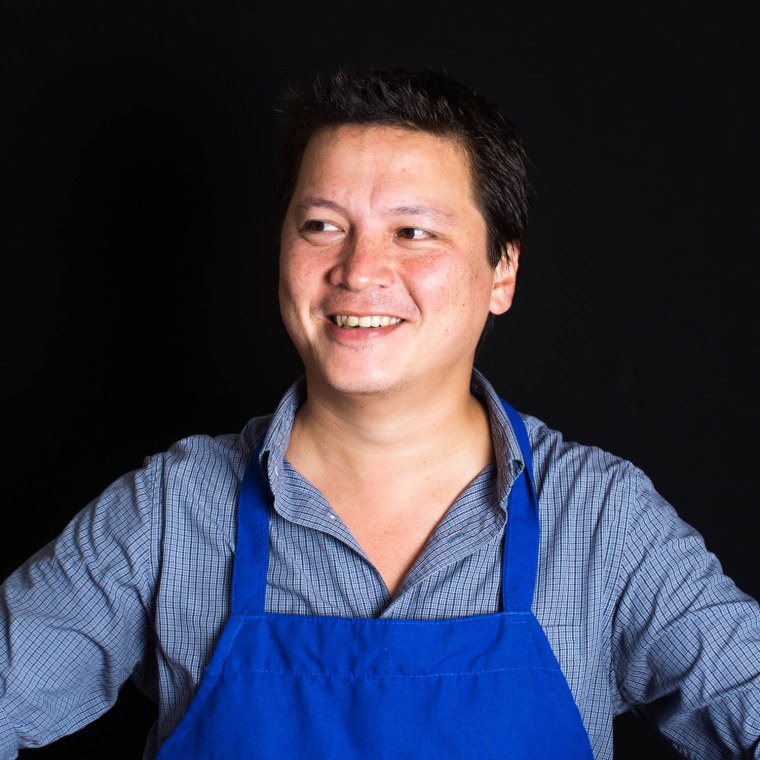 But while he enjoyed the fast-paced kitchen work, there were aspects of his lab life that he missed, foremost among them experimenting. At one of his first restaurant jobs, López-Alt remembers asking a chef why french fries are cooked the way they are — double fried at two different temperatures. The chef told him that the first fry was to cook the potato through while the second was to crisp. When he questioned the chef's answer and offered an alternative, the chef told him that the alternative just wasn't the way it was done.
"Restaurants aren't really a great place to ask questions or do testing because there's not time for it," he said. "I had all these questions I wanted to answer, like is this really the best way to be doing this or what if we do it this way or what if we do it that way. You never really get a chance to explore those questions."
After a few years in the kitchen, López-Alt started working for Cooks Illustrated, where he could experiment. He started first as a test cook and was promoted to an editor. When his wife moved to New York City for school in 2009, he went with her, working as a personal chef and freelance writer, primarily for Serious Eats. While having lunch one day with Serious Eats founder Ed Levine, Levine suggested López-Alt start a regular column. López-Alt said he wanted to write about food science and "The Food Lab" was born.
"I spent a week boiling eggs and then wrote too many words about it and then published it a week later," López-Alt said. "... I've basically been doing that same formula since then. Cook things many, many times, and then write way too many words about it."
RELATED: Roy Choi Wants to Take 'Locol' Food National, Feed the Unfed
The column — whose entries include 3,000 words on hard boiled eggs, 3,000 words on french fries, and 5,000 words on chocolate chip cookies — was and remains a hit. Its book potential was identified immediately, but the actual book took some time to produce. López-Alt signed a contract in the spring of 2010 and spent three years testing and writing followed by two years of design and photography work. What was originally supposed to be a 350-page book scheduled to come out in 2010 or 2011 turned into an 800-page manuscript.
"I thought my editor, Maria Guarnaschelli, was going to cut it down to 350 pages," López-Alt said. "But she said 'This is good, can you give me 800 more pages next year.' I was like 'OK sure, I had to work to get it down to 800 in the first place.' Eventually, the manuscript was 1500 to 1600 pages."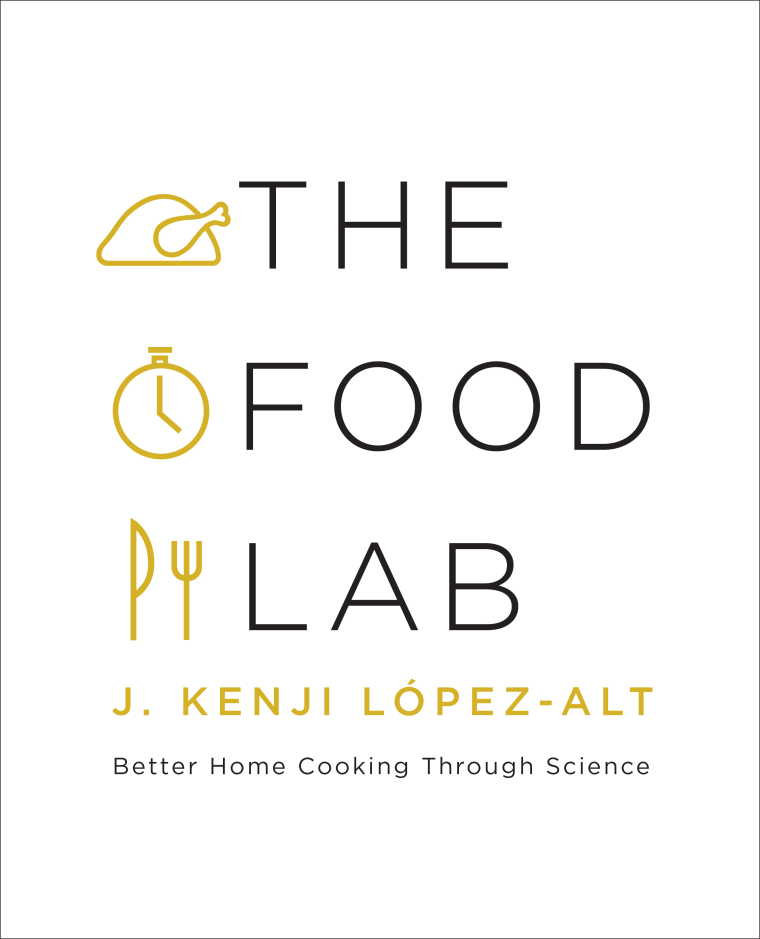 The manuscript was edited down to 960 pages and released in September 2015. Earlier this month, it received best cookbook nominations from the James Beard Foundation and International Association of Culinary Professionals. The book contains not only stand-alone recipes, but also techniques and theory, something López-Alt equates to the difference between giving someone turn-by-turn directions to a destination and a map of a city so they can decide where they want to go on their own. But as analytically as he approaches food now, the reason for his passion remains the same as when he first fell in love with it.
"Everybody messes things up and even foolproof things aren't foolproof," López-Alt said at the end of his demonstration. "People ask me this a lot: What do you do if you mess up at a dinner party? The real answer is, if you've started your dinner party, and you already have your family there, and they're already sitting at the table and enjoying some cocktails or some wine, then the food has already basically done 90 percent of its job."
"The real reason we cook and we eat and why we enjoy food is that it brings people together," he added. "If you can get those people there, you've already done 90 percent of your job. That extra 10 percent is nice if food is perfect, but at the end of the day, I don't think it matters that much if you mess up. The website I write for is called "Serious" Eats, and I write food in sort of a serious way, but it's also just food. If I mess up, at the end of the day, all I've done is mess up a single poached egg, and it'll probably taste fine, so I don't worry about messing up too much."
Follow NBC Asian America on Facebook, Twitter, Instagram, and Tumblr.